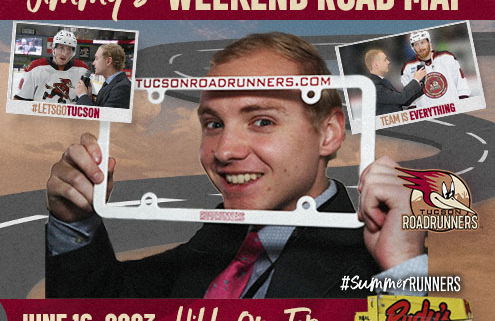 Welcome to the first Weekend Road Map with NHL hockey (sadly) done for the season, after Tuesday's Game Five saw the Vegas Golden Knights (and more importantly, former Roadrunner Adin Hill) hoist the Stanley Cup. There's no point in waiting around, so I'll get right to it this week.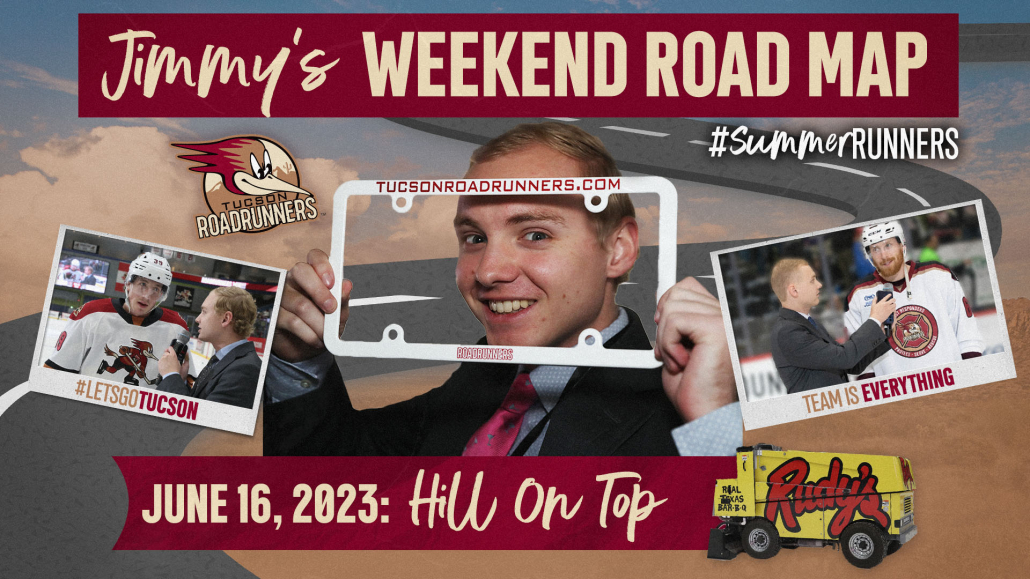 Hill On Top Of The Mountain
If you haven't been on social media this week, you might have missed that original Roadrunner and outstanding playoff goaltender Adin Hill won the Stanley Cup as a member of the Vegas Golden Knights. Hill started in all five Stanley Cup Final games for Vegas, finishing their run with an 11-4 playoff record that included only two regulation losses. Hill led all goalies with at least five games played in the playoffs with a .932 save percentage (Jack Campbell had a .961 save percentage by stopping 49 of 51 shots faced for Edmonton, but we have to draw the line somewhere) and had to have been in the Conn Smythe conversation alongside his teammates Jack Eichel and Jonathan Marchessault, with Marchessault taking home the extra hardware.
An Original Roadrunner raises the Cup 🏆

Congrats Adin 👏#LetsGoTucson pic.twitter.com/94Dd9WIsfS

— Tucson Roadrunners (@RoadrunnersAHL) June 14, 2023
We'll have some more fun facts on Adin Hill a little later, but congratulations to him and the Vegas Golden Knights on winning the Stanley Cup for all their lifelong fans.
RRTV Guide
This week on RRTV, some guy with a microphone told you about the Mystery Item Jackpot that's ending soon at TucsonRoadrunners.com/Mystery. He also teased a chance to get your hands on one of the best alternate jerseys in hockey coming up next week. We played a podcast clip where this week's guest actually gave a shoutout to our last player guest for nominating him, and we revealed where Dusty could be found around town this weekend.
Captain Of The Podcast
This week's Insider Podcast was another great one, as we were joined by Roadrunners Captain Adam Cracknell. We had just seen Adam at one of our favorite restaurants in town, so it was fun getting to recount that and hear more from him about his first offseason in Arizona. We also learned that he was a stick boy while his family served as a host (billet) family for several of the team's players in his hometown of Prince Albert, Saskatchewan, as he gave us a trip down his own memory lane. You can listen to the episode below, and find all of our episodes at TucsonRoadrunners.com/Podcast or by looking us up on the iHeartRadio app. If you're not caught up, our full 1-On-1 archive can be found at TucsonRoadrunners.com/ThisWeek which includes the best of our interview with Adam. Next week's Podcast guest will be one of the two "goofballs" that Adam nominated, but you'll have to tune in to find out whether it's Ryan McGregor or Curtis Douglas.
Listen to "Adam Cracknell Captains The Podcast" on Spreaker.
Badges And Backpacks
As mentioned on RRTV by yours truly, the Tucson Roadrunners are excited to be at Badges and Backpacks this Saturday at the Tucson Convention Center. It's always great to take part in events for our community, especially when we can still be there during the offseason. If you're at the event, look for Dusty and myself, along with the Roadrunners community team. If you want to know more about the event, check out this video of Dusty at Badges and Backpacks in 2019:
Friday Quick Fact
You already knew who this section would be about before you got here. As we wrap up our unofficial "Adin Hill Week" after the original Roadrunner became a Stanley Cup Champion, it's a perfect time to list some of the best stats and facts from his time in Southern Arizona. Adin is one of five players to have appeared in each of the Roadrunners first five seasons from 2016 to 2021 along with Michael Bunting, Dysin Mayo, Kyle Capobianco, and Jalen Smereck. He also has the most points by a goaltender in Roadrunners history with eight assists, and is tied with Ivan Prosvetov for the most penalty minutes by a Tucson backstop with 20. Adin Hill's best save percentages in his professional career came during the 2019-20 season when he posted .918 save percentages for both the Roadrunners and the Arizona Coyotes. That same season, he had a 15-5-0 record with Tucson as the Roadrunners were eventually named Pacific Division Champions. He also had a pretty sweet goalie mask:
Steak On The Strip
Thanks to Adin Hill and the Vegas Golden Knights, this week is my one chance to share a throwback food picture from Las Vegas (good thing, because I have not been photographing my food in the wild lately). I do not remember the name of the restaurant, but it was a part of the hotel and it had a really nice patio area. I remember complaining about the steak being a little dry, but I might have just been irritable after four days in Vegas. Regardless, it made for a pretty good picture and story a year later.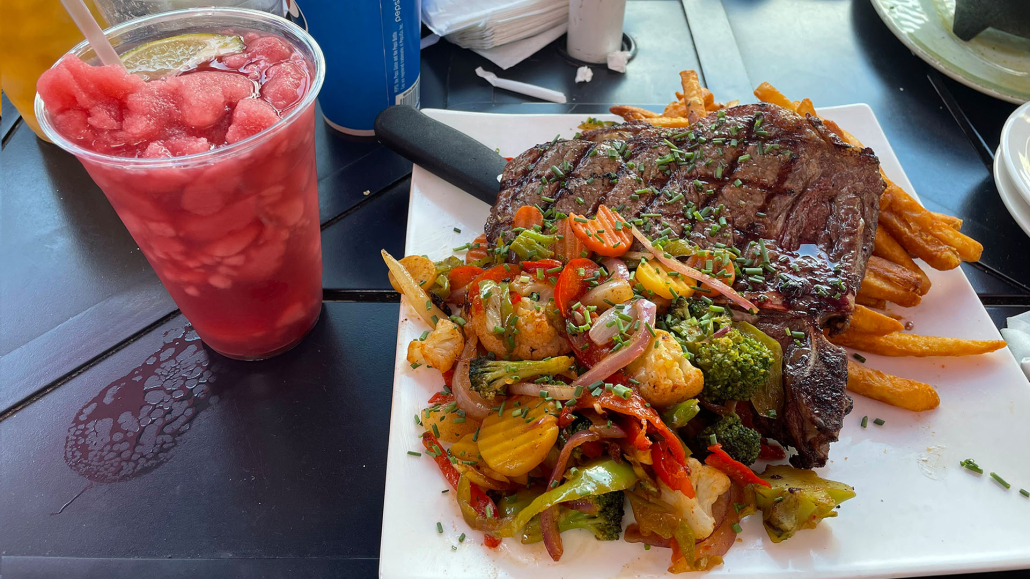 That does it for another Weekend Road Map! Thanks for making it to the end, feel free to let me know how much these brighten your entire weekend at Jimmy.Peebles@TucsonRoadrunners.com and follow me on Twitter at @JimmyPeeblesAZ. Have a great weekend, and I'll talk to you next week! #LetsGoTucson
//www.tucsonroadrunners.com/wp-content/uploads/2023/06/6.16-weekendroadmap_495x400.jpg
400
495
Jimmy Peebles
/wp-content/uploads/2019/06/web-header-logo.png
Jimmy Peebles
2023-06-16 06:44:00
2023-06-16 10:39:42
Jimmy's Weekend Road Map: Hill On Top