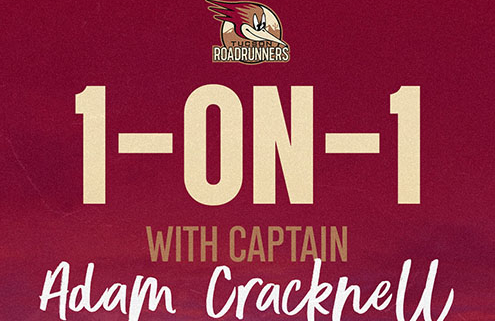 Tucson Roadrunners Captain Adam Cracknell joined "Voice of the Roadrunners" Adrian Denny and TucsonRoadrunners.com's Jimmy Peebles on the Roadrunners Insider Podcast Monday, June 12 to discuss his first season in Southern Arizona. The full episode, including Adam explaining his Tucson Hot Takes, can be found on the iHeartRadio App or by listening below.
Listen to "Adam Cracknell Captains The Podcast" on Spreaker.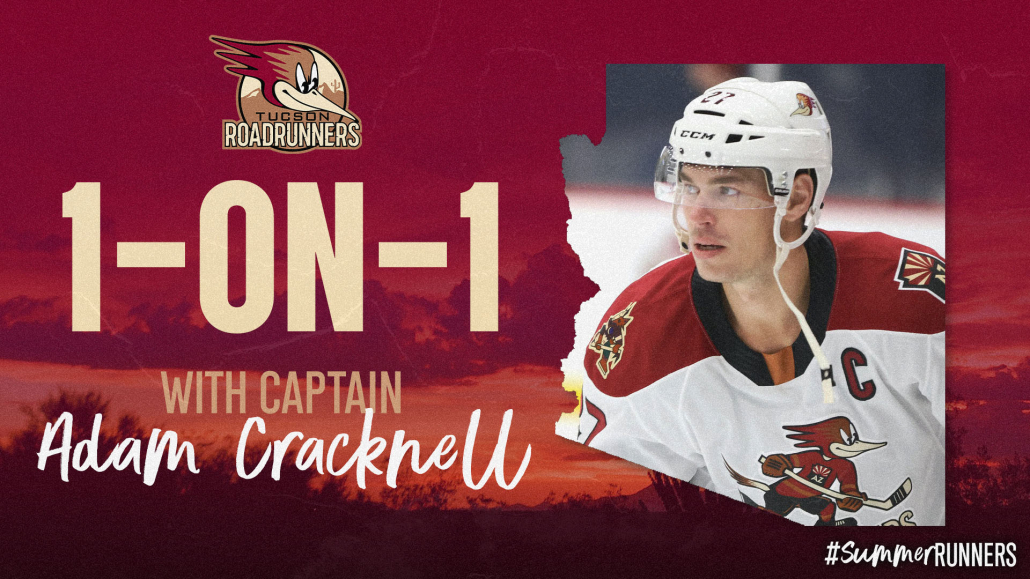 Q: Adam, welcome back to the Podcast. How has your first offseason in Southern Arizona been so far?
A: It's been nice. The golf courses' prices have lowered, so me and Tyson [Empey] have been getting out early in the morning to get a round or two in every week. You miss so much time during the season with family, so you want to catch up and be there for all those moments [in the offseason] too.
Q: We hear you've also been busy this offseason with projects around the house.
A: We were very lucky, we found a nice house early on in the season. There's always something going on, but we found a great contractor and he's been with us and done amazing work. I stay out of the way and make sure the kids are busy, but we've loved it since day one here. We fell in love with [Tucson] more during the season with the family-friendliness of the city, the kids' school activities, and the things you can do in the surrounding area that make it that so much better.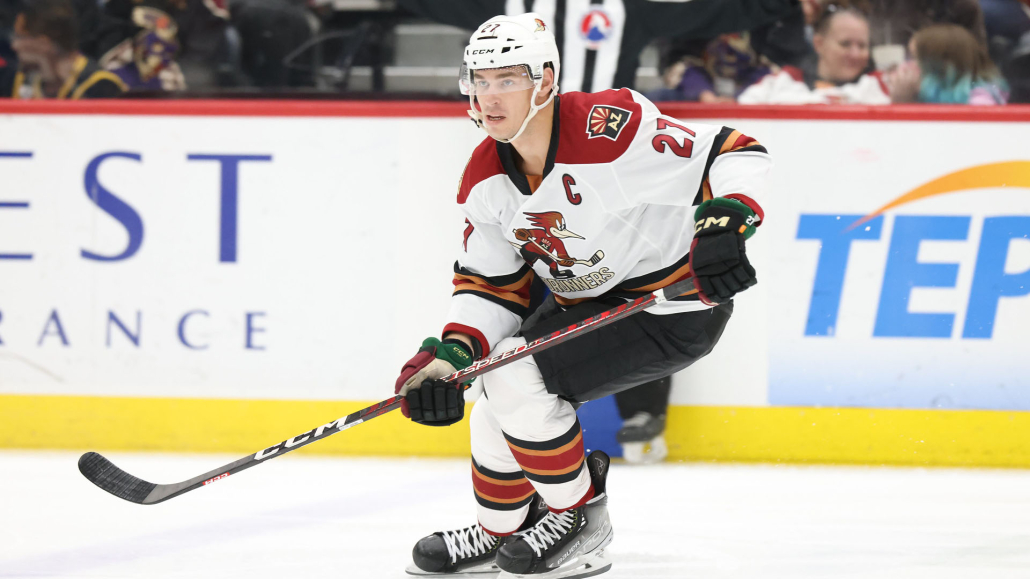 Q: You were nominated to be our next Podcast guest by forward Travis Barron during his appearance, why do you think he chose you?
A: We sit close together in the dressing room and we sit close together on the bus. You talk to "Bear" and you can see why he's so loved by our teammates, he's such a great guy. You build bonds like that not just going through battle on the ice, but we hang out so much off of the ice too. He was a big part of our team [this season] and any team he plays on with his character and how he plays the game.
Q: You set AHL career highs this season in assists (32) and points (53), and you helped bring the Roadrunners back to the Calder Cup Playoffs. How special was this team?
A: I wouldn't say it was myself individually, we had a collective buy-in at the start of what we wanted to do. We started the season very well, and teams go through the learning curve of how to win all of the time. We slipped a couple of times through the season, but that's how you grow and learn how to become a professional hockey player. We found a way near the end of the season, and you could see all the excitement. It was a good year to build off of.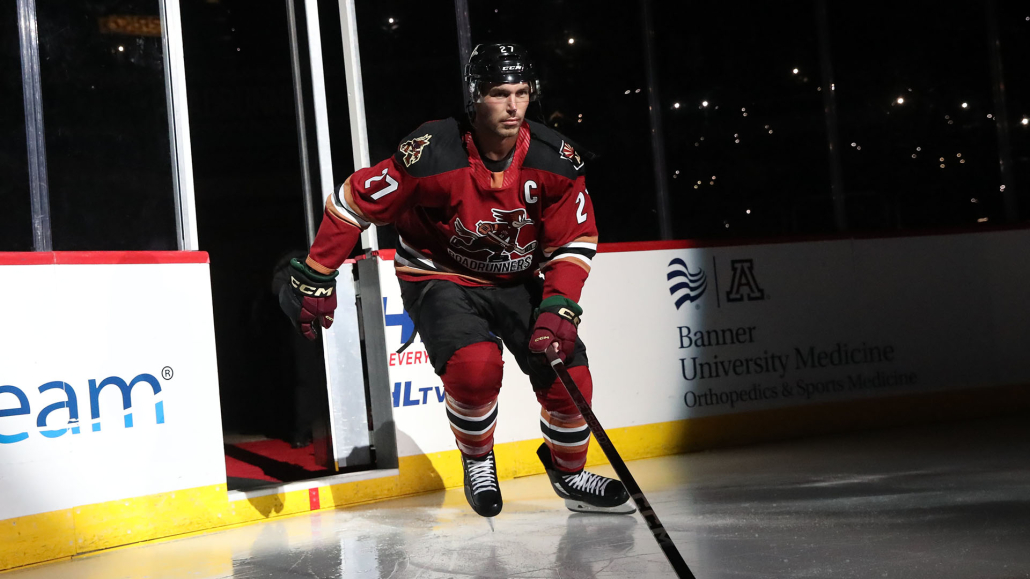 Q: We saw our team complete improbable comebacks all season long, and it's what got us to the Playoffs.
A: I think that was our team growing. You look back at our season, and every point mattered. You never want to cut it that close, but it showed the character of our team and that guys were willing to stick to it right to the end. I'm sure the teams in the finals had their share of adversity this season, but the teams that stick with it the longest end up the furthest.
Q: Were you able to keep up with the Stanley Cup Playoffs?
A: When I'm allowed to watch TV and Dumbo isn't on *laughs* That's why I invite Tyson over, I can say "well, Tyson needs to watch hockey." I try to watch as much as I can, especially the Final. I think it's so motivating to see guys' dreams come through, and it's so much fun to watch how the hockey elevates in the playoffs.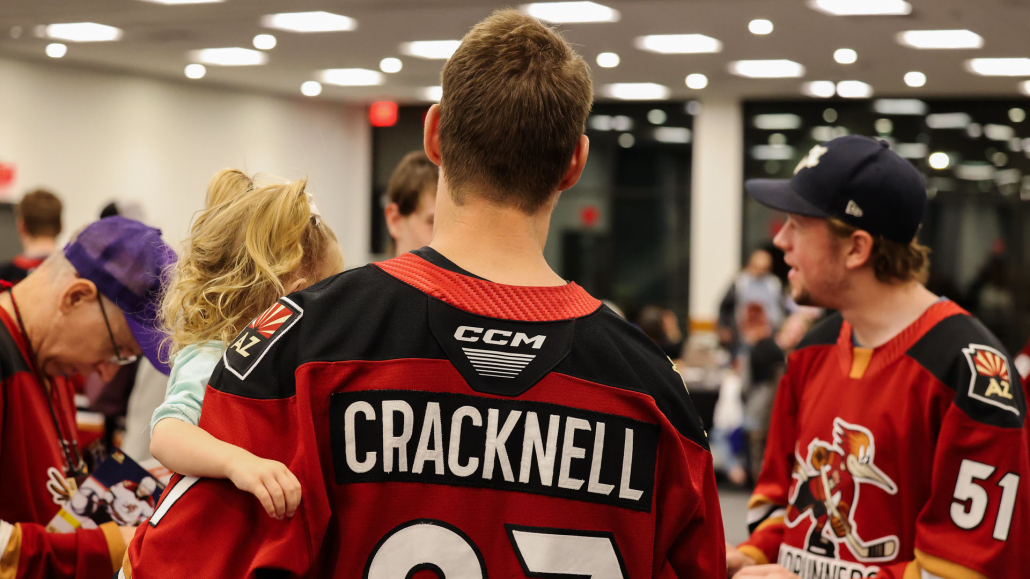 Q: You're originally from Prince Albert, Saskatchewan, and that's where forward Reece Vitelli spent nearly three seasons in Major Junior Hockey. Did you two ever talk about that?
A: One of my good friends (Dan Gendur) was his Assistant Coach. I told him I was a stick boy there, and to look for me in the pictures on the wall if he ever makes it back there. That's where I fell in love with hockey, I grew up wanting to be a Prince Albert Raider. I got to watch a lot of great Western Hockey League players, and [Reece] had a great team there.
//www.tucsonroadrunners.com/wp-content/uploads/2023/06/495-6.14-1on1.jpg
400
495
Jimmy Peebles
/wp-content/uploads/2019/06/web-header-logo.png
Jimmy Peebles
2023-06-15 07:44:00
2023-08-30 15:34:40
1-On-1 With Adam Cracknell