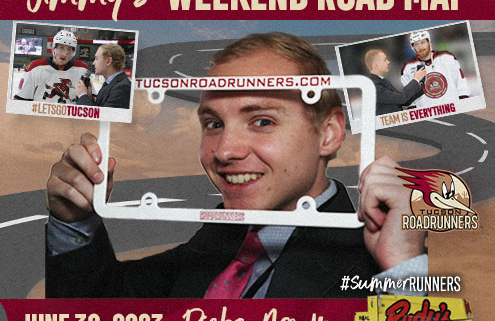 It's official, we've made it to the last Weekend Road Map of June (but not nearly the last Weekend Road Map of the summer, don't worry). It was an exciting month of hockey if you look back at it, we saw original Roadrunner Adin Hill win the Stanley Cup, we saw the Coachella Valley Firebirds and Hershey Bears take Game Seven of the Calder Cup Finals to overtime for just the second time in AHL history, and we welcomed the AHL Team Business Meetings to Tucson for the first time. We were also able to close out the month by getting our fans back inside the Tucson Arena for an NHL Draft Party that gets an A+ grade in my opinion, so a big thanks to everyone who joined us for that!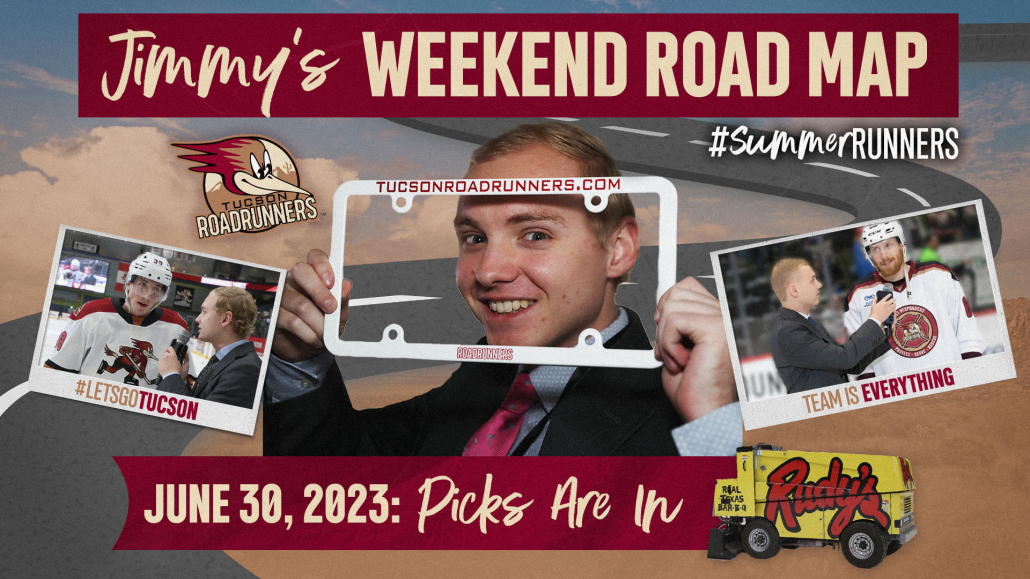 More Penmanship Practice
After last week saw Mike Carcone ink a two-year contract with the Coyotes, this week had Ryan McGregor pick up the pen and sign a one-year, two-way deal with Arizona. The 24-year-old joined the organization the same season as Carcone (2020-21), and he set a new career high in goals with 12 and matched his career of 18 points with Tucson in 2022-23. Conveniently, we also just had him on the Tucson Roadrunners Insider Podcast if you want to hear how his offseason has been. We're at the part of the offseason where these signings will keep happening, so be on the lookout for more announcements…
NEWS: Coyotes sign F Ryan McGregor to one-year contract. //t.co/TYXXTjRXbL

— Arizona Coyotes PR (@AZCoyotesPR) June 27, 2023
RRTV Guide
With our regular host back in front of the camera (thank goodness), the latest RRTV Weekly covered the big signings by the Arizona Coyotes of Steven Kampfer and Mike Carcone. With the news, we heard from Roadrunners President Bob Hoffman on Mike's contributions to Tucson over the past three seasons. Another shoutout was given to El Lazo de Tucson for being named the Marketing Campaign of the Year at the AHL Team Business Meetings, with Coyotes President and CEO Xavier Gutierrez giving his thoughts on the award-winning initiative.
Listen To One Podcast, Get Another For Free
This was a special week for the Roadrunners Insider Podcast with not one, but two episodes released to catch you on our way out of town for the 4th of July. Our second episode of the week featured Roadrunners forward Tyson Empey, who was taking a "business trip" to Florida for the Professional Hockey Players' Association Meetings as the representative for the Tucson Roadrunners. You can listen to the episode below, and find all of our episodes at TucsonRoadrunners.com/Podcast or by looking us up on the iHeartRadio app. We'll have a 1-On-1 article with the best from Tyson's interview coming out next week, but you can get caught up on interviews at TucsonRoadrunners.com/ThisWeek. Pace yourself, because we won't have a new episode next week before Adrian and Kim Cota-Robles catch up with J.S. Dea on Monday, July 10.
Listen to "Tyson Empey Takes Us Into The Holiday" on Spreaker.
Hear From The Best
Is four guests better than one? My math says yes. Our regularly scheduled podcast this week featured four A-list guests, led off by Roadrunners General Manager and Coyotes Assistant General Manager John Ferguson, who caught up with Adrian before Wednesday's NHL Draft (which he looked great at in one of the Coyotes many matching suits). After that, I had the privilege of chatting with Coyotes President and CEO Xavier Gutierrez, AHL President and CEO Scott Howson, and Roadrunners President Bob Hoffman in three separate interviews (there was no way I was getting all three at the same time, could you imagine?) You should definitely check out the 1-On-1 Summer Shorts article that includes the best from all four guests, mostly because it's called Summer SHORTS and it's one of our longest 1-On-1s ever. I'm also going to show off the picture of me interviewing Xavier during his time in Tucson for the AHL Meetings (shoutout to Adrian who "got my good side" as I like to put it):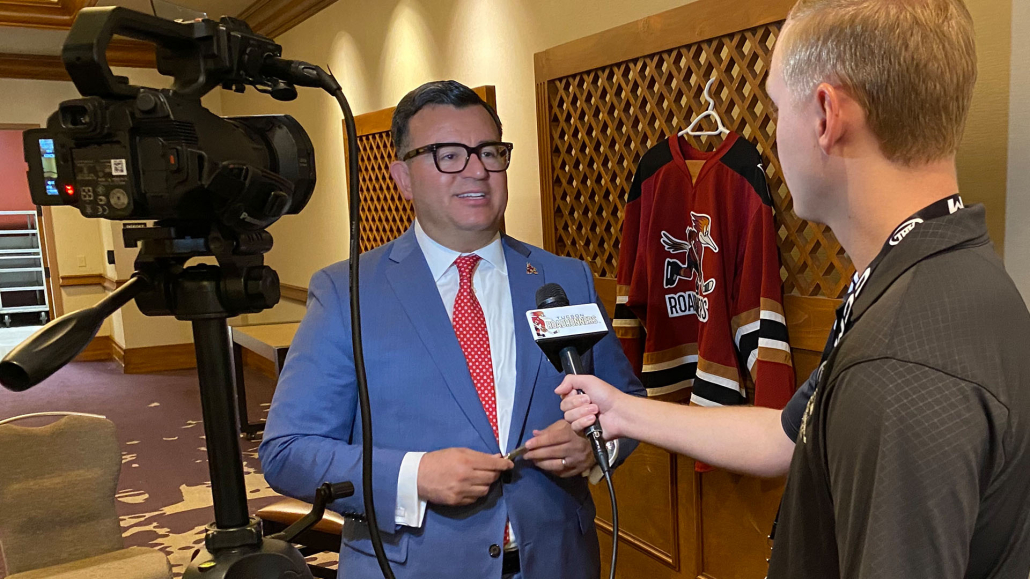 Friday Quick Fact
With our NHL Draft Party at the Tucson Arena being such a fun time with our fans, it's not a bad idea to come up with some quick facts about the Roadrunners and the NHL Draft. Our end of season roster featured a total of seven Arizona Coyotes draft picks, ranging all the way from 11th overall pick in 2019 Victor Soderstrom to seventh round selection in 2020 (#204 overall) Ben McCartney. That also doesn't include Laurent Dauphin, who was drafted by the Phoenix Coyotes in 2013 at #39 overall. Arizona was the first team to take a goaltender in this year's draft, and ended up with three netminders out of their 12 total picks, marking the first time that the Coyotes drafted multiple backstops since their 2018 draft included both Ivan Prosvetov and David Tendeck (we know them!) and on the topic of goalies, each of the last five goaltenders drafted by the Coyotes went on to play for the Roadrunners, including Adin Hill. At the end of the day, where a player gets drafted isn't everything (Mike Carcone went undrafted!) but make sure you check out the list of all 12 players chosen by Arizona this year, you never know which ones will stop in Tucson at some point on their journey to the NHL.
The pics are in 📸

Our NHL Draft Party gets an A+ 😁#SummerRunners pic.twitter.com/U1ypS1NRer

— Tucson Roadrunners (@RoadrunnersAHL) June 29, 2023
Final Food Pic Of June?
If you're a listener of the Insider Podcast, you know that one of our frequent lunch spots is the Baggin's Gourmet Sandwiches in Downtown Tucson. Every new month brings a new special sandwich of the month, so as we turn the calendar to July for the second half of 2023, I'd like to show you the special from May (sorry June). Below is the Pima Melt, a hot topic on the podcast, and one of my favorites. I'm not sure how I made it this far into the offseason without showing it off, so why wait any longer?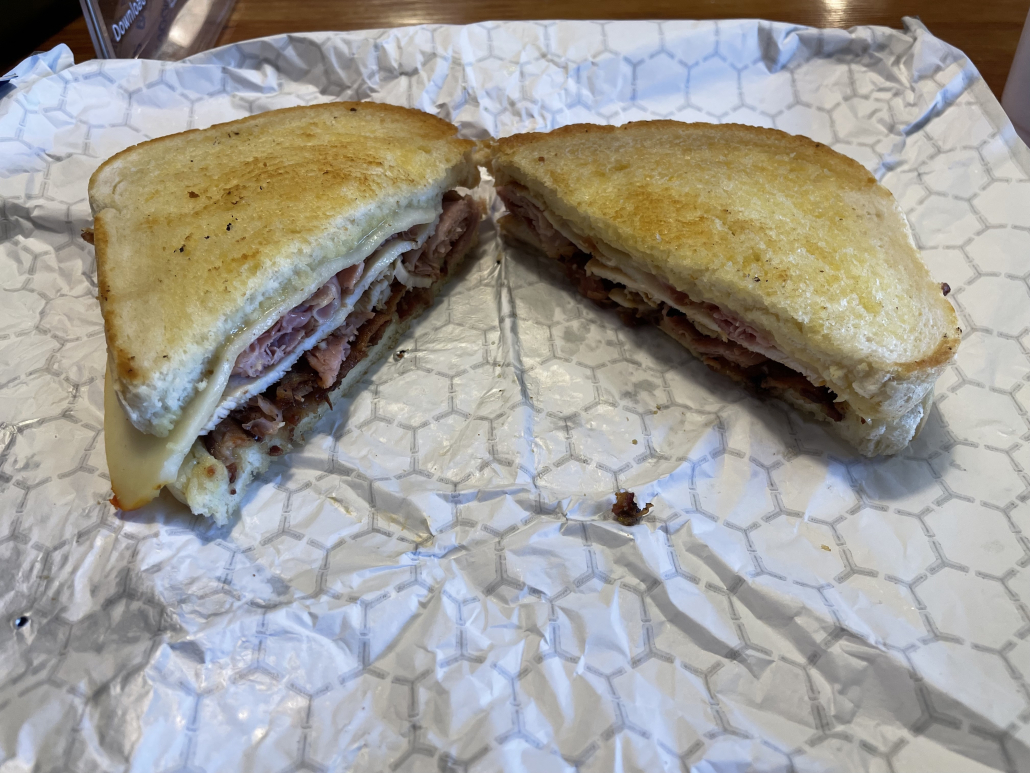 And with that, we've made it to the end of June and to the end of Weekend Road Map! A big thanks as always for closing out your week by giving this a read. You already know where to find me, by email at Jimmy.Peebles@TucsonRoadrunners.com or on Twitter at @JimmyPeeblesAZ. Have a great weekend, and I'll be handing things off to someone else to talk to you next week! (I'll be on vacation, so stay tuned) #LetsGoTucson
//www.tucsonroadrunners.com/wp-content/uploads/2023/06/6.30-weekendroadmap_495x400.jpg
400
495
Jimmy Peebles
/wp-content/uploads/2019/06/web-header-logo.png
Jimmy Peebles
2023-06-30 06:58:00
2023-06-30 09:36:58
Jimmy's Weekend Road Map: Picks Are In