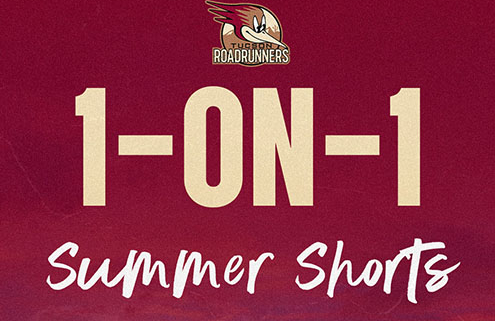 This week on the Tucson Roadrunners Insider Podcast, "Voice of the Roadrunners" Adrian Denny and TucsonRoadrunners.com's Jimmy Peebles heard from a variety of guests from the NHL and AHL, including: Arizona Coyotes President and CEO Xavier Gutierrez, Roadrunners General Manager and Coyotes Assistant General Manager John Ferguson, AHL President and CEO Scott Howson, and Roadrunners Team President Bob Hoffman. The full episode can be found on the iHeartRadio App or by listening below.
Listen to "Who's Who" on Spreaker.
Arizona Coyotes President and CEO Xavier Gutierrez led the way after giving the Day One Keynote Presentation at the AHL Team Business Meetings at the JW Marriott Starr Pass Resort and Spa in Tucson.
Q: Xavier, thanks for joining us here in Tucson. We're always excited to host anything here in Southern Arizona from the AHL Team Business Meetings to an NHL Preseason Game.
Xavier Gutierrez: I'm very excited to be down here [in Tucson], (Roadrunners President) Bob Hoffman and the entire team have worked very hard to bring the League Meetings here, and it's very well-attended. I think it's an important opportunity for us to not only showcase Tucson and Southern Arizona, but everything that the Roadrunners do to make a difference in this community not only as a hockey team, but as a community leader. I'm also excited for another preseason game [in Tucson], it was a great time. Our players really enjoyed it, they enjoyed the energy from the fans and the energy from this community. Hopefully this one will be even larger and we can create an even bigger community Fanfest. We were excited to put that on the calendar, that was top of mind when we were putting together a preseason list. We had such a great experience last year and we wanted to do it again.
Q: We know how much goes into the NHL Draft in terms of scouting, evaluating, and ultimately selecting the next Arizona Coyotes, but what goes into welcoming those players to the organization and making them feel at home in Arizona?
Gutierrez: We have said from day one that we want to build a sustainable winner through the NHL Draft. There's been a lot of work in acquiring draft capital, we've invested in one of the largest scouting departments, and [the Draft] is the big day. We see us winning the Stanley Cup at that Draft in Nashville, that's our focus. We spent quite a bit of time with the scouts looking at every single eligible player, and figuring out our free agency plan at the same time. One of the things that Alex Meruelo wanted to do when he bought the organization was create an organization that treats its players well and focuses on their well-being. We are going to continue that effort with these young players.
Q: What can you say about the Roadrunners award-winning El Lazo de Tucson campaign and how it's represented Southern Arizona?
Gutierrez: It's been an incredible effort and an incredible campaign. I tip my hat to Bob and everyone with the Roadrunners. It's been so well-received, not only from our fanbase but from those fans-in-waiting and the very important Latino Community in Southern Arizona. The merchandise is also off the charts, [El Lazo] is one of the most well-liked jerseys in the AHL. More importantly, it's been about that effort and using impact as a business strategy. Those fans need to be welcomed and engaged, it's the right thing to do and we're excited to continue to have that effort with the City of Tucson.
Q: What are the next steps for this organization on and off the ice?
Gutierrez: On the ice, we just talked about building a sustainable winner. With the Draft, we continue to see that opportunity to bring young talent that's going to create that winner. The offseason is always a time to regroup and reassess the things we've done well and the things we want to improve on. Last year was great, we had Mullett Magic with the ninth best home record in the NHL, and it also exceeded our financial goals and fan engagement goals. We have the opportunity to continue to search for a permanent home and we are very committed to finding a solution.
Up next was Roadrunners General Manager and Arizona Coyotes Assistant General Manager John Ferguson, who gave some insight prior to the 2023 NHL Entry Draft.
Q: Thanks for a few minutes here John. A really busy and exciting time for you, but let's start with the big news of Mike Carcone and Steven Kampfer signing contracts with the Arizona Coyotes.
John Ferguson: We were really pleased to get them both signed. Steven Kampfer came in [to Tucson] at the back half of last season and really did a good job for us on and off the ice. He moves the puck, a real floor general for us. I couldn't be happier for Michael Carcone. He took a huge step in his own career, led our team and the American Hockey League in scoring, and he did a real nice job when he had an opportunity to play in Arizona. He also had an opportunity to play for (Coyotes Head Coach) André Tourigny for Team Canada and won a Gold Medal there along with Jack McBain and Lawson Crouse. We couldn't be prouder, and we look forward to seeing them both play next year.
Q: You were at the table and on the stage at the NHL Draft in Nashville, what all goes on for you, Coyotes General Manager Bill Armstrong, and all of the personnel on Draft Night?
Ferguson: There really is an indescribable amount of preparation put in from top to bottom throughout the organization. So much due diligence, and it's a worthy leadup to a huge night. You always leave the Draft knowing the organization is better, even more so this year with picks six and 12 in the first round, and we have even more picks in the following rounds. We were prepared, and it's going to make our team better.
Q: The Coyotes have one of the deepest scouting departments in the league, and they spend all season getting ready for the Draft.
Ferguson: We really do. Bill Armstrong has a really strong scouting background, and there's myself, Larry Pleau, Darryl Plandowski, Ryan Jankowski, a huge staff. Our ownership group has invested heavily in that aspect of our operation, and we've compiled a number of picks in upcoming drafts. This is where we cash it in.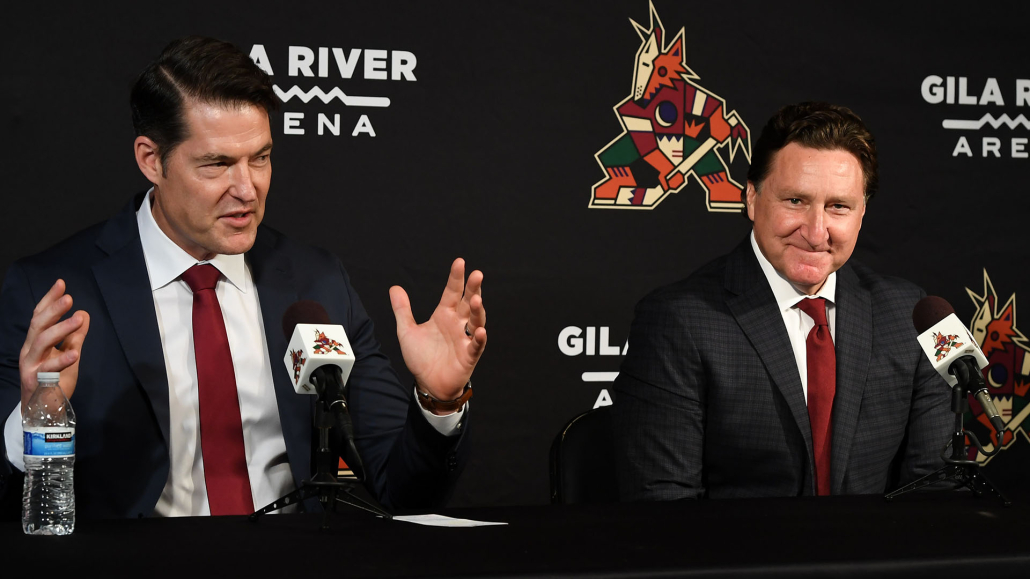 Q: Nearly 90% of NHL players played in the AHL, so it's really exciting for the fans in Tucson to see how many picks we have.
Ferguson: It's an exciting time for our entire organization. With our AHL development pipeline, the people, the faces, the culture, and the process, our fans in Tucson should be excited. [The players] are starting to come through and there will be even more this summer. We will be brimming with prospects going forward.
Q: We'll be bringing our draft picks back to Arizona with us for our Prospect Development Camp coming up next month. They'll be joining some of our Roadrunners fan favorites already there.
Ferguson: We're going to have well over 40 prospects in town for the whole week, including a number of the guys drafted this week in Nashville. We're real excited to get down to business. Across the board, people are digging in and understanding what it means to start as a Roadrunner and become a Coyote. We have a number of players that have done it, and we have guys that are going to do it.
Q: As General Manager of the Roadrunners, what's on your list for the rest of the summer after Rookie Camp and leading into the main Training Camp?
Ferguson: After Development Camp, we'll get back into it. We have American Hockey League Meetings the third week of July, and the hockey starts right after that. We'll get back into it with our Rookie Tournament that will be held in Vegas this year, and we're looking forward to the number of players coming in for that.
Q: We have another Arizona Coyotes Preseason Game coming to Tucson this season to round out their exhibition slate on October 7.
Ferguson: That'll be a great opportunity for everyone to look at our Coyotes team that we'll pretty much start the season with. We couldn't be more excited to bring our entire organization back to Tucson that day.
Scott Howson gave the Keynote Speech at Day Two of the AHL Team Business Meetings, and he caught up with TucsonRoadrunners.com following his presentation.
Q: Scott, thank you so much for your time. It's been three years in the making to bring the AHL Team Business Meetings to Tucson, how great is it to finally be here in the desert?
Scott Howson: This was one of the first things I heard about when I got the job, and I think we're all excited to be here. It's a beautiful part of the country, it's a beautiful property, and we're having great meetings.
Q: We're here in Tucson for the Meetings, Game Seven of the Calder Cup Finals was just up the road in Coachella Valley. How have you seen these warm-weather, West Coast hockey climates grow through the entire AHL Pacific Division?
Howson: It really has [grown], it started as a five-team tight California Division, and they knew at the time if teams wanted to move out west they would allow it. It's grown to ten teams, and it's really been a strength of our league. It's also allowed us to spread our footprint into Western Canada, which has been great for the league as well. I can't say enough good things about what the Pacific Division has done for the American Hockey League.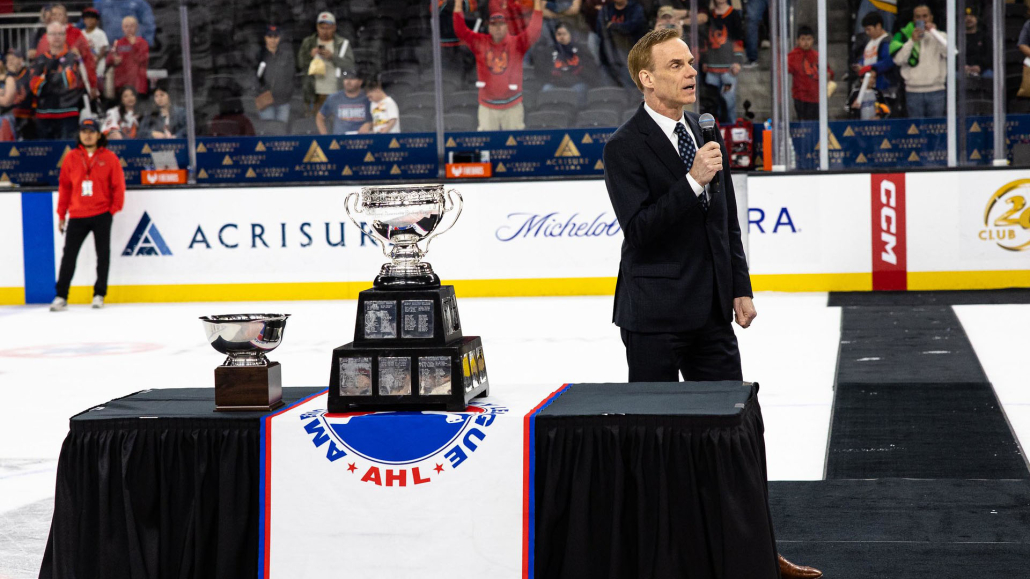 Q: Another strength of the Pacific Division is how close those teams are to their NHL clubs, with Tucson and the Arizona Coyotes being a perfect example.
Howson: That was one of the drivers of getting out here. It makes sense on so many levels to be close to your NHL team, and that's what's driven most of our affiliates to do so.
Q: We've been talking a lot here about original Roadrunner Adin Hill raising the Stanley Cup, does it ever get old seeing AHL grads win at the NHL level?
Howson: It never gets old to see the impact of the AHL on NHL rosters. We're very proud of that, and we want to keep serving those development goals.
Finally, Roadrunners President Bob Hoffman shared his thoughts from the JW Marriott Starr Pass lawn on a variety of Roadrunners topics.
Q: Thanks for joining us Bob. How excited were you to bring these meetings and these teams to Tucson?
Bob Hoffman: It's been a long time in waiting to get everyone from the American Hockey League down here to Tucson. It was a great event and we have a great partner in the JW Marriott, I think everyone's had a great time.
Q: How was it getting to share your stories and experience on the President's Panel?
Hoffman: I think one of the best things about these meetings is you can share and collaborate with other teams around the league. We're enemies on the ice, but off of the ice we're all trying to achieve monumental goals, we're trying the best we can to give great entertainment value to our communities and to our fans. I learn more than I teach here, it's a great opportunity to listen to others and gain some of that knowledge and influence from other teams. It's been really valuable.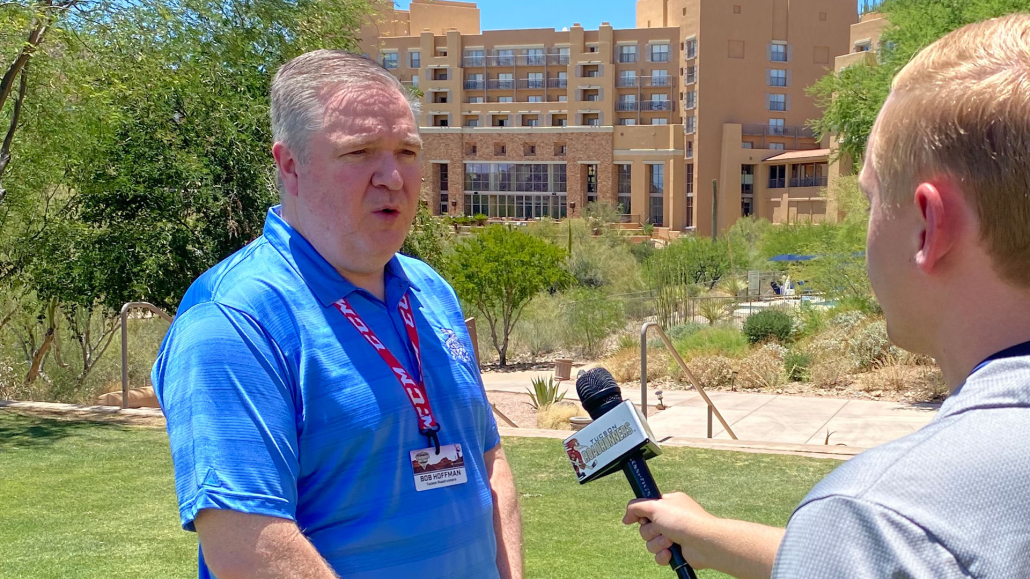 Q: Mike Carcone is officially staying in the desert after signing with the Arizona Coyotes, how great is it to see him remain a part of our organization?
Hoffman: Having Mike be a part of our organization is fantastic. We're about growing players, and we've so many go up and do great things. Mike Carcone is the next person in that line of going up from the Roadrunners family up to the National Hockey League. We're excited to see what type of impact he makes up in the NHL. He was a scoring champion and a big part of our offense, and just a great person. His family is such a big part of our community, and we're excited to see him grow.
Q: We're also excited to welcome the Coyotes back to Tucson for another NHL Preseason Game at the Tucson Arena. Hoffman: There's so much work that has to go in over the next few months to get us ready for October 7, but it's nice to circle that date on the calendar and know that the NHL recognized what we did here last year. This is a great way that the NHL has rewarded us, and it'll be the final game in the Coyotes preseason slate. We're going to see a really good Coyotes roster at that point, and it should be a great game. We're excited to give the fans of Southern Arizona that opportunity once again.
//www.tucsonroadrunners.com/wp-content/uploads/2023/06/495-6.28-1on1.jpg
400
495
Jimmy Peebles
/wp-content/uploads/2019/06/web-header-logo.png
Jimmy Peebles
2023-06-29 09:02:00
2023-08-30 15:33:51
1-On-1 Summer Shorts