Back by (un)popular demand: me! I hope you had a great last couple of weeks enjoying my vacation and reading Brad's Weekend Road Map. I thought he did a fantastic job, and he might even fill in again at some point as the summer goes on. It was a busy first week back with plenty to cover, so let's get right into it!

Ivan Inked By Arizona (And More!)
The big news from up the I-10 this week was the Arizona Coyotes signing goaltender Ivan Prosvetov to a one-year, two-way contract. Ivan ended the 2022-23 campaign as the longest-tenured Roadrunner, and he trails only Stanley Cup Champion Adin Hill for most goaltender stats in Tucson's history. To celebrate Ivan returning to the desert, we may be getting in touch with him soon for an "Insider Podcast" interview… In addition to Ivan, the Coyotes also locked up forward Matias Maccelli by signing the standout rookie to a three-year contract. After wowing us in Tucson for 47 games in 2021-22, Maccelli finished third on the Coyotes in scoring last season with 11 goals and 38 assists for 49 total points.
Great to have you back, Ivan! 🏜️

Read more: //t.co/gMp8kBspcL pic.twitter.com/e6j81vZnlw

— Arizona Coyotes (@ArizonaCoyotes) July 16, 2023
RRTV Guide
Like I said at the start, there was a lot of good news to cover this week on RRTV, beginning with the Coyotes signing Ivan Prosvetov and a signing by the Roadrunners that we'll go over a little later. We also told you how to save our recently released 2023-24 schedule, and gave you plans for Saturday night that involve Dusty, helping the community, and the Reid Park Zoo. More on that next.
Curtis Douglas Drops By
After consistently being nominated by his teammates to join the Insider Podcast, forward Curtis Douglas finally stopped by for an interview this week. The 23-year-old talked with us about a variety of topics, including: living with teammate Ryan McGregor during the season, growing up playing hockey just outside of Toronto, and where in the Douglas family his six-foot-nine height came from (which you will never be able to guess). You can listen to the episode below, and find all of our episodes at TucsonRoadrunners.com/Podcast or by looking us up on the iHeartRadio app. If you're not much of a listener (like me), you can read the best from the interview at TucsonRoadrunners.com/ThisWeek. Next week, we'll be joined by defenseman Steven Kampfer from his offseason residence in Florida.
Listen to "Curtis Douglas Drops By" on Spreaker.
A Summer Safari With Your Favorite Bird
Don't forget to join us at the Reid Park Zoo this Saturday, July 22, from 6 p.m. to 8 p.m. as the Roadrunners and Dusty will be there for Summer Safari Nights. Fans who bring a non-perishable food item for The Tucson Family Food Project or for the Southern Arizona Animal Food Bank will receive $1 off their admission to the fun event. Everyone who donates will also receive one autographed 5-by-7 player card of a Roadrunners player of their choice (based on availability, but I promise I won't take every Ivan card before you get there). The event will spotlight the Zoo's Andean Bear with keeper chats, wildlife activities, games, and live R&B music by The Just Intervals.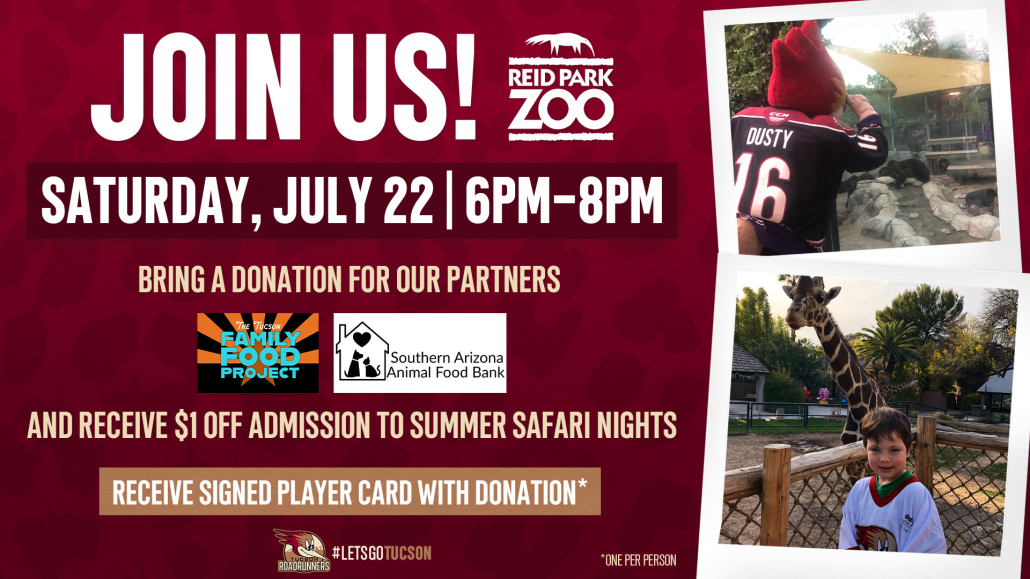 From Zoo To Drew
Along with the recent signings of Ivan Prosvetov and Matias Maccelli by the Arizona Coyotes, the Roadrunners and General Manager John Ferguson announced this week that forward Hunter Drew had been signed to a one-year AHL contract. Entering his fifth professional season, Drew is no stranger to Tucson with 19 appearances against the Roadrunners. He also brings with him a pair of NHL outings with the Anaheim Ducks during the 2021-2022 campaign. In his National Hockey League debut on April 26, 2022, Drew dropped the gloves to fight San Jose's Jonah Gadjovich in an eventual 5-2 Ducks win.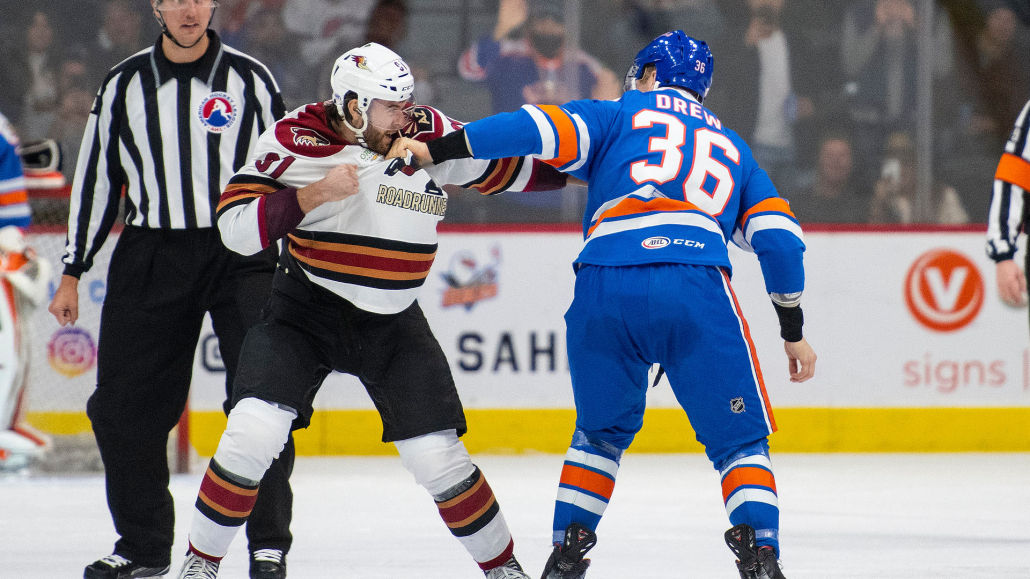 Friday Quick Fact
With the signing of Ivan Prosvetov by the Coyotes and Hunter Drew by the Roadrunners, I decided to take a look at both of their American Hockey League debuts. As a matter of fact, their debuts were only 15 days apart at the start of the 2019-2020 season. Drew was the first to skate in an AHL contest, as he took the ice for the San Diego Gulls in a 2-1 loss to new teammate and recently re-signed Cameron Hebig and the Bakersfield Condors on October 4, 2019. Looking at Ivan's first outing for the Roadrunners, he introduced himself between the pipes with a 29-save win over the San Antonio Rampage on October 19. Prosvetov didn't allow a single even-strength goal that night, and the Roadrunners offense put up a four-goal third period for a 4-2 win on home ice (with Ivan being named the First Star of the Game, of course). For anyone that's curious, here are links to the AHL box scores from Hunter Drew's debut and Ivan Prosvetov's debut. Ivan has entered an AHL net 129 times in his career entering this season, but here's a photo from just moments before he did so for the first time ever: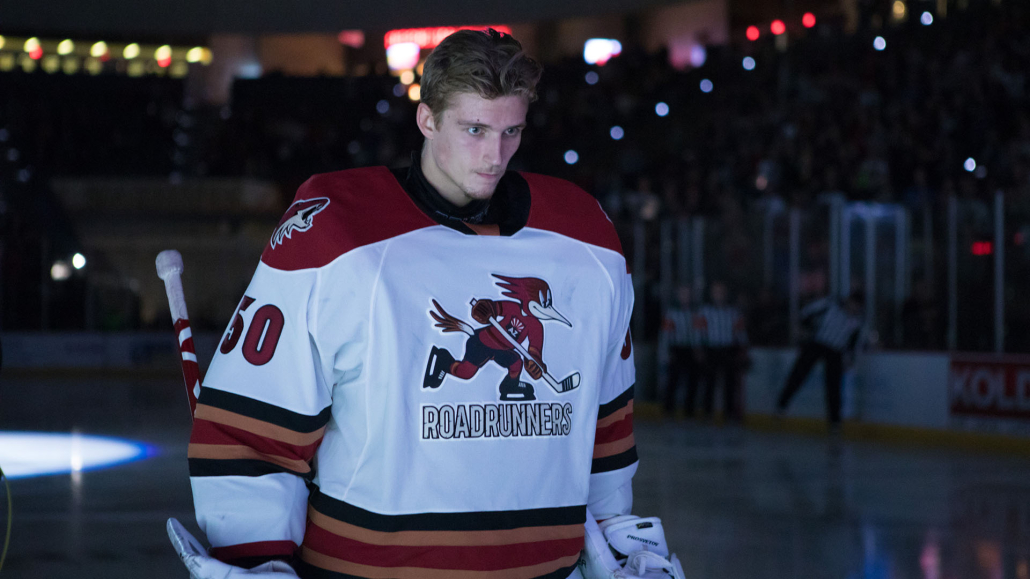 Taking #TeamIsEverything To Lunch
With co-workers back from vacation and a new hire in the fold (shoutout Cole), we decided that yesterday was the perfect day to head over to one of Adrian Denny's favorite spots in Downtown Tucson: Street Taco. I got the shredded beef quesadilla that was absolutely loaded with cheese. Pictured below is that quesadilla with a side of sour cream and a lemonade.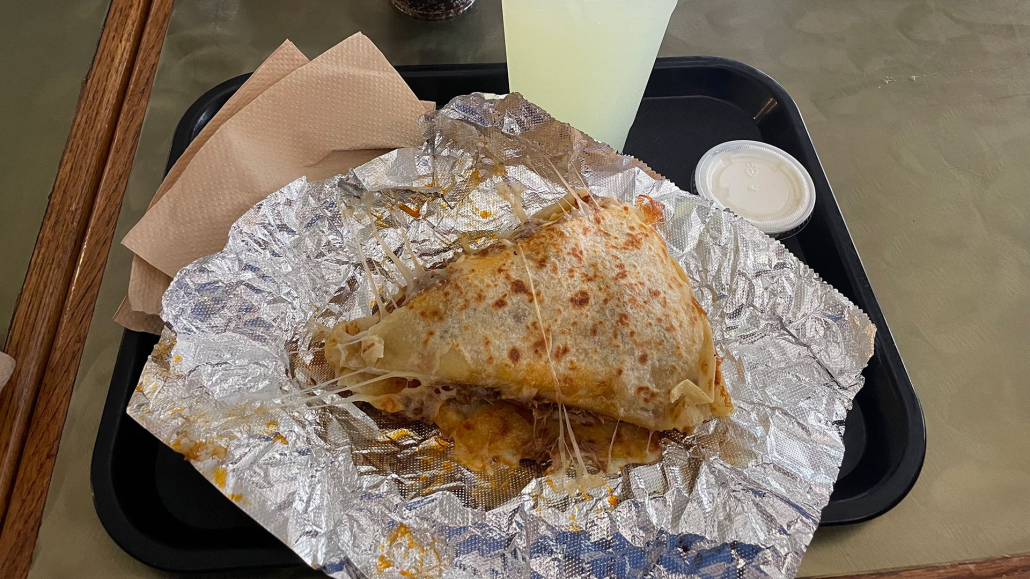 And that does it for your Weekend Road Map! Hopefully I wasn't too rusty after some time off, but a big thanks as always for checking it out. One last thing I'll leave you with is our recently released follow-up video to Dusty's "12-Course Meal" Schedule Reveal Video, as we then took to the streets of Downtown Tucson to find out how we'll fare this season. It was a blast to make, and I think you'll like it too.
Let me know what you thought of it by shooting me an email at Jimmy.Peebles@TucsonRoadrunners.com or find on Twitter at @JimmyPeeblesAZ. Have a great weekend, and we'll talk to you next week! #LetsGoTucson
//www.tucsonroadrunners.com/wp-content/uploads/2023/07/7.21_weekendroadmap_1920x1080.jpg
1080
1920
Jimmy Peebles
/wp-content/uploads/2019/06/web-header-logo.png
Jimmy Peebles
2023-07-21 07:00:00
2023-07-27 21:20:49
Weekend Road Map: July 21 – Short Time No See