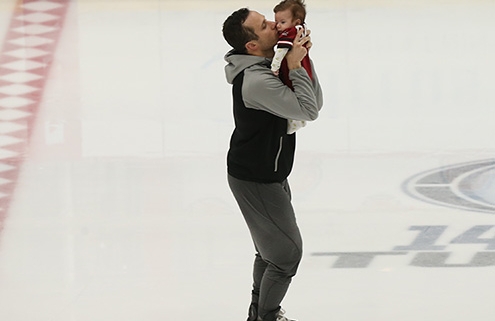 Last Summer Andy and Hilary Miele decided that Arizona would be the spot where they would return as Andy signed back up to rejoin the Coyotes organization. Not only would it be their hockey home, but it would also be where their first child was due to be born in November.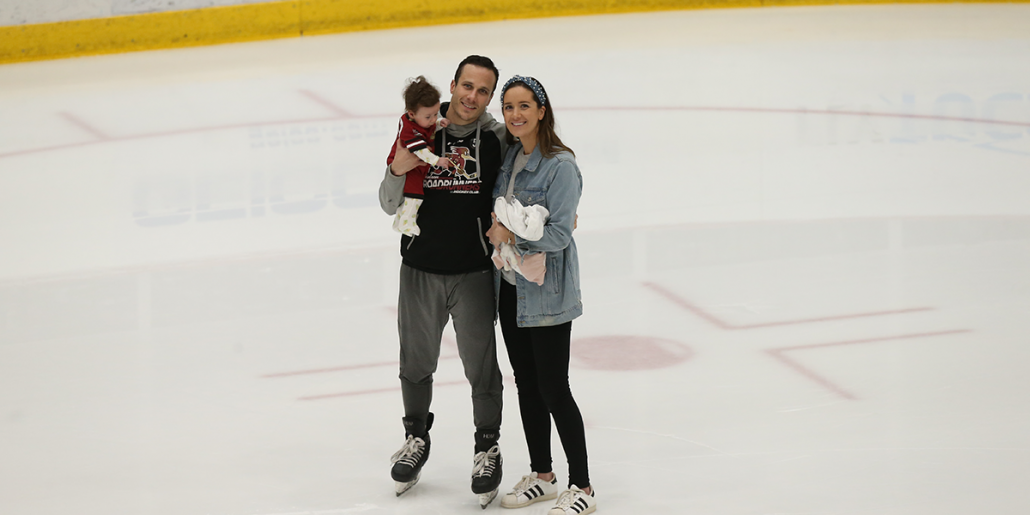 The return to Arizona would mean that their baby would be born in the same State where Andy played parts of three seasons in the NHL from 2011-2014. And Tucson immediately began to feel like home as one of the first items of business for the Mieles was to tour the hospital where they would welcome their new bundle of joy at Banner – University Medical Center.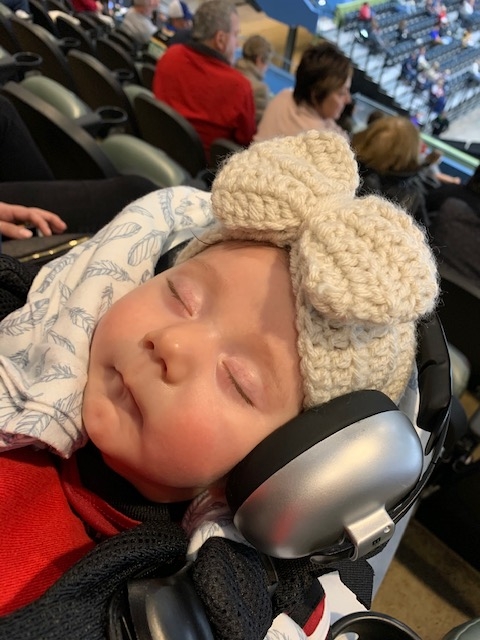 "The hospital that she delivered at was amazing," Andy beamed. "It was a new hospital, it had mountain views. We took a tour of it when we got there and my wife was just so happy, so comfortable with the situation. She loved her doctor and we couldn't have asked for a better experience."
Bonnie Louise would come early, about 4 a.m. on Thursday, November 7 to start a busy weekend for Andy. "We didn't know what the sex was going to be, we were pretty convinced that it was going to be a boy based on what everyone was telling us," remarked Andy.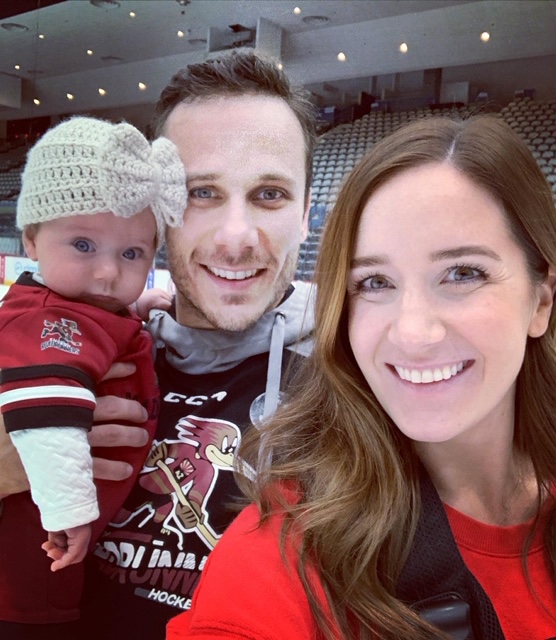 "When little Bonnie came out, we were both very shocked and very excited, part of me really wanted a little girl. It was extremely exciting." The next night Andy walked into the Tucson Arena for what turned out to be a nine-round shootout win over Stockton.
"That first game, knowing that I had a daughter back home waiting for me, coming home from the game was really exciting. It was a whirlwind because it happened so quickly, I just remember being excited to get home to get back to her."
The third day of Andy's marathon would be a wild win over Stockton as he scored his first goal as a Dad to give the Roadrunners a 5-1 lead in the second period. After that, back to the road for Tucson in what would be a seven-day trip right before another weekend at home.
"I was always extremely sad to go on the road," said Andy. "Luckily my wife's parents were in town to help us out when we went back out on the road for that first trip."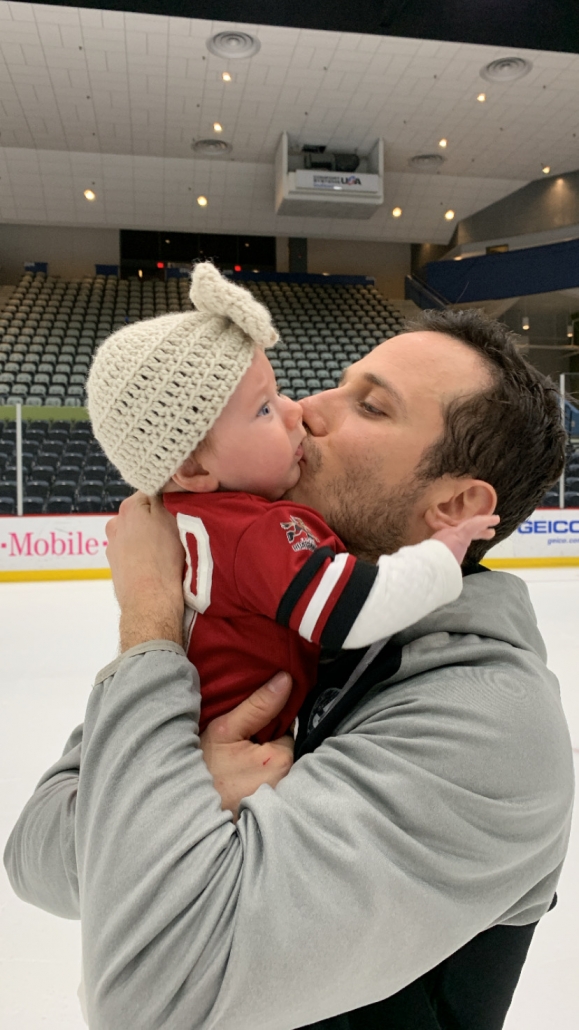 For Andy, a highlight of his career as a pro hockey player came a few weeks later when Bonnie attended her first game.
"Taking her out on the ice after the game, that was something I've been looking forward to since the day that I found out that (Hilary) was pregnant. It was one of my favorite hockey moments of my career to be able to do that. I don't know why it was so special to me, but it was."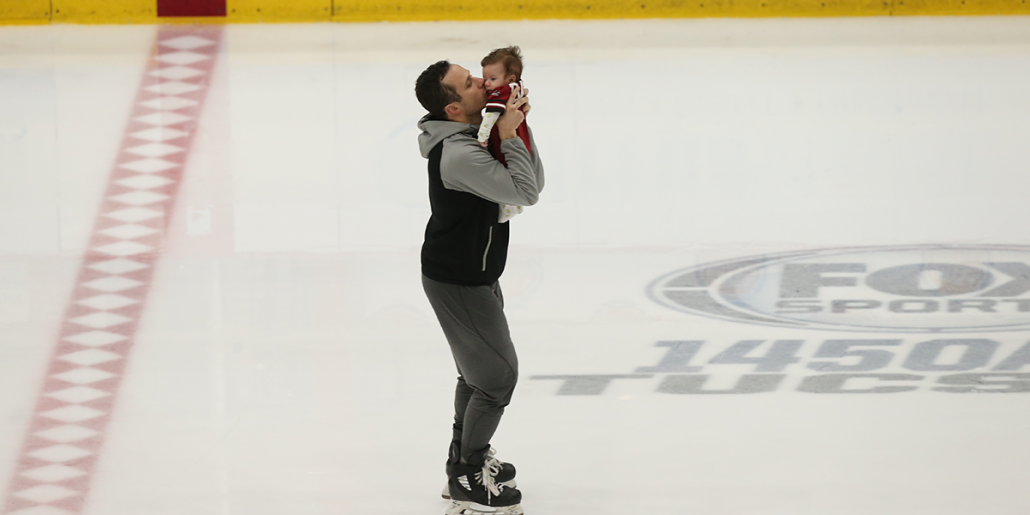 During what was an action-packed season, the Miele family wanted to express their appreciation for the support that they received from in the locker room and from the stands at Tucson Arena. "The support from the team, some of the fans brought us gifts, I was shocked at the support that we had from the fans there, but It was amazing and we were so appreciative of it."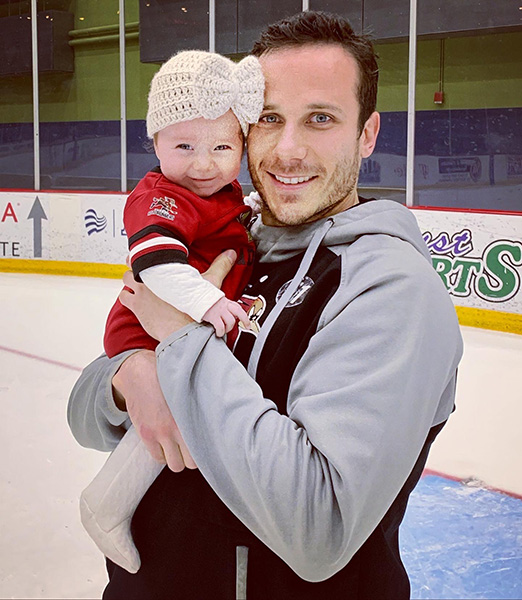 Now in his first offseason with Bonnie, all is going smooth for the Miele's at home in Charleston, South Carolina. "She just turned seven months on the seventh," said Andy. "Everything has been great. I've been with her almost every single day since the season ended, it's been amazing."
Andy isn't quite sure what Hilary and Bonnie Louise have in store for his first Father's Day, but like returning to Arizona this year for hockey, the family will make another return as well on an upcoming trip. They'll head back to Key West, Florida for Bonnie's baptism in the same church where the new parents got married.
//www.tucsonroadrunners.com/wp-content/uploads/2020/06/Miele495.jpg
400
495
Adrian Denny
/wp-content/uploads/2019/06/web-header-logo.png
Adrian Denny
2020-06-19 11:53:42
2020-06-21 06:24:12
Our Family: Happy First Father's Day Andy