For Brad Rutherford, a lifelong hockey fan and player, after graduating from Ohio State University, the decision was either take the job in Tucson or take the job in Buffalo.
Years later he would meet his wife Janis, a native of Tempe, home of the Arizona State Sun Devils, who landed in Tucson to attend the University of Arizona.

So we start our story with a hockey lifer from Ohio, heading to the desert southwest over a hockey hotbed and his wife from Tempe, who flipped to the Old Pueblo. They'd live happily ever after.
The move to Tucson for Brad came with an oasis in the desert though. His new job was across the street from a hockey rink and all was well. Unfortunately, shortly thereafter, The Ice Rink would close with Brad's only option to play and coach ice hockey be commuting to Phoenix, which he didn't do on a regular basis.

In the meantime, he'd meet Janis, they'd get married and have their first child Cobie. Soon after, there would be another beginning and another birth in the world of the Rutherford Family in the return of professional hockey to Tucson that would reignite the scene.
"One of the main reasons that I came here, wasn't just for work, but also because there was an ice rink and shortly after moving here it shut down and we didn't have ice for ten years," said Brad.
The family was here when the Roadrunners name was announced, immediately became season ticket members and they were ready to go for Opening Night 2016 when the team took the ice for the first time against Stockton on October 28.

They've since added another teammate in Brodie, who is now two and they're always on time for games. "The boys really enjoy the National Anthem, Brodie can almost sing the whole thing, Cobie already can," Brad noted
Before the trip to the TCC on a game night though, the question for the boys is what to wear. "They have a whole closet full of jerseys and get excited to decide what they want to wear." But Brad says it's not always fan gear. "Cobie has been known to wear his whole goalie outfit. He has a helmet, blocker, glove and leg pads. Both boys have ran around the aisleways during games and intermission in their goalie gear."

Like many Roadrunners fans, the Rutherfords enjoy greeting the Roadrunners as they enter and exit the ice as well as at the many fan events throughout the course of the season. "Garland was pretty cool. Michael Bunting is always very responsive to us at family events, Russo as well. Brayden Burke is pleasant and nice to talk to," said Brad as he went on to say how much they've enjoyed all of the players that they've met over the first four years. "They're all super nice, down to earth guys, just like the boys next door when you meet them."
For Brad, the Roadrunners completed the story for a recent college graduate and his hockey friends that he'd met in Tucson. "When the Roadrunners were announced, for hockey guys like myself, and there's a lot of us here, it was like a beacon of light and happiness for all of us. There are so many guys like me that I play with, coach with, that I did coach. The kids who I started coaching when they were in junior high are now in their late 20s and they have season tickets as adults. For all of us as a hockey community, who all kind of came here from all areas of the country; for work, or the Air Force or what have you and the commitment that we've had to really make. This is a world class facility and experience that people in Tucson are able to enjoy. It equals the experience in the midwest at ECHL or AHL games for teams that have been around for decades."
"The Roadrunners being here is just a miracle and not only is the team here, but we're getting a world class team and organization from the ground up. Guys like myself are forever grateful to do whatever we can, to coach, to play to keep the spirit of the game alive and pay it forward to the three-year-old to the 55-year-old in adult league. Speaking on behalf of all of the guys, we are so thankful for everything that everyone does within the organization."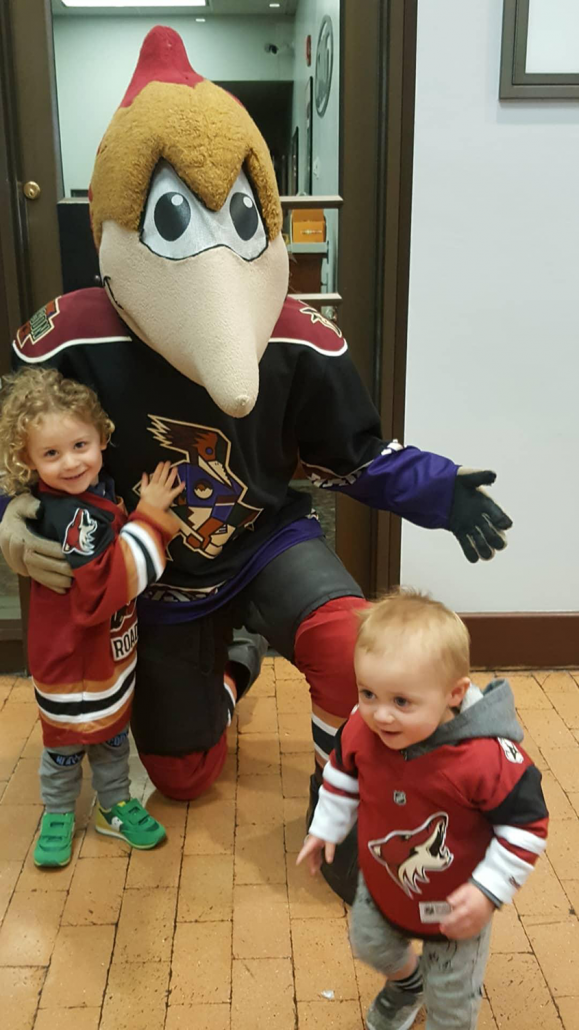 //www.tucsonroadrunners.com/wp-content/uploads/2020/06/1900_630OurFamily26_5.png
630
1900
Adrian Denny
/wp-content/uploads/2019/06/web-header-logo.png
Adrian Denny
2020-06-05 11:59:36
2020-06-05 12:50:56
Our Family: Rutherfords Root On The Roadrunners