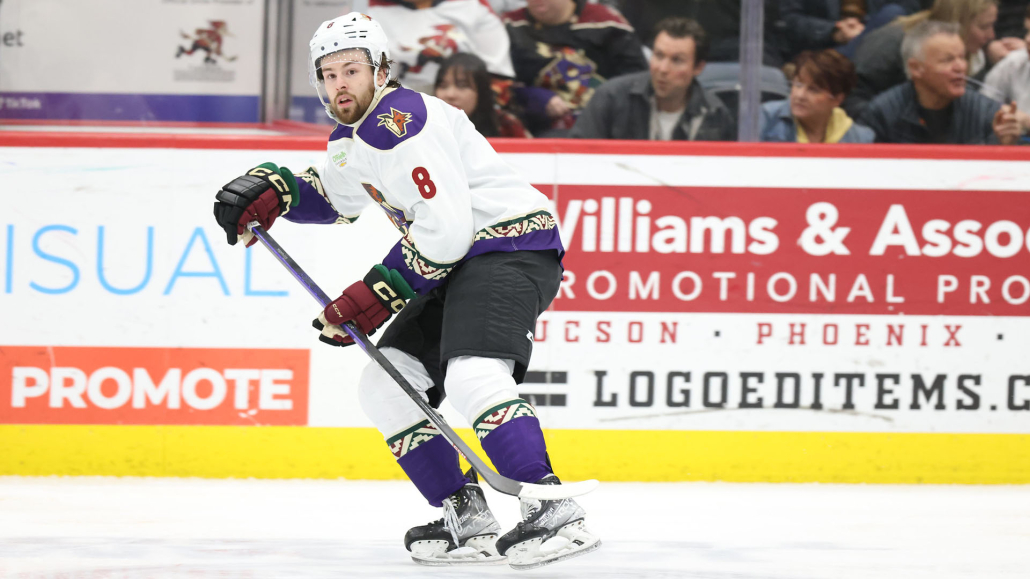 7:00 p.m. MST, Tucson Arena, Tucson, Arizona
WATCH LIVE HERE
LISTEN LIVE HERE
Tickets and Promotions Information: CLICK HERE
Tucson Weekly Game Sheet: CLICK HERE
Tucson Roadrunners Current Roster: CLICK HERE
Referees: Beau Halkidis (48) Mike Sullivan (89)
Linespersons: Anthony Caruso (54) Jake Herzog (48)

The Tucson Roadrunners take on the Texas Stars Saturday night with another opportunity to clinch a Calder Cup Playoff berth. The series finale from the Tucson Arena represents the fourth and final meeting of the season between the Roadrunners and the AHL affiliate of the Dallas Stars, after Texas took Friday's series opener 7-3. Tucson recorded a three-goal third period on Friday while outshooting the Stars 36 to 28 overall in a game that featured a combined three trips to the power-play, the fewest in a game for the Roadrunners since March 3 against San Diego. The Stars sit atop the AHL's Central Division at 37-18-9-3, two points ahead of the Milwaukee Admirals with one less game played.
Three Things
1) The Roadrunners enter Saturday's series finale with standings points in each of their last four Saturday night home games dating back to a 6-3 victory over the Abbotsford Canucks on January 28. Tucson has an overall record of 6-2-3-0 in Saturday games on their home ice this season, and their 11 total wins on Saturdays are the most of any day of the week. When dropping a series opener on Friday night at home this year, the Roadrunners have gone on to standings points in four of the five Saturday contests the following night, including their last Saturday night outing at the Tucson Arena on March 18 against the Calgary Wranglers. The 3-2 shootout win was also the Roadrunners last game televised in Southern Arizona on The CW Tucson, with Saturday's rematch against Texas representing their sixth and final televised home game of the season. The Roadrunners have earned standings points in all five previous TV games this year with an overall record of 3-0-2-0.
2) Roadrunners forward Mike Carcone recorded assists on all three of Tucson's goals on Friday for his sixth multi-point outing in his last nine games played, as well as his 11th three-point performance of the year. The effort kept himatop the American Hockey League in total scoring at 83 points (31g 52a) in 62 games played, three points ahead of Syracuse Crunch forward Alex Barré-Boulet who registered an assist earlier in the day on Friday against the Rochester Americans. Carcone also tallied a game-high seven shots on goal to extend his AHL league lead in shots to 253, one away from matching last season's highest total of 254 by Chicago Wolves forward Stefan Noesen. In addition, Carcone and Tucson Captain Adam Cracknell each joined forward Hudson Elynuik as the only three Roadrunners skaters with a point against each of their 12 opponents this season. #CarconeMVP.
3) Roadrunners Captain Adam Cracknell tallied his third two-goal game of the year on Friday with a pair of third-period scores 5:58 apart, matching his mark of 21 goals from last season and reaching 50 total points for the second time in his AHL career. Cracknell joined Carcone and forward J.S. Dea as Roadrunners to net at least 20 goals on the year, giving Tucson their second season in franchise history with three 20-goal scorers along with the 2017-2018 Pacific Division champion club. Friday's series opener was Cracknell's first outing against the Texas Stars this year after previously appearing in 70 games for the NHL's Dallas Stars from 2016 to 2018, and he totaled nine points (5g 4a) over his last seven games played entering Saturday.
What's The Word?
"We're trying to make the playoffs here, and my job is to get on the board and help us get goals and win games. That's my focus."

Roadrunners Forward Mike Carcone on recording three assists in the third period of Friday's series opener against Texas. The performance kept Carcone atop the AHL in total scoring with 83 points (31g 52a) in 62 games played.
Number to Know
21 – The number of times this season where the Roadrunners have recorded three goals or more in a single period after Tucson lit the lamp three times in the final frame of Friday's series opener against Texas. Friday also marked the Roadrunners first three-goal third period since January 28 against the Abbotsford Canucks and their eighth time scoring three goals or more over the final 20 minutes of a game this year. Entering Saturday, Tucson has lit the lamp in six of their last seven third periods and have recorded a multi-goal period in three of their last four home contests since a two-goal middle frame against the Calgary Wranglers on Saturday, March 18.
We're Doing It Live
Tonight's game will be televised live in Southern Arizona on The CW Tucson, as well as on AHLtv and on the radio on FOX Sports 1450AM and the iHeartRadio app. Coverage begins at 6:45 with Roadrunners Warm-Up hosted by Jimmy Peebles, before "Voice of the Roadrunners" Adrian Denny and Brett Fera have all the action from the Tucson Arena.
//www.tucsonroadrunners.com/wp-content/uploads/2023/04/4.8-Preview-Thumbnail.jpg
1080
1920
Jimmy Peebles
/wp-content/uploads/2019/06/web-header-logo.png
Jimmy Peebles
2023-04-08 07:05:00
2023-04-08 11:16:27
Game #70 – Texas Stars at Tucson Roadrunners