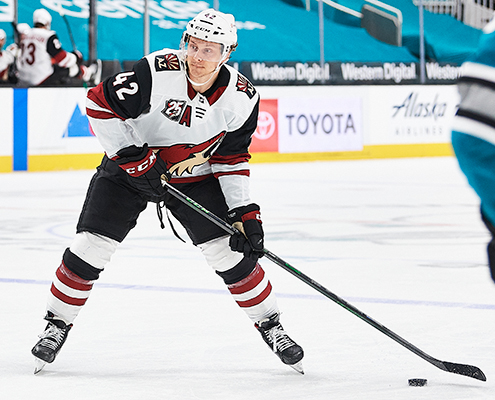 Before last weekend, Craig Morgan profiled Coyotes defenseman and 19-20 Roadrunner #42 Aaron Ness, before he made his season debut and sported an "A" on his sweater. Craig publishes approximately six articles a week in his AZ Coyotes Insider newsletter.
The Roadrunners are currently holding a "42" Hour Jersey Sale of the Aaron Ness jersey collection to benefit Roadrunners Give Back. CLICK HERE to bid.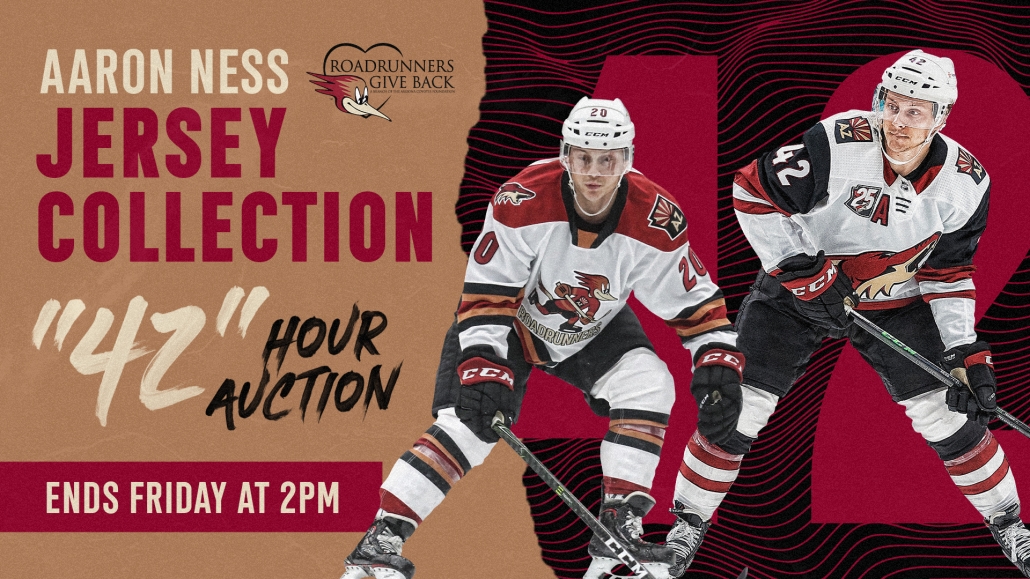 Complete Story Below as originally published May 7
Coyotes fans are probably going to get a sneak peek at prospects Victor Söderström and Jan Jeník this weekend in the final two games of the season. You know who else deserves a spot in the lineup in San Jose? Veteran defenseman Aaron Ness.
Ness holds the distinction of being the only NHL, AHL or taxi squad player in the Coyotes system who has not played a single game of pro hockey this season in the NHL, AHL or ECHL. The 11-year pro has been toiling in anonymity on the taxi squad all season. No games in Glendale. No games in any other NHL city, despite traveling with the Coyotes on their road trips. No games in Tucson.
And no complaints.
"I never really planned on getting games," Ness said. "I'm here for the team and I will do whatever they need. I'm not one to complain. This is my job to stay ready and go where I am asked to go.
"Obviously, you want to play. That's why we play hockey. If I am lucky enough to get in there I will run with it. If not, I'll keep working until the season is over. We're lucky to play professional hockey right now and a lot of people aren't even able to work or be with their family. In the grand scheme of things, we're pretty lucky."
When the season began with COVID restrictions still in place, the league required all teams to maintain a taxi squad of four to six players with at least one goaltender. The taxi squads were an insurance policy in the event that players were lost from the NHL roster due to COVID protocols or injuries sustained during a condensed and exhausting schedule.
The message for the taxi-squad players was straightforward.
"You just never know when we're going to need you so you have to be ready," Coyotes assistant coach Jay Varady said.
Taxi squads typically practice after the NHL team practices. With so few players on the ice, it's impossible to simulate a regular practice. That means no 5-on-5 play, no special-teams play, and nothing that really simulates game action.
Varady, assistant coach Cory Stillman and skating coach Lars Hepso are almost always on the ice with the taxi squad. Assistant coach Phil Housley is often there, and sometimes, coach Rick Tocchet works with them as well. Coaching such a small group requires creativity.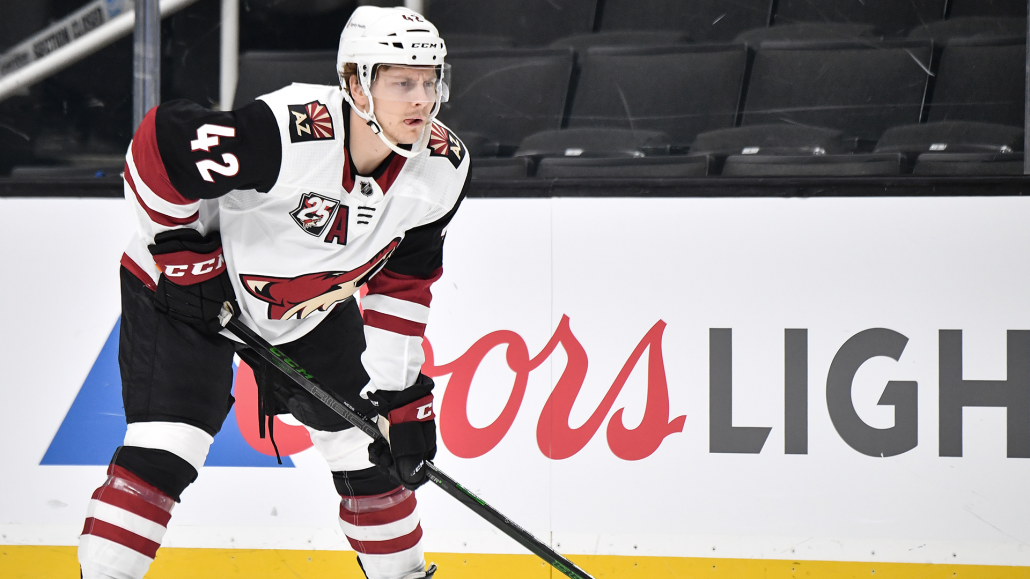 "It changes every day," Varady said. "Sometimes, there's four guys, sometimes there's five guys, sometimes there's eight guys. Sometimes goalies need to get shots so there's different goals for each practice. It might be a conditioning day. Maybe it's a skill day. Maybe it's a day when two goalies need shots because they are both coming back from injuries."
Ness applauds the staff for keeping things interesting, but Varady applauds Ness for keeping the taxi squad on the straight-and-narrow.
"He works incredibly hard every second he is out there, and he always has a smile," Varady said. "If there is a competition or a skate at the end, he's the one driving the pace, which is more than you can ask for.
"I think that gives you a deeper look into the person more than anything. It really gives you an indication of the character of that person. We knew he was a high-character guy and we knew he'd do everything we asked when we brought him here. When he came to Tucson (in 2019), he had an instant impact because he demanded excellence out of everybody. He made our practices better and he made our games better. I knew he'd be able to help us in this situation and I knew we needed him. He has been amazing."
Without any games as a reward, Ness said the possibility exists to lose heart. He appeared in 17 games for the Roadrunners last season, and 24 for the Coyotes before the season was cut short due to the COVID-19 outbreak.
To avoid those moments of discouragement, he has stayed focused on the big picture.
"It has been really interesting, and it's been a weird year for everybody," he said. "You can think about it in so many different ways and from so many different angles. Obviously for us, not playing and just practicing and staying ready has been interesting, but also, you have to think about the training staff and the coaches. Everybody takes on an extra role with having another group on the ice and they have all been great so it has actually been a positive experience.
"When this all started, I tried to take it as a positive. It can be hard to do on a day-in, day-out basis because it gets repetitive, but we're all working to play in the NHL so you take it as a way to get better as a hockey player, whether it's on the ice or off the ice and that is what this group has been doing so I am honestly proud of all of them. If you're not staying positive every day as a group, I think it can go south in a hurry but this group has been unbelievable."
Ness said that it helps when taxi squad members get the opportunity to fill in at the NHL practice when a player is taking a maintenance day or is out of the lineup for other reasons. There are other moments of interaction between the taxi squad and NHL players, too.
"You run into guys a lot because we're all at the rink at the same time," he said. "It's such a tight-knit group, whether it's the taxi squad or the team itself. Whether it's video sessions or small groups, you see guys and get the chance to talk to them, even if it's just passing in the hallways. They have done a good job of making us feel a part of the group."
There is another factor that is keeping Ness focused on the bigger picture. His wife, Samantha, is expecting the couple's first child in August.
"It makes it a little more exciting when you know you have something coming in your future," he said. "When we were on that long road trip of 17 days or whatever it was, you come back and it's like, 'Oh yeah, you are pregnant! It's actually happening.' You can see some subtle changes week to week so that's really exciting."
COVID-19 has put a lid on what Aaron and Samantha can do, but they go for walks "to free the mind," and they do a lot of planning for their new arrival.
"It's hard with the restrictions so we keep it pretty simple," he said. "We try to stay safe and stay away from people, not only for the team's sake because you don't want to spread it from guy to guy, but because my wife is pregnant. It's a double whammy, but we got pretty good at it during the quarantine year."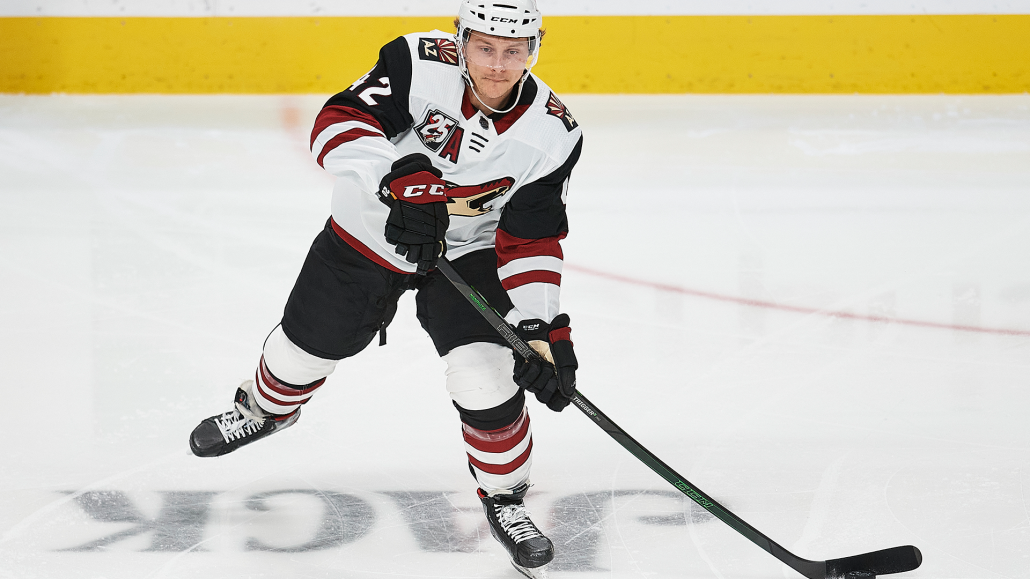 That means a lot of cooking at home — at least for one of them.
"It's definitely her doing the cooking," Ness said, laughing. "She makes a sea bass that I love. Miso glaze. I wish I could be more detailed but we both know my involvement in the cooking process."
When the season ends, Ness will become an unrestricted free agent. That is always a time of stress for players, but toss in the impact of COVID-19 on the market, and then add in the fact that Ness has zero games on tape this season for GMs to view and it can get downright nerve-racking.
Varady downplayed the potential impact of Ness' inactivity on his future.
"Look around the NHL," he said. "There's a lot of guys like him in the same situation who have enough history in the AHL and being close to being an NHL player that GMs know this year is kind of an anomaly."
Ness won't downplay the potential impact that no recent game film might have on his future. He just tries not to think about it.
"I'm a big believer in controlling what you can control," he said. "It just is what it is so I put my head down and work as hard as I can every day and the rest will take care of itself.
"I'm not the only guy going through it. There will be a lot of guys going through it; a lot of cases where players aren't playing many games. Hopefully, I have been around long enough where people know what I can do and still do."
All Photos Courtesy of the Arizona Coyotes
//www.tucsonroadrunners.com/wp-content/uploads/2021/05/Aaron_Ness_495.jpg
400
495
Craig Morgan
/wp-content/uploads/2019/06/web-header-logo.png
Craig Morgan
2021-05-12 14:17:22
2021-05-13 19:10:33
Aaron Ness: The Good Solider