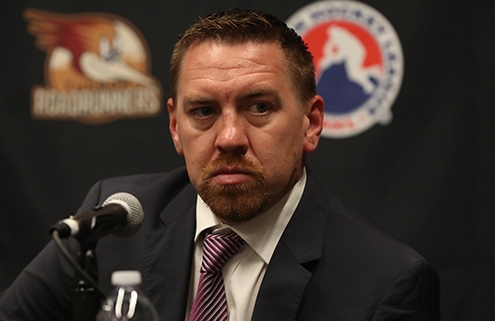 Jimmy Peebles transcribed our press conference with Arizona Coyotes General Manager Bill Armstrong and Roadrunners Head Coach Jay Varady. We lead off with the opening welcome from both.
Bill: This is something new but something old, we're really excited to announce that Jay Varady will jump back in the saddle and be in charge of the Tucson Roadrunners as head coach. It's an exciting time as a GM, because of the trust factor that I have with Jay and the job that he's done in so many leagues. It's been a privilege to watch him and work with him. I'm a huge believer in his work, and the one thing about Jay is that he gets the most out of his players in a fair way, where they have a tremendous amount of respect for him, and they play really hard. The thing that I've always loved about him is that you know what you're getting from his teams every single night, he produces consistency. I think as an organization we wanted to put our prospects in good hands, and I believe we've done that with Jay. It's an exciting time for the organization. We also have the same coaching staff with Steve Potvin coming back, along with John Slaney and those guys are going to support Jay and add in. It's an exciting time for the organization, it's a little bit of the old with a little bit of the new. I think Jay's been able to gain a tremendous amount of experience at the NHL level, and seeing what it takes to play up there, and I think he's going to bring a little bit of that back to Tucson. Congratulations Jay.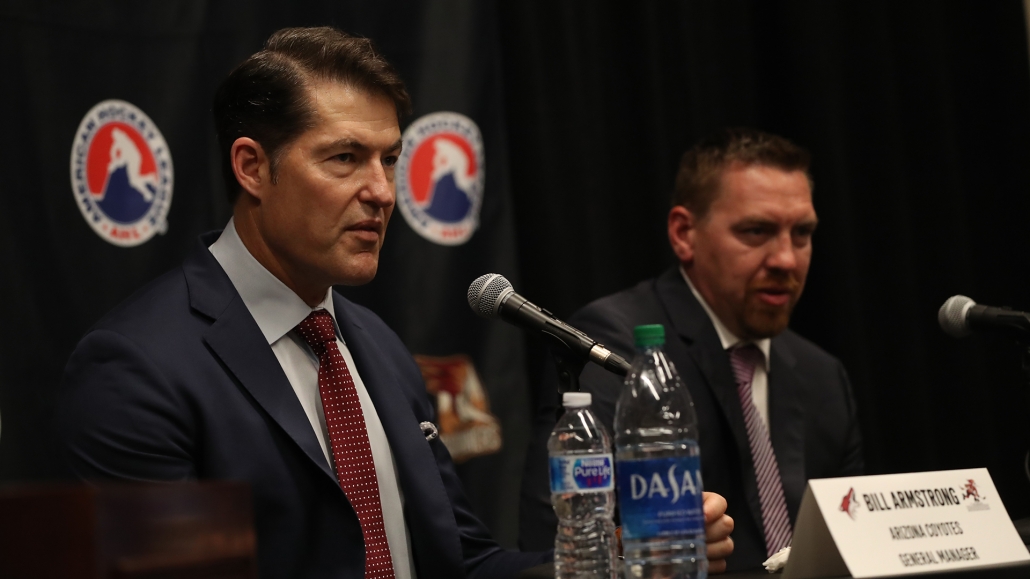 Jay: For me I just I really want to thank the Meruelo Family and Group for taking care of us through the entire pandemic and providing an opportunity down here in Tucson to develop our players. I want to take some time and talk about Bill Armstrong and his staff putting faith in us to develop the next group of Coyotes. That's something that's really important to us that we take to heart. I know for our staff in Tucson, that's a big part of what we do and it's going to be a lot of our focus. Last but not least just our staff here in Tucson, our hockey operations staff we mentioned Steve Potvin and John Slaney, those guys are close friends and great coaches. Brady Morgan, who basically does everything for our entire coaching staff and most of our players, Eric Bechtol and his staff that take care of our equipment and Bill Nervig and his staff that takes care of the players and occasionally a coach if he's got a bad back every once in a while. Those things are really important, and I think when you start linking that together with continuity that's where success comes from. We're excited to really tighten those bonds between our leadership, our NHL group, and our AHL group. Usually when you get in these press conferences there's the questions of "what's going to be the plan? What's the catch?" and for me the plan is simple, but hard. I know that sounds a little confusing but I'm going to put it in comparison to a diamond, and the diamond is a is a finished product, and the things that you have to get before you have the diamond is what forms it. The two things being time and pressure. Time here in the American League is important but there isn't as much time as for a diamond, it's quick so we have young guys that are coming here, and they need time. They need time to get bigger and time to get stronger, and we have to really be ready for that time and manage that time. Then there's the pressure. There are two kinds of pressure that happen in the American Hockey League, and coming back here a second time, I think I understand this slightly better. The two kinds of pressure are external and internal. The external pressure is the schedule, it's the competition they're facing every night and some of these young guys coming from juniors and college and Europe are playing hockey against men who have done it as a profession, and that's hard. There's the travel, we've got to get on a plane but it's the coach's job to have this team ready to play every day, and it's the player's job to be ready to play. No matter what the travel schedule was, when the meal was, when the breakfast was, none of that really matters. It matters in the puck drops. So that's a lot of external pressure and the internal pressure is a lot to do with the coaching staff and the management to have expectations for these players. When there's expectations, we hold players to those expectations. For me, that's extremely important, and as you do that the expectation grows in the locker room and it's held between the players. The plan is simple, it sounds simple, but it's actually really hard. There's a lot of barriers that coaches, coaching staffs and players have to fight through, both mentally and physically to hopefully become NHL players, and that's what we hope to do here.
Damien Alameda, KOLD: What was the biggest lesson or takeaway from your season as an Assistant Coach with the Arizona Coyotes?
Jay: Consistency. I think consistency is a huge thing with NHL players. A lot of players that play in the NHL have the skill, the size and the talent, but you need the consistency of playing at an excellent level night in and night out. That's the thing that we're really going to focus on coming back here. As we're going through, trying to win hockey games, we have to make it hard on these players because they're going to come across hard days in the NHL, and they need to be ready for those days. This is really the training ground and development side of preparing players for that.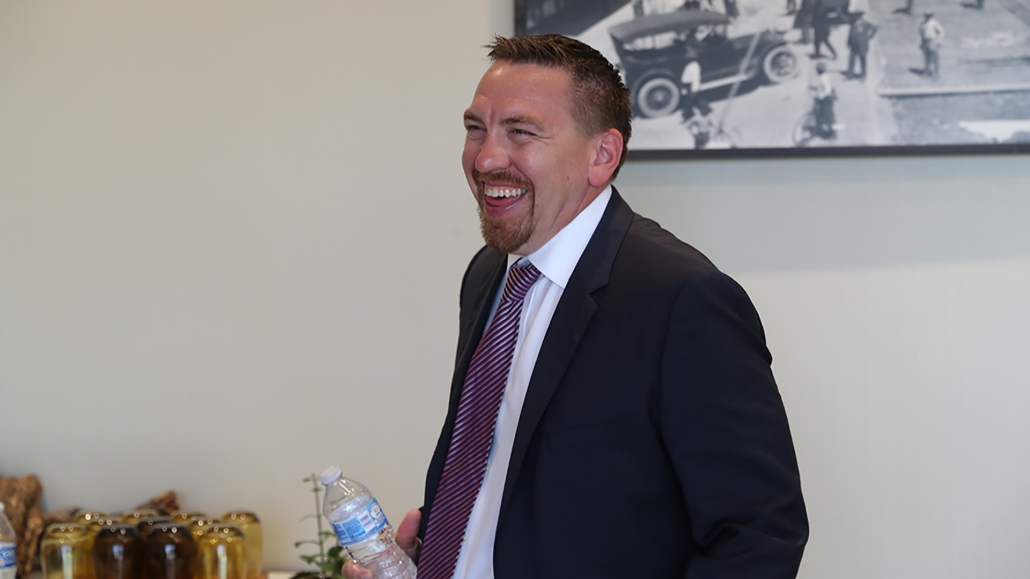 Brett Fera, Arizona Daily Star: After spending a season up in Glendale with the Coyotes, how will you see the game of hockey differently back at the AHL level?
Jay: I think I'll see it through a different lens, not a different speed for me. I didn't play in the NHL and I hadn't coached in the NHL until last year, but after you go through it for a season you really have a better understanding. Also, the relationship with management. I talked with [Coyotes GM Bill Armstrong], we sat next to each other, spent meals together, we were on the road locked in hotels for an entire year. There's a lot of perspective that happens, and for me coming back I'm not guessing what that perspective is, I'm not wondering what's happening here. I know what our group is going to have to do, and I know what our players are going to need to do to develop.
Damien Alameda, KOLD: How does Jay fit into the vision for the organization and its coaching staff with André Tourigny at the helm of the Coyotes?
Bill: I think one of the great things is [Jay's] ability to work with young players and develop them. He's got a passion for the game; you don't make it to the NHL from where he came from if you don't have passion and don't really love the game. I think that he shows it every time he's on the ice. He has a good thought process about the purpose of what he wants to show the young players and teach them, and he also has a way to communicate through kindness and trying to get them to understand, but he also has a firmness about insisting that it be done this way. I really think he's a key person in our organization. If you look at some of the players that are going to come through here in the next few years, it's of major importance that we have the top coaches in the American Hockey League coaching here [in Tucson] and developing our guys.
Jay: For me it's easy, I know André, he's a great coach, we have a good relationship and I'm looking forward to it. André is going to be in a lot of ways setting the coaching curriculum so to speak for the organization. As part of being an American Hockey League coach, it's going to be our job to implement that as we go along. We've had conversations already, as soon as André got hired, we were on the phone talking. I've been following him; we have a lot of mutual friends. He's done a great job in Ottawa, I was in Kingston, André was in the league, and we would talk before or after games with a lot of mutual respect.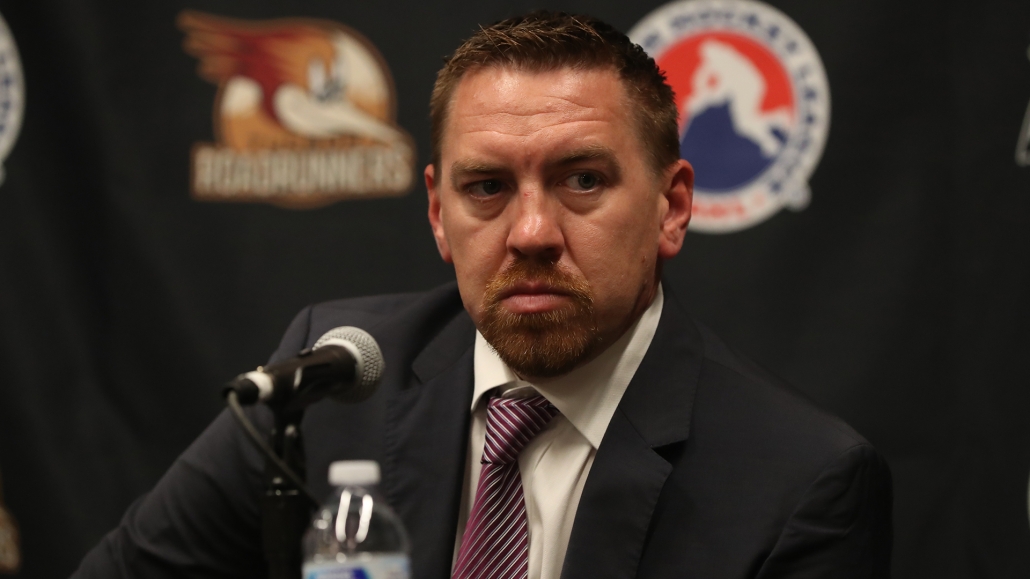 Brett Fera, Arizona Daily Star: What was it about Jay that made you want to keep him on the staff amid the coaching changes up in Glendale?
Bill: Jay and I go way back just from following him over the years, I had a lot of people in St. Louis that were rooting for him and telling me how good a coach he was. So some people that he knew there, and then watching him in Sioux City and the teams that he built and then moving into Kingston and the OHL and then obviously moving through the American Hockey League up to the NHL. I just have a tremendous amount of respect for what he brings to the table. He's got a passion for the game and that's probably one of the things that I love about him. To answer this pretty directly, he wants to make people better. That's his number one purpose, and the bigger vision of that is he wants to make the team great. He's invested in making the individual and the player better, and that's probably one of the things that sticks out in my mind for me.
Alex Kinkopf, ArizonaCoyotes.com: Familiarity is important at the AHL level and especially for the fans here in Tucson. You have your coaching staff of Steve Potvin, John Slaney and Brady Morgan, all of which you worked with previously here. What went well working with them before and why were they the right fit for your return?
Jay: They're great coaches. Coming in here my first year, I didn't know those guys at all. There was a little bit of a transition phase, we were trying to implement a system that they knew a little better than I did which was helpful, and our relationship grew with a lot of passion and respect for each other. Each guys got a little different strength that they bring. [Steve Potvin] is a guy who's passionate about the power play and about working with guys, and these are guys that know the level. John Slaney played in the NHL he's now second all-time for AHL defensemen in points, so these guys know the level and they know the hard part that the players are going through. If you watch these guys operate it's a lot of stuff that happens outside the rink it's when we're sitting in airports waiting for the southwest flight and [Steve Potvin's] in the corner of some airport talking to the players or it's the coffee that [John Slaney] is having in the locker room before practice and I'm looking for him to do a drill. These are the things that make those guys special, and the last guy is Brady who does everything for us. If we didn't have Brady I don't know which way we would walk in the airport because he's telling us where to go and when to do it.
Alex Kinkopf, ArizonaCoyotes.com: Jay mentioned before the importance of continuity. Things change in the AHL quickly roster-wise, so how important is it to have stability at the head coaching role for an AHL team?
Bill: I think it's huge, you know what you're going to get from Jay with what he's delivered in the past, and I also think that the coaching staff that's packed around here is a good coaching staff. Jay up top with Steve Potvin and John Slaney, and then also Brady Morgan. I'm very confident that staff can help develop our players and help us achieve our big goal which is winning a Stanley Cup. You're not going to do that without great development from the American Hockey League so we're very confident and very excited about the coaching staff that we have down here.
Craig Morgan, AZ Coyotes Insider: One of the big reasons for putting the AHL affiliate in Tucson was to create some synergy between the NHL and AHL teams. How much of a challenge is it to reprogram a team or tweak some things with a new coaching staff up in Glendale?
Jay: It's no problem, it's exciting and it's growth. If you just sat back and did the same thing year after year after year, eventually it gets old. There's a change there's going to probably be some changes in the tactics and structure that we're using, and that's exciting. That's growth it'll be growth for our players and growth for coaches and it'll be fun to dig in. I'm sure we're going to get the computer smoking here pretty quick with some video and that's usually what coaches do this time of year and there's a little bit of excitement in that. It's exciting as a coach to get to learn something new and teach something new.
Jose Romero, Arizona Republic: Seeing guys like Adin Hill, Lane Pederson and Michael Bunting performing well at the NHL level with the Coyotes last season that you've worked with in Tucson, what did that do for you and what was that like to see?
Jay: It was really exciting for me. There was a good strong bond with those guys there and we were trying to push them to the next level. For me now, it's about who that next group will be that we're going to push through our development system like that. The last group set the bar pretty high, so we've got some work to do and we're starting today.
Jose Romero, Arizona Republic: What does it mean to see these guys develop and come from Tucson up to the NHL level, and to hear them talk so fondly about their time down with the Roadrunners?
Bill: Tucson is a great place to play and a great place to come watch a game. It's exciting for me as a GM, I can drive down on an off night and catch a game and see our prospects. It's a huge advantage to have that. The feedback from the players is that they love the area, they love playing and living in Tucson and they love our staff. We have a great setup down here and we want our players to be excited about coming here.
//www.tucsonroadrunners.com/wp-content/uploads/2021/07/495_1.jpg
400
495
Jimmy Peebles
/wp-content/uploads/2019/06/web-header-logo.png
Jimmy Peebles
2021-07-09 11:09:34
2021-07-09 11:19:35
Bill Armstrong, Jay Varady Press Conference Q and A