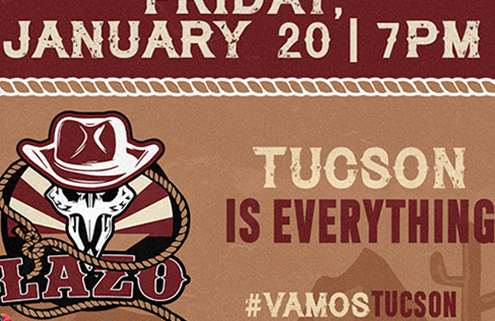 Tucson, Arizona – The Tucson Roadrunners, AHL affiliate of the Arizona Coyotes, will unveil Dusty's Cheering Section, presented by Arizona Bilingual, for the first-time hockey fan, at Friday's El Lazo de Tucson presented by the City of Tucson when the Roadrunners host Bakersfield at 7 p.m. from Tucson Arena.
Dusty's Cheering Section includes: a game ticket, a Roadrunners Hat and an interactive pregame session of ROADRUNNERS HOCKEY Rules, the team's new Hockey 101 Class with personal instruction on how to have the most fun while cheering the team on at Tucson Arena. ROADRUNNERS HOCKEY Rules will include both English and Spanish Sessions and a Q and A with a Roadrunners player. The team's Mascot Dusty and course founder will also assist in class instruction. To join Dusty's Cheering Section visit TucsonRoadrunners/Cheer in English or TucsonRoadrunners.com/Espanol for Spanish.

During the El Lazo de Tucson game, the game presentation will continue to feature ROADRUNNERS HOCKEY Rules to the game in English and Spanish, plus fun all night long embracing the team's Southern Arizona identity of El Lazo de Tucson. Roadrunners Mascot Dusty also assumes his El Lazo identity as "El Polvo" meaning "The Dust" in Spanish at all El Lazo Games.
El Lazo de Tucson Schedule
Friday, January 20 7 p.m.
Friday, March 3  7 p.m.
Friday, April 14 7 p.m.
All El Lazo games feature performances from the dancers and musicians with Mariachi Los Diablitos from Sunnyside High School.
The Roadrunners kicked off their third season of El Lazo de Tucson in September by launching a Spanish language website in TucsonRoadruners.com/Espanol and a Spanish Facebook page at Facebook.com/LosTucsonRoadrunners.
More About El Lazo de Tucson
Assumed in 2020, the Roadrunnners 'El Lazo' identity is a continuing effort to embrace all that is Southern Arizona and the history and culture of the community. The El Lazo mark features the skull of a Roadrunner in celebration of Dia de Los Muertos and the All Souls Procession (a public ceremony began in Tucson in 1990). El Lazo, Spanish for 'lariat' or 'lasso', is taken from the City of Tucson's city seal that ties together the modern city and the historic area that is now Tucson. The Tucson Rodeo and Parade is held every February and celebrates the ranching history of the area. The skull in the logo is wearing a cowboy hat to reflect this historic tradition in Southern Arizona. The team unveiled their El Lazo identity and 2022-2023 marks their third season playing as El Lazo de Tucson.
//www.tucsonroadrunners.com/wp-content/uploads/2023/01/495_4001_17.png
400
495
Tucson Roadrunners
/wp-content/uploads/2019/06/web-header-logo.png
Tucson Roadrunners
2023-01-16 21:36:47
2023-01-16 21:36:47
Dusty's Cheering Section To Debut At El Lazo de Tucson