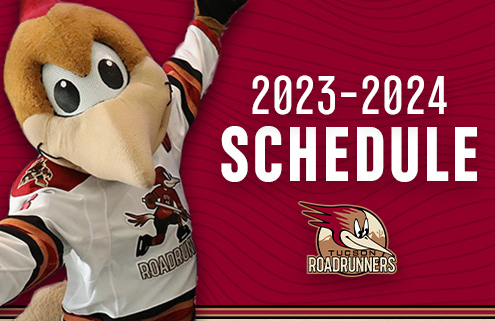 TUCSON, ARIZONA – The Tucson Roadrunners, AHL affiliate of the Arizona Coyotes, today announced their regular season schedule for the 2023-2024 season which will begin on Friday, October 13 in Texas.
The Roadrunners home opener is Saturday, October 21 when they will host Coachella Valley at 7 p.m. from Tucson Arena.
CLICK HERE TO DOWNLOAD PRINTABLE PDF
CLICK HERE TO DOWNLOAD PRINTABLE CALENDAR
CLICK HERE TO DOWNLOAD SCHEDULE TO YOUR DEVICE
Fans can secure their seats for Opening Night and the remaining 35 regular season home games by simply joining the Roadrunners Flex Club; with levels of 10, 20 or 30 vouchers that can be redeemed in any quantity for any game; resulting in significant savings when purchased in advance at TucsonRoadrunners.com/Club. Season Ticket Memberships for all 36 home games are available at TucsonRoadrunners.com/MembersOnly. In addition to more savings, Season Ticket Memberships include: exclusive events with the team, unlimited ticket trade for any unused tickets that can be redeemed for any game, an annual gift, monthly payment options and more.
28 of the team's 36 games will be played on Friday or Saturday nights; including 15 Saturday night games, the most in any single season, slated for Tucson Arena. The Roadrunners will also host one Sunday game at 4 p.m. against Texas on Sunday, March 17.
"With an unprecedented 29 Tucson Arena games on Friday, Saturday and Sunday, this is the most fan friendly home schedule that we have seen in our team history," said Roadrunners President Bob Hoffman. "We look forward to continuing to build on one of the best home-ice advantages in the American Hockey League in front of our loyal base while also adding fans in waiting from all over Southern Arizona to cheer on our team of hot Coyotes prospects led by Head Coach Steve Potvin."
WORKING FOR THE WEEKEND
15 Saturday games for the Roadrunners is the most in team history, with 13 being the previous most Saturday games during the 2017-2018 season. 13 Friday home games ties the most in team history with Tucson also playing that many during the 2018-2019 campaign.
SCHOOL DAY GAME RETURNS
The Roadrunners will host San Diego at 10:30 a.m. on Tuesday, October 24 as they partner with Stantec and the Pima County Superintendent's Office to bring local students in K through 8 free of charge to a "field trip" game. In order to make the game a free event for the students, the Roadrunners have launched an Offseason Raffle with great prizes including 2023-24 Roadrunners season tickets, signed game worn jerseys from some of the greatest prospects in the American Hockey League and in the Arizona Coyotes system, signed memorabilia from Roadrunners and Coyotes players, unique game experiences and more. Each raffle ticket costs $20, with all proceeds going directly to providing the youth of Pima County this unique experience. More information can be found at TucsonRoadrunners.com/Raffle. The Roadrunners hosted their inaugural School Day Game on Wednesday, January 17, 2018 against the San Diego Gulls in front of a sellout crowd of 6,521.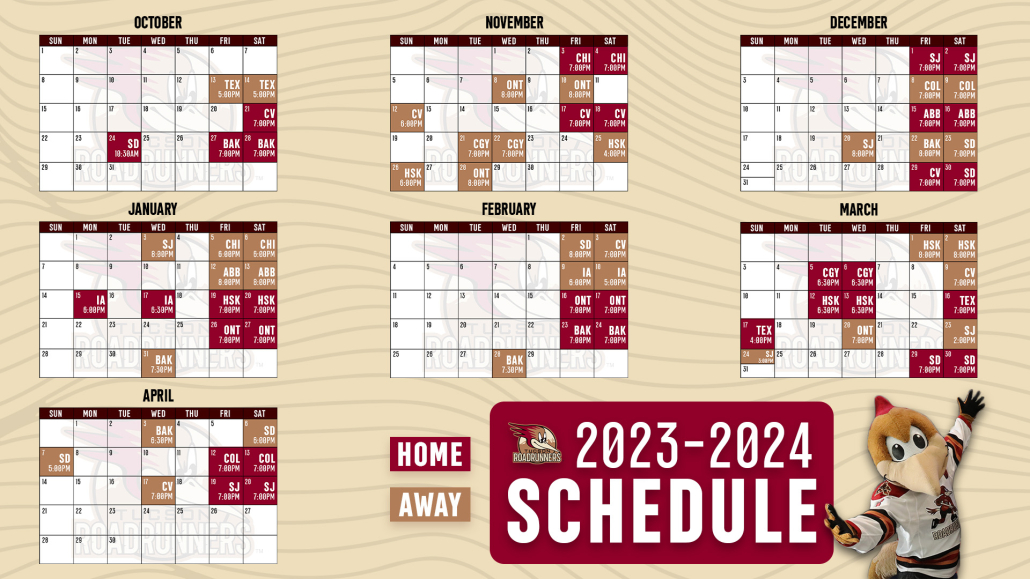 SYNC THE SCHEDULE
Add the Roadrunners schedule to your calendar with Google, Exchange, Apple, Yahoo, Outlook and more! Click here to download now.
START TIMES
All Friday and Saturday Roadrunners home games will begin at 7 p.m. Tuesday and Wednesday evening home games will begin at 6:30 p.m. The team's matinee on Sunday, March 17 will begin at 4 p.m. The Roadrunners will also drop the puck at 6 p.m. on Martin Luther King Day January 15 against Iowa.
HOME WEEKENDS OPEN THE SEASON
The Roadrunners will host three-straight weekends and six games of Tucson Arena action Saturday, October 21 through November 4 as the season will open with six of their first eight games on home ice with four opponents in: Coachella Valley, San Diego, Bakersfield and Chicago.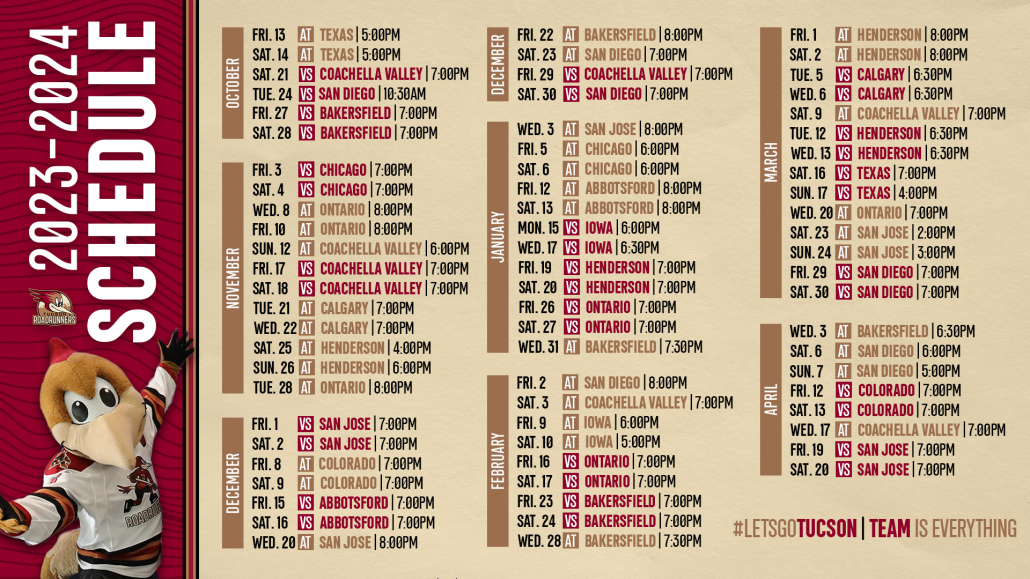 THE HOME STRETCH
Tucson will then close the season with four of their final five games at home and back-to-back weekends at Tucson Arena April 12-20.
GEM OF A SCHEDULE MIDSEASON
Tucson will play ten of 15 games at home from January 15-February 24 in a stretch that usually encompasses their season-long Gem Show Road Trip. This year's trip will be only five games over 11 days with an All-Star Break between a trip to California for matchups against Bakersfield, San Diego and Coachella Valley January 31-February 3 and their one trip to Iowa February 9 and 10.
LONGEST HOME STANDS VS LONGEST ROAD TRIPS
Tucson will host two home stands of six-straight games, but won't leave home for more than five-straight games on this current campaign. In addition to the abbreviated and sandwiched Gem Show Trip, the Roadrunners will leave Tucson for five-straight games November 21-28 with games in Calgary (2), Henderson (2) and Ontario (1) over the Thanksgiving holiday and just after New Year's, Tucson will visit San Jose (1), Chicago (2) and Abbotsford (2) January 3-13.
GAMES BY MONTH
October: 4 Home, 2 Road
November: 4 Home, 8 Road
December: 6 Home, 5 Road
January: 6 Home, 6 Road
February: 4 Home, 5 Road
March: 8 Home, 6 Road
April: 4 Home, 4 Road
GAMES BY OPPONENT
Abbotsford: 2 Home, 2 Away
Bakersfield: 4 Home, 4 Away
Calgary: 2 Home, 2 Away
Chicago: 2 Home, 2 Away
Coachella Valley: 4 Home, 4 Away
Colorado: 2 Home, 2 Away
Henderson: 4 Home, 4 Away
Iowa: 2 Home, 2 Away
Ontario: 4 Home, 4 Away
San Jose: 4 Home, 4 Away
San Diego: 4 Home, 4 Away
Texas: 2 Home, 2 Away
HOME GAMES BY DAY OF WEEK
Monday: 1 Games
Tuesday: 3 Games
Wednesday: 3 Games
Thursday: 0 Games
Friday: 13 Games
Saturday: 15 games
Sunday: 1 game
DATES TO KNOW
Friday, October 13: The season opens in Texas.
Saturday, October 21: Opening Night against Coachella Valley.
Tuesday, October 24: 10:30 a.m. School Day Game against San Diego.
Friday, November 17 and Saturday, November 18: Military Appreciation Weekend
Saturday, December 16: Teddy Bear Toss
Friday, December 29 and Saturday, December 30: The Roadrunners welcome Coachella Valley and San Diego to town for standalone games over the holidays.
Monday, January 15: Six-game home stand opens with 6 p.m. Martin Luther King Day contest against Iowa.
Sunday, March 17: Only Sunday matinee of season against Texas on St. Patrick's Day.
Friday, April 19 and Saturday, April 20: Regular Season Home Finales.
The team's complete Promotional Night schedule will be announced in August.
AFFILIATION GUIDE, See when each AHL affiliate is visiting Tucson
Abbotsford Canucks (Vancouver Canucks)
Friday, December 15; Saturday, December 16
Bakersfield Condors (Edmonton Oilers)
Friday, October 27, Saturday, October 28; Friday, February 23; Saturday, February 24

Calgary Wranglers (Calgary Flames)
Tuesday, March 5; Wednesday, March 6
Chicago Wolves (No NHL Affiliation)
Friday, November 3; Saturday, November 4
Coachella Valley Firebirds (Seattle Kraken)
Saturday, October 21; Friday, November 17; Saturday, November 18; Friday, December 29
Colorado Eagles (Colorado Avalanche)
Friday, April 12; Saturday, April 13
Henderson Silver Knights (Vegas Golden Knights)
Friday, January 19; Saturday, January 20; Tuesday, March 12; Wednesday, March 13
Iowa Wild (Minnesota Wild)
Monday, January 15; Wednesday, January 17
Ontario Reign (Los Angeles Kings)
Friday, January 26; Saturday, January 27; Friday, February 16 Saturday, February 17
San Diego Gulls (Anaheim Ducks)
Tuesday, October 24; Saturday, December 30; Friday, March 29; Saturday, March 30
San Jose Barracuda (San Jose Sharks)
Friday, December 1; Saturday, December 2; Friday, April 19; Saturday, April 20
Texas Stars (Dallas Stars)
Saturday, March 16; Saturday, March 17
REGULAR SEASON:
*All Times Tucson local
OCTOBER:
Friday, October 13 @ Texas (5:00 p.m.)
Saturday, October 14 @ Texas (5:00 p.m.)
Saturday, October 21 vs. COACHELLA VALLEY (7:00 p.m.)
Tuesday, October 24 vs. SAN DIEGO (10:30 a.m.)
Friday, October 27 vs. BAKERSFIELD (7:00 p.m.)
Saturday, October 28 vs. BAKERSFIELD (7:00 p.m.)
NOVEMBER:
Friday, November 3 vs. CHICAGO (7:00 p.m.)
Saturday, November 4 vs. CHICAGO (7:00 p.m.)
Wednesday, November 8 @ Ontario (8:00 p.m.)
Friday, November 10 @ Ontario (8:00 p.m.)
Sunday, November 12 @ Coachella Valley (6:00 p.m.)
Friday, November 17 vs. COACHELLA VALLEY (7:00 p.m.)
Saturday, November 18 vs. COACHELLA VALLEY (7:00 p.m.)
Tuesday, November 21 @ Calgary (7:00 p.m.)
Wednesday, November 22 @ Calgary (7:00 p.m.)
Saturday, November 25 @ Henderson (4:00 p.m.)
Sunday, November 26 @ Henderson (6:00 p.m.)
Tuesday, November 28 @ Ontario (8:00 p.m.)
DECEMBER:
Friday, December 1 vs. SAN JOSE (7:00 p.m.)
Saturday, December 2 vs. SAN JOSE (7:00 p.m.)
Friday, December 8 @ Colorado (7:00 p.m.)
Saturday, December 9 @ Colorado (7:00 p.m.)
Friday, December 15 vs. ABBOTSFORD (7:00 p.m.)
Saturday, December 16 vs. ABBOTSFORD (7:00 p.m.)
Wednesday, December 20 @ San Jose (8:00 p.m.)
Friday, December 22 @ Bakersfield (8:00 p.m.)
Saturday, December 23 @ San Diego (7:00 p.m.)
Friday, December 29 vs. COACHELLA VALLEY (7:00 p.m.)
Saturday, December 30 vs. SAN DIEGO (7:00 p.m.)
JANUARY:
Wednesday, January 3 @ San Jose (8:00 p.m.)
Friday, January 5 @ Chicago (6:00 p.m.)
Saturday, January 6 @ Chicago (6:00 p.m.)
Friday, January 12 @ Abbotsford (8:00 p.m.)
Saturday, January 13 @ Abbotsford (8:00 p.m.)
Monday, January 15 vs. IOWA (6:00 p.m.)
Wednesday, January 17 vs. IOWA (6:30 p.m.)
Friday, January 19 vs. HENDERSON (7:00 p.m.)
Saturday, January 20 vs. HENDERSON (7:00 p.m.)
Friday, January 26 vs. ONTARIO (7:00 p.m.)
Saturday, January 27 vs. ONTARIO (7:00 p.m.)
Wednesday, January 31 @ Bakersfield (7:30 p.m.)
FEBRUARY:
Friday, February 2 @ San Diego (8:00 p.m.)
Saturday, February 3 @ Coachella Valley (7:00 p.m.)
Friday, February 9 @ Iowa (6:00 p.m.)
Saturday, February 10 @ Iowa (5:00 p.m.)
Friday, February 16 vs. ONTARIO (7:00 p.m.)
Saturday, February 17 vs. ONTARIO (7:00 p.m.)
Friday, February 23 vs. BAKERSFIELD (7:00 p.m.)
Saturday, February 24 vs. BAKERSFIELD (7:00 p.m.)
Wednesday, February 28 @ Bakersfield (7:30 p.m.)
MARCH:
Friday, March 1 @ Henderson (8:00 p.m.)
Saturday, March 2 @ Henderson (8:00 p.m.)
Tuesday, March 5 vs. CALGARY (6:30 p.m.)
Wednesday, March 6 vs. CALGARY (6:30 p.m.)
Saturday, March 9 @ Coachella Valley (7:00 p.m.)
Tuesday, March 12 vs. HENDERSON (6:30 p.m.)
Wednesday, March 13 vs. HENDERSON (6:30 p.m.)
Saturday, March 16 vs. TEXAS (7:00 p.m.)
Sunday, March 17 vs. TEXAS (4:00 p.m.)
Wednesday, March 20 @ Ontario (7:00 p.m.)
Saturday, March 23 @ San Jose (2:00 p.m.)
Sunday, March 24 @ San Jose (3:00 p.m.)
Friday, March 29 vs. SAN DIEGO (7:00 p.m.)
Saturday, March 30 vs. SAN DIEGO (7:00 p.m.)
APRIL:
Wednesday, April 3 @ Bakersfield (6:30 p.m.)
Saturday, April 6 @ San Diego (6:00 p.m.)
Sunday, April 7 @ San Diego (5:00 p.m.)
Friday, April 12 vs. COLORADO (7:00 p.m.)
Saturday, April 13 vs. COLORADO (7:00 p.m.)
Wednesday, April 17 @ Coachella Valley (7:00 p.m.)
Friday, April 19 vs. SAN JOSE (7:00 p.m.)
Saturday, April 20 vs. SAN JOSE (7:00 p.m.)
//www.tucsonroadrunners.com/wp-content/uploads/2023/07/Schedule23-24_495x400.jpg
400
495
Tucson Roadrunners
/wp-content/uploads/2019/06/web-header-logo.png
Tucson Roadrunners
2023-07-12 11:06:02
2023-07-21 08:45:24
Roadrunners Announce 2023-2024 Schedule