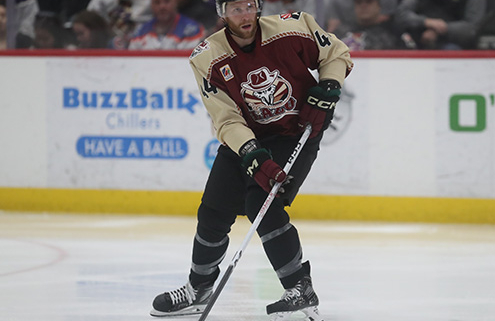 Tucson, Arizona – The Tucson Roadrunners, the American Hockey League affiliate of the Arizona Coyotes, today announced plans for their Hispanic Heritage Month Celebration from September 15-October 15.

The Roadrunners are proud to partner with Sicomoro Community Services for Fan Fest at Tucson Arena on Sunday, October 1 from 4 p.m. – 6 p.m. Fans are asked to bring: canned food, bottled water, diapers, toys, dog and cat food and clothing at they enter the free event. Sicomoro Community Services focus is on helping elderly individuals, but their services are available to everyone in need. Roadrunners players and staff will also be with volunteering with Sicomoro Community Services during Hispanic Heritage Month. The team will also be raffling off an El Lazo de Tucson game jersey with all proceeds benefitting Sicomoro Community Services during Hispanic Heritage Month with tickets available for $5 at .
In addition, as the Arizona Coyotes host Anaheim in preseason action on Sunday, October 7 at 3 p.m. from Tucson Arena, the Roadrunners are excited to welcome back Mariachi Los Diablitos de Sunnyside High School to perform the Star-Spangled Banner while also entertaining fans upon entrance to the arena.
Also at the game on October 7, the Roadrunners will be announcing and honoring this year's El Lazo Community Partner of the Year. The Roadrunnners 'El Lazo' identity is a continuing effort to embrace all that is Southern Arizona and the history and culture of the community. The El Lazo mark features the skull of a Roadrunner in celebration of Dia de Los Muertos and the All Souls Procession (a public ceremony began in Tucson in 1990). El Lazo, Spanish for 'lariat' or 'lasso', is taken from the City of Tucson's city seal that ties together the modern city and the historic area that is now Tucson. The Tucson Rodeo and Parade is held every February and celebrates the ranching history of the area. The skull in the logo is wearing a cowboy hat to reflect this historic tradition in Southern Arizona. The El Lazo identity was unveiled in 2020 and was recognized as the American Hockey League's Marketing Campaign of the Year following the 2022-23 season.

This season's El Lazo de Tucson games presented by the City of Tucson for the Roadrunners have also been announced.
Saturday, October 28; 7 p.m.
Friday, January 19; 7 p.m.
Friday, January 19; 7 p.m.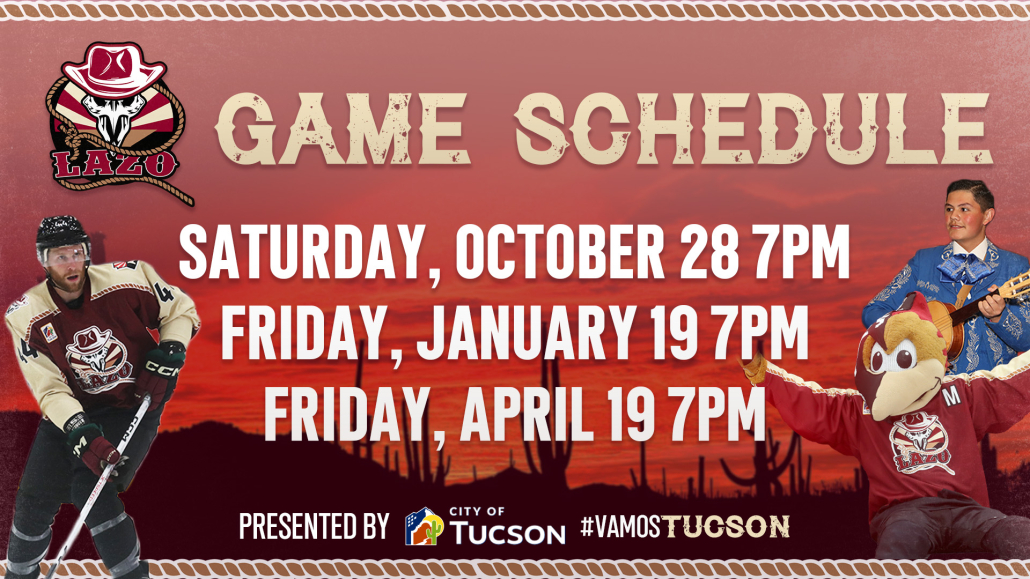 The team is also excited to unveil their first-ever Spanish television commercial during Hispanic Heritage Month after launching a Spanish website at TucsonRoadrunners.com/Espanol and Facebook page at Facebook.com/LosTucsonRoadrunners last September in addition to their current media partnerships with Arizona Bilingual, Tejano 1600, Mega 97.1, La Caliente 92.1 y 95.7, La Buena 94.3 and exito 93.3.
Tucson's Home Opener is on Saturday, October 21 at 7:00 p.m. against the defending AHL Western Conference Champions, the Coachella Valley Firebirds. The Arizona Coyotes host Anaheim in NHL preseason action at Tucson Arena on Saturday, October 7 at 3 p.m. Tickets for both of those games and all Roadrunners regular season games are available at TucsonRoadrunners.com/Fun.
//www.tucsonroadrunners.com/wp-content/uploads/2023/09/9_15_23HHM.jpg
400
495
Tucson Roadrunners
/wp-content/uploads/2019/06/web-header-logo.png
Tucson Roadrunners
2023-09-15 12:03:41
2023-09-15 13:31:26
Roadrunners Unveil Hispanic Heritage Month Celebration