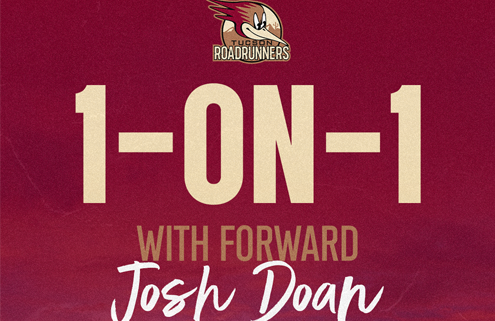 This week on the Tucson Roadrunners Insider Podcast, "Voice of the Roadrunners" Adrian Denny and TucsonRoadrunners.com's Kim Cota-Robles were joined by forward Josh Doan ahead of his first full pro season in Arizona after joining us late last year. The full episode, including Josh talking about his favorite cheat meal and why he's happiest at home in Arizona, can be found on the iHeartRadio App or by listening below.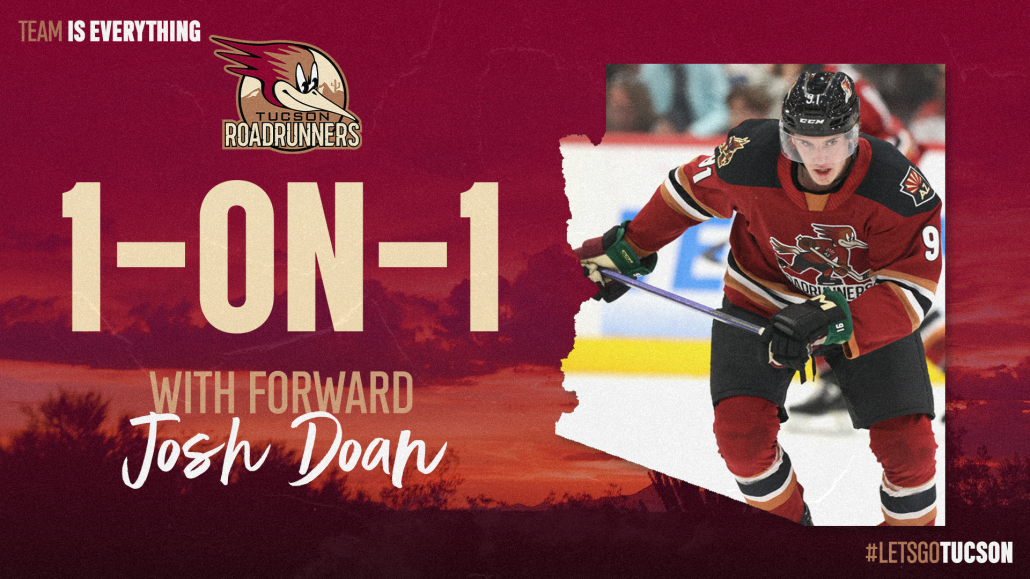 Listen to "That's How It's Doan" on Spreaker.
Q: How are you doing today? Did you get a chance to cool off at any of our local rinks up in the valley?
A: Good, doing good, just enjoying the nice Arizona heat. Yeah, I was at the Ice Den in Scottsdale this morning. It's a little bit cooler in there than it is outside, that's for sure.
Q: What have you been up to this summer Josh?
A: Not a lot, I went up to Canada for a bit and saw my family and trained up there and then had a development camp at the beginning of July down here which is always nice and it's good to see the guys again; but it's good to be back and just getting back to work in Arizona.
Q: Were you in Kamloops, BC? I know your family has gone there in the past.
A: Yes, we've got a good group of guys up there, a lot pro and junior players, that I've been with since I was a little kid and my trainer up there, Greg Kazoris does a really good job. He worked with my dad pretty much his whole career so he knows what he's doing and he's been basically like family to us over the years.
Q: We know our Roadrunners up at Development Camp were leading the way up there with you Reece Vitelli, Micah Miller and Michael Lombardi.
A: Yeah, fortunately I was on the team with Milsey and with Reece, so we had a good time together and it's always good to see those guys over the summer.
Q: Arizona is kind of a hockey hotbed, especially during the Summer with all of the Coyotes and NHL players who are here during the offseasons.
A: Yeah, for sure, obviously with the group we have going right now it's pretty special. You get to go to the rink, and you see Auston Matthews and Tage Thompson and then those guys from Arizona that are getting there like Matthew Knies and Mark Kastelic. It's growing and it's become quite the hotbed for hockey players.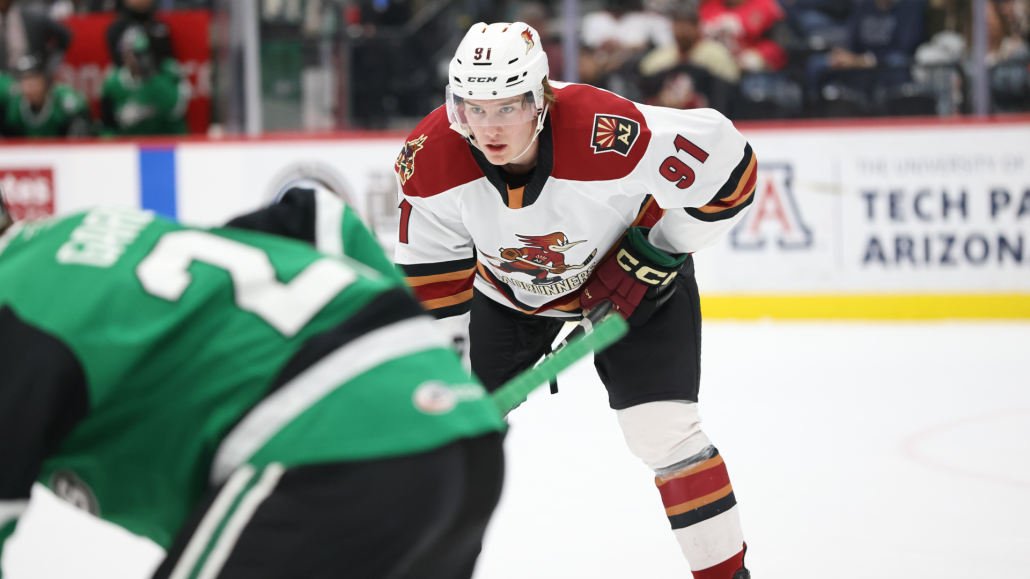 Q: Not to start any family drama, but did you have a favorite player growing up that wasn't your dad?
A: Yeah, there's a couple of guys, I'd say, away from the Coyotes, I was always a Nicklas Backstrom fan. I think he's a guy that, when I was a kid, I'd try to model my game after a little bit. Someone that plays a fun style and likes to move the puck and set his teammates up. My favorite Coyotes player of all time, we laugh, is Ladislav Nagy so he played when I was a kid, and he was someone I always liked to watch and as I got older it was Max Domi and Mikkel Bodker. Those guys came in and played a huge role in my life and taught me things along the way.
Q: Are there any other sports that you're into?
A: My family all tease me because I'm a big sports nerd so any sport I'll watch, whether it's soccer, baseball, football, basketball. Any local Arizona team I'm a big fan of. I watch the Diamondbacks, the Suns, and the Cardinals; but as a kid I grew up playing mostly hockey. I played baseball into middle school, and I played soccer up until I was 12. I've kind of done a lot of what you can do in Arizona and hockey kind of came away on top of everything else.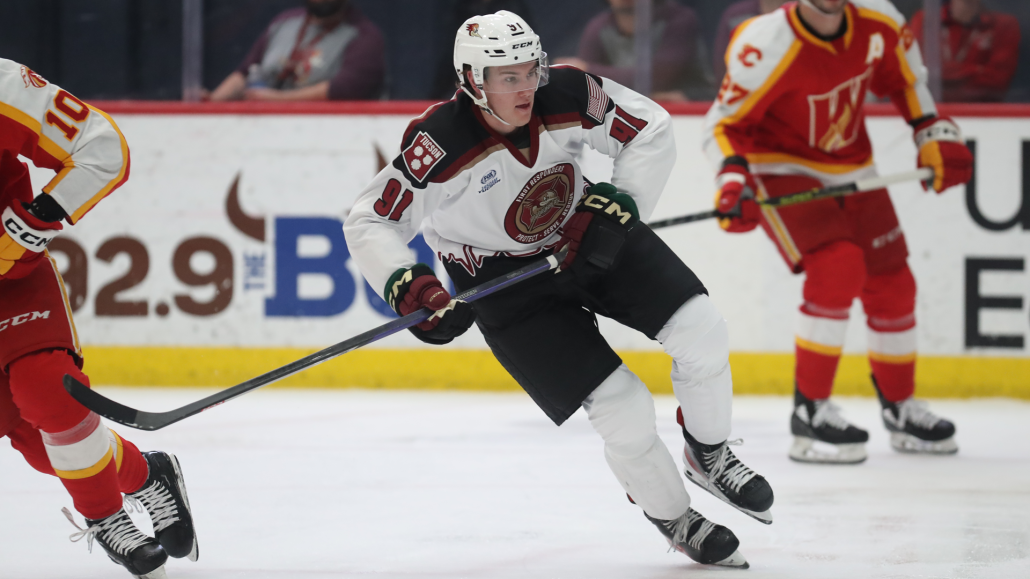 Q: What did you learn the most during your introduction to the Roadrunners last season?
A: I think the biggest thing [I took away] is to play your game and have fun doing it. I think the step was something special and the games were a little bit more fun and had a little bit more meaning being in a playoff race. You get an opportunity to play pro hockey and you get the understanding of how much more fun and fast paced the games can be. I think [the biggest thing that I learned is] just to carry with me just the enjoyment of playing hockey and having the opportunity to carry on your career.
Q: What was it like playing for current Roadrunners Head Coach Steve Potvin when you were a kid growing up in Phoenix when he was coaching kids your age before he started with the pros?
A: Obviously, as a kid he was a great coach, and we had a good group of guys and a good team. They made sure to stick him with us to give us all the best chance to be successful and to move on. We were about 14 the last year we had him, and it was a good team that year and we brought in some good guys, and we had a lot of fun. He emphasized a lot on just skill work and skating and developing those traits to move up and it is a bit similar now as he's huge on that skill work but a little bit harder on us versus when I was a kid. It's a little bit different but still the same deep down.
//www.tucsonroadrunners.com/wp-content/uploads/2023/09/Untitled-1.png
400
495
Brad Koerner
/wp-content/uploads/2019/06/web-header-logo.png
Brad Koerner
2023-09-12 17:01:04
2023-09-12 17:10:21
1-On-1 With Josh Doan