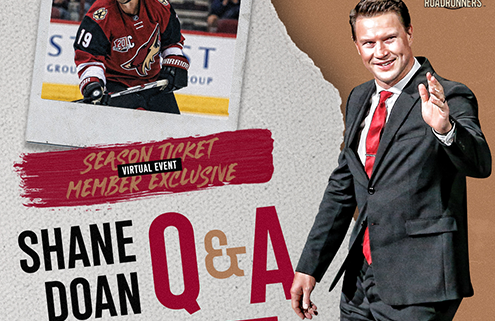 On Tuesday, July 13 at 6 p.m., Coyotes legend and Chief Hockey Development Officer Shane Doan held a virtual Q and A with Roadrunners Season Ticket Members live on YouTube. The event was transcribed by Jimmy Peebles. Some questions were edited for space limitations. 
Alex: The Roadrunners just celebrated their fifth season here in the Old Pueblo, and you've been a part of it since day one. The players talk about their time in Tucson, and our fans frequently take the trip up to Glendale for Coyotes games as well. What have you heard from them? 
Shane: I can't believe how many times after games I've heard someone say they're heading back to Tucson. It's eleven o'clock at night and they say they have to work the next morning at eight. It's incredible to see the type of support that Tucson has offered the Coyotes, and the way they support the Roadrunners is really special. The organization is so grateful and so thankful for that.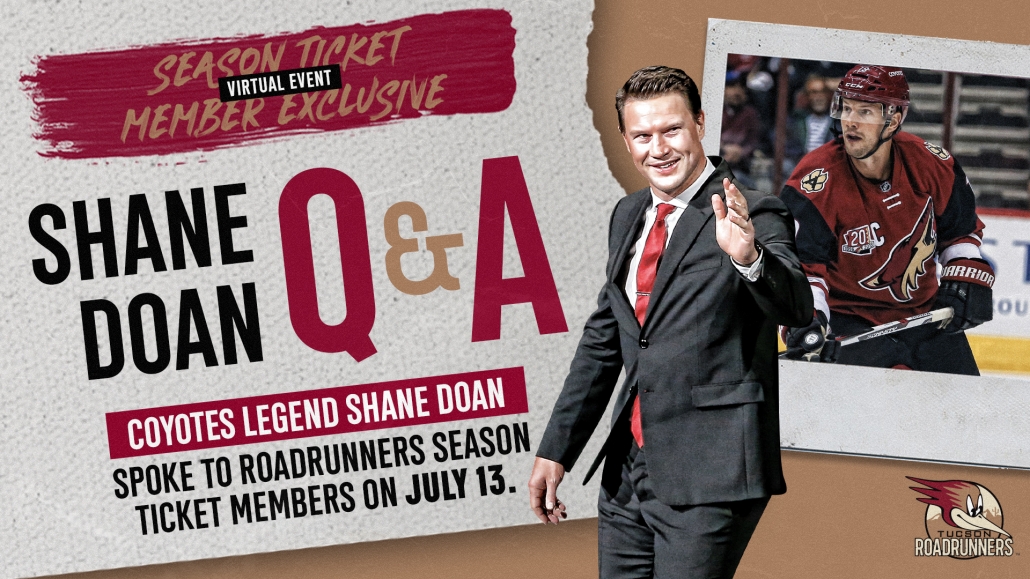 Carrie: We've had some great Roadrunners events this offseason, including an ice cream night and a blood drive. We love these events during the summer, what do they mean to you? 
Shane: Professional sports has gone from being a seasonal thing to a year-round event. When you're a part of the Roadrunners and a part of the season ticket base, it's a group of like-minded people that have the ability to be together and connect with each other throughout the entire year. I think that's probably one of the more attractive things about our sport, how close the fans get to each other. Simple things like raising money for the animal shelter or going out for ice cream. That's the stuff that's unique to our sport, and our fans connect really well and are a part of our Arizona hockey community.
Anna: After a fantastic career as a player, you're now the Chief Hockey Development Officer for the Arizona Coyotes. What's a typical day for you in that role? 
Shane: Today was a pretty typical day. I arrived at the rink, and I had a Zoom call, which is now part of our daily vernacular that I never in my wildest dreams thought I would have. I was doing something in regard to the Cronkite Journalism School over at ASU and helping them out. They had reached out to the Coyotes. Paola [Boivin] and I went into the Arizona Sports Hall of Fame together [in 2017] and she's running that program. I had a luncheon with a couple of businesspeople, so that would be the corporate side that I get to do stuff with. Afterwards, we were talking about the Coyotes rookie camp coming up and I went over to the hockey operations side and got to deal with some of the rookie camp stuff and some of the ins and outs of the itinerary that we're going to set out and what our goals are. I get to do both sides with the corporate and with the hockey ops. With the title, the chief and the officer are for the corporate side and then the hockey development is the hockey ops side. It's a long answer, but I do a little bit of everything.
Tanner: Do you still get that same rush going into the rink like it were on a gameday before a big game against a divisional opponent? 
Shane: There is nothing that compares to the tunnel. The thing that I miss the most is when you would walk out of the tunnel and know "okay, this is real." This is going to be that combative type of confrontation that is the best part of our sport that I love, I miss that. But going into the rink to help out and seeing the guys, and feeling like you can help the organization, I'm very grateful for that opportunity and I really enjoy it. I feel like I can help, I've gone through quite a bit of it over the 25 years I've been here.
Dylan: How were the World Championships for Team Canada with a lot of familiar faces over there with you (Michael Bunting, Adin Hill, Darcy Kuemper.) You even brought a coach back with you to lead the Coyotes, André Tourigny. How was it to see those guys get that opportunity after a shortened NHL season? 
Shane: Unfortunately, the reason you go to the World's is because you're eliminated from the playoffs, and I did that a few times. But only one team in the NHL actually ends the season on a high note, everyone else is disappointed. Of the 31 teams this year, Tampa Bay is the only one that's happy, so for the players to have an opportunity to go over and to experience some success and to feel like you ended the year on the positive, it makes you go into that summer with a little extra juice and extra motivation. It really helped me over my career when I got to do a few of those, and to be able to experience that with Kuemper, Hill and Bunting, and then chase around Conor Garland for a little bit was really enjoyable. I knew those guys from before, but to see them experience that and to be on the ice with them when we won was very special.
William: Our new Head Coach of the Arizona Coyotes, André Tourigny, was an assistant coach at the World Championships with you and Team Canada, and Head Coach at the World Juniors. With your involvement with Team Canada, what's your connection with him? 
Shane: I really like André, he's a great man. I got to know him while we were over at World's, and really enjoyed my time with him. It's a phrase people use a lot, being a good man, but a lot of people say that about "Bear". He's a good man that really cares and wants people to do well, and wants those around him to be successful, and does everything he can to put people in a successful position. I think that's what your whole job is as a coach; to create an environment for other people to succeed, and he does that. He's a big culture guy, an important part of his whole coaching philosophy is creating a culture that people are safe and secure in, and at the same time vulnerable and willing to push their boundaries of comfort. if you can do that, you're going to be successful as a coach.
Molly: Coyotes General Manager Bill Armstrong mentioned last week that the first time he ever saw André Tourigny was in a restaurant. Bear walked in with his team, and Bill just watched how he was interacting with his players over dinner. How important is that player-coach connection? 
Shane: Coaching now is more managing and influencing. Once you get to the NHL level the guys understand the game and know how to play the game, and now as a coach you just want to get the most out of them. I always joke around with them that everyone is capable of being dominant in one game when you play your best. It's just about how often can you play your best? I think that's the question and that's where your coach becomes so valuable, and we have to find ways to get the best out of your players. I agree with Bill Armstrong and the idea that your interactions with the players are important and those relationships matter. That's really the difference in being a good coach and being an average coach.
Griffen: Jay Varady is returning to Tucson as our Head Coach. You had him up in Glendale last season as an assistant coach with the Coyotes. What impressed you about him in his first year on an NHL coaching staff? 
Shane: His knowledge of the game is incredible and his attention to detail is second to none. I think he has that ability to connect with the players. When I see him, mostly, it's off the ice doing different things with the guys. But to watch Jay's interactions with the players, and to see the way he interacted with the group, he has a leadership quality about him that you want your young guys to follow. He has that accountability with the tenderness of being somebody that the guys are going to have to connect with, and that's a rare balance that Jay has.
Ryan: You were down here in Tucson quite a few days during the course of the season with Steve Potvin and John Slaney, who you know well. John was an assistant coach when you were playing with the Coyotes and Steve was a development and skills coach before he joined the Roadrunners staff. What did you see from those guys and this Roadrunners group this season? 
Shane: I got to be really good friends with Steve, he coached my son years ago, so I got to be involved and get to know him really well. He came to be a big part of kind of helping out with the boys around here, before he became one of the skills guys with the Coyotes. As for [John Slaney], I played with him too, and then he coached here and so I got to know him really well. Both of them are guys that just want the young men to improve, that's their whole goal. They're humble guys that will offer up any knowledge and any wisdom and experience they can to help them improve. Watching their practices was really impressive, I was very impressed. As you go down there, it's hard to create artificial energy in the middle of a pandemic and that was what I thought was going to be the hardest thing. But to watch Steve and John do just that I was so impressed, and you could see the guys responded. As they'd go to leave the ice, I'd always stand near the ice just to see their reactions, and then you can see that there's life in the players and I always find that exciting. And someone who's unbelievable is Brady Morgan, too. That guy does a lot. I don't think I've seen him walk anywhere, he actually runs everywhere and does everything. he is unbelievable. He's probably one of the most impressive people I've come across, and I can't say enough good things about him. He's someone that's willing to do so much and has the right answer for a lot of questions. We were very fortunate to have Steve and John and Brady down there and do all the work that they do. It is such a vital part of our organization, and to have guys down there like that is huge for us.
Anthony: We have our first wave of Roadrunners up with the Coyotes at this point. Now we look and we have another wave of NHL-caliber players down here in Tucson. Guys like Jan Jenik, Victor Soderstrom, Ivan Prosvetov. How much do you love watching those guys as we continue to develop another wave? 
Shane: It becomes more and more vital as the gap in professional sports becomes tighter and tighter, and you have to do a better job of developing and a better job of growing your own players in order to be successful. They have to have roots in your system, and I think the Roadrunners have done such an incredible job. I think the relationship between Arizona Hockey has to be where the better that the Roadrunners are, the better the Coyotes are; the better the Coyotes are, the better the Roadrunners are. It's cyclical, and it keeps it going. You look at somebody like the guys you mentioned, Jenik and Soderstrom and Prosvetov. You look at those guys and you're so excited because those are great players that are going to have an opportunity to have a huge impact on our team. Barrett Hayton, who came up and down a few times and he's a guy that's a big part of our future. When you watch the players play in Tucson, it can be a little bit of a breath of fresh air for them sometimes. They have the ability to really affect the game and help the team win. Where sometimes when you get up to the big club it's just trying to survive, but you want that you want them to take that attitude of "I'm going to be an influencer on this game" and bring it up to the NHL level. I thought [Lane] Pederson did that when he came up, and [Michael] Bunting absolutely knocked it out of the park with what he did. Obviously, we invited him over to play for Team Canada and how special that was for him, and to see him compete in the way he does. But being down in Tucson and watching some of the guys, there's a lot of players down there that I got to know and got to watch, and I was really impressed and really excited about that.
Jon: It's been 26 years since you were drafted in the first round of the NHL Draft. A year later, the team moves to Arizona. What did you know about Arizona before the team came here, and at what point did you realize that this was home? 
Shane: I came down during my first year as a 19-year-old. They flew us down before the All-Star Game, and someone gave me a cactus at the event. They had this big fan fest event, and someone gave me, a 19-year-old teenage boy, a plant. I thought, "I can't even take care of myself, how am I going to take care of a plant?" But I found out did you have to do anything for a cactus, it's just kind of there, and doesn't grow well in Winnipeg. Then the next time we came down was in the summer and I just fell in love with the place. I remember when I really started to like it here was at a crosswalk in northern Scottsdale, and the crosswalk button was really high up and I asked "why in the world would they have a crosswalk button way up high?" and it turned out the reason they had it there was because people ride horses in that area, and when you're sitting on your horse you can hit the crosswalk button and walk across the street riding your horse. I thought, "I can ride my horse across streets here?" and then I knew this was a place that I could handle, and I was going to enjoy it. Obviously, I fell in love with the city and the valley and the whole state and it's become home now. My kids are all born and raised here, this is home, and we love it.
Claudia: You played in the AHL for half a season in Springfield, Massachusetts, where Michael Bunting started his career as well. What about your short stint in the AHL helped you develop? 
Shane: It was an interesting time and a unique situation when I ended up going down. I was very fortunate that the group of guys that I went down to was full of NHL experience Danny Briere, Brad Isbister, Chad Kilger, Jason Doig, Scott Langkow, Brad Tiley and all these guys that have played in the NHL. All these guys that had been through the NHL were there while I was down there, and I absolutely loved it. I kind of fell back in love with the game. It was important that I did well because when I did well, the team did well. For two or three years, I was more of a time killer where they would send me out on the ice and try to play eight to ten minutes and not get scored on and give everyone else a rest. That kind of attitude can start to permeate through your whole game. I think getting that opportunity to score a bunch and have some success gave me the belief that I could do it [in the NHL]. I tease and joke about it but getting to play with those guys and live down there and around that group of guys was a lot of fun, and I really enjoyed hanging out with them.
Crawfish520 (submitted live): When Bill Armstrong was named GM of the Coyotes, he talked a lot about players being "prickly cactuses" in the desert and wanting those players on the roster. What did you make of those type of guys we signed, and what did they bring to the team? 
Shane: As much as the game has gone away from being an intimidating game, there has to be an element of being uncomfortable. I think whenever you think of a prickly cactus, it makes you uncomfortable when you're around them because you're scared that something is going to hurt, that's kind of the whole point. You want the other team when they come into your barn to feel uncomfortable, and I think some of the guys that we signed last year that was a goal, to make the other team a little bit uncomfortable and push them out of their comfort zone so they maybe rush a play or do something a little bit quicker than they want to. You look at a couple of the guys they brought in, and they fit that mold perfectly.
Caffeinated in AZ (submitted live): You've been here since the first year of the Coyotes and the iconic Kachina logo, will the team continue to honor that original identity and do some fun stuff with it? 
Shane: I think that's exciting and obviously the Kachinas were a big part when we came down here. I think they were a little bit ahead of their time, because they weren't appreciated back then as much as they are now. Now they're really appreciated, and people seem to really like them. The design and everything put into them is really unique. This is a little inside information, but as a player they doubled up the sleeves up to about your elbow, and then they doubled up your collar all the way around your neck. By the time the game was done, those old jerseys — not the new ones now they've got it figured out — weighed about 3 1/2 to 5 pounds, you couldn't believe how heavy it was when you'd take your jersey off. You could literally feel the five to seven pounds you have in your jersey, and it would give you a jersey burn on your neck if you ever got into a fight. So as much as I loved the Kachinas back then, I really like them now because they've got that all that figured out. It's such a beautiful jersey and I love the crescent moon and the whole purple and everything that connects to the state. 
Cathy: Who is your favorite former teammate? 
Shane: The guys that you play your junior hockey with you're always close with, and Tyson Nash and I were roommates in juniors, so he was a great teammate to have. Keith Yandle was a guy that I really enjoyed. Ray Whitney is my neighbor right now, so I have to say Ray, he's a guy that I really enjoyed getting to play with. I wanted to be like Teppo Numminen, Teppo is just a classy person, just so genuine and real. He's so sarcastic with such a dry sense of humor, I enjoyed being around him. Danny Briere is a guy that I really liked, and I got to play a little bit with him. Antoine Vermette was somebody that I really am a big fan of. I could go on and on, I was so fortunate. I'd end up mentioning all my teammates, it seems that I got to play with all the best guys.
"Voice of the Roadrunners" Adrian Denny wrapped up the evening with a final question. 
There's a lot of excitement about the 2021-2022 season. The Roadrunners are loaded with prospects, we have a draft coming up, the Coyotes have a new head coach. What are you excited about for 2021-2022 with this organization? 
Shane: Everything that you just mentioned with the Roadrunners and the foundation that they're creating a wave that is coming. You look at the young guys that we have, Jenik, Hayton, Soderstrom, Prosvetov, those are guys that are capable of having a huge impact for us. They're going to probably take a little bit of seasoning at times too, to get them to that next level, as everyone seems to develop at a different time. I think it's important as an organization that we take our time and develop these kids and do it the right way. And winning matters, I think winning is important and you start by creating an environment like that. You look at what Syracuse has done where they've won in Syracuse, and now they're winning at the NHL level. It doesn't happen overnight, unfortunately. Tampa Bay has a few guys that spent some time in the minors that really turned into key pieces for their team. I think in the next year that's probably what we're the most excited about. We've started to develop that second wave, and we need to hold onto that.
//www.tucsonroadrunners.com/wp-content/uploads/2021/07/495.png
400
495
Jimmy Peebles
/wp-content/uploads/2019/06/web-header-logo.png
Jimmy Peebles
2021-07-16 10:18:58
2021-07-16 10:18:59
Shane Doan Season Ticket Member Q and A