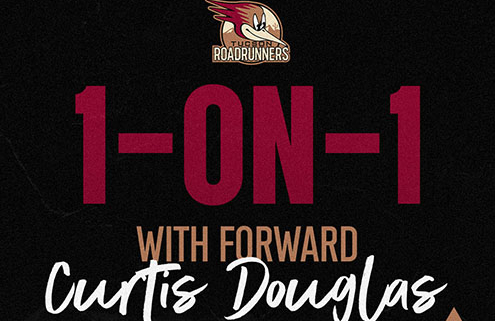 Tucson Roadrunners forward Curtis Douglas appeared on a special extended Pregame Edition of Roadrunners Happy Hour prior to Tucson's 7-2 win over the Coachella Valley Firebirds on Tuesday, December 13. Join Adrian Denny, Brett Fera, and Kim Cota-Robles every Tuesday at 5 p.m. on FOX Sports 1450AM and the iHeartRadio app. A podcast version of the episode can be found on the iHeartRadio App or by listening below.
Listen to "Pregame Deep Dive With Douglas" on Spreaker.

Q: How are you settling in to Tucson so far? Do you still have any of your stuff from Toronto for when it gets cold here in Tucson like this week?
A: Yeah, I had a chance to go back [to Toronto] and get my stuff which was nice. For a while there, I was living out of a suitcase. I'm happy to be playing here with the Roadrunners, they're great guys and they were really welcoming. It was pretty special to get here for the first time, [Tucson's] an awesome place.
Q: We were thrilled to get you in the trade, it was a big deal for us and the Arizona Coyotes to acquire you. How was the change for you?
A: It was pretty weird [at first], but I think it's a great spot for me considering my game and the way I like to play. I think my game fits in here and hopefully up with the Coyotes at some point. I'm just going to focus on getting better every day.
Q: Is there anyone on the Roadrunners that you had known or played with before coming here?
A: I knew a few guys through mutual friends. Ryan McGregor is from pretty close to home, I actually met his mom somewhere a while ago which is pretty funny. Now we're teammates and he's a great guy. I've played against a lot of the guys on the team as well.
Q: Tell us about your experience playing for the Linz Steel Wings in Austria in 2020-2021, what was that like?
A: It was really special, I still follow my old team and talk to the owners every once in a while. They're amazing people and the culture there is so cool. I'm so grateful I was able to experience that. I loved going out there and playing hockey and they loved the game. Seeing the sights and being able to better my game was really fun.
Q: What did you see or experience in Austria that was totally new to you?
A: A lot of the food, and you start to pick up on certain words and phrases. I could tell you how to order a pizza in a couple of ways in German. You have to learn the ingredients or it's impossible. Austrians were some of the nicest people and they helped out all the time.
Q: What was different in the hockey between Austria and here?
A: It was less physical and a lot more about puck possession. Before I was there, it was things that I wasn't as good at in my game and things I had to work on. It was good for my game. There's also the big ice surface (200 feet by 100 feet compared to 200 feet by 85 feet in North America), so it was great going over there and trying to enhance my game.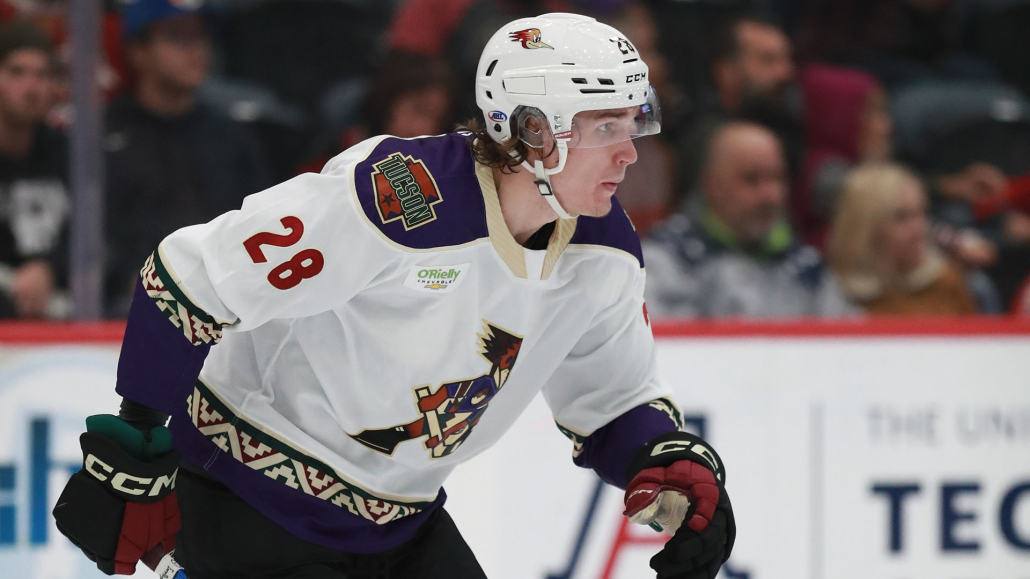 Q: In three weeks here with the Roadrunners, what have you picked up from the coaching staff? Assistant Coach Zack Stortini had a pretty similar style to your game.
A: It's been awesome to come in here and learn from those guys so far. They're very communicative and it's been great to get their perspectives on things. It can make your game better in different ways to have that different perspective. It's been great so far.
Q: You're a six-foot-nine center, when was that decision made in your hockey career that center would be your position?
A: I don't think it ever came into the question to move to defense or goalie. I played defense when I was 11 for maybe a week and I hated it (laughs) it just wasn't my cup of tea.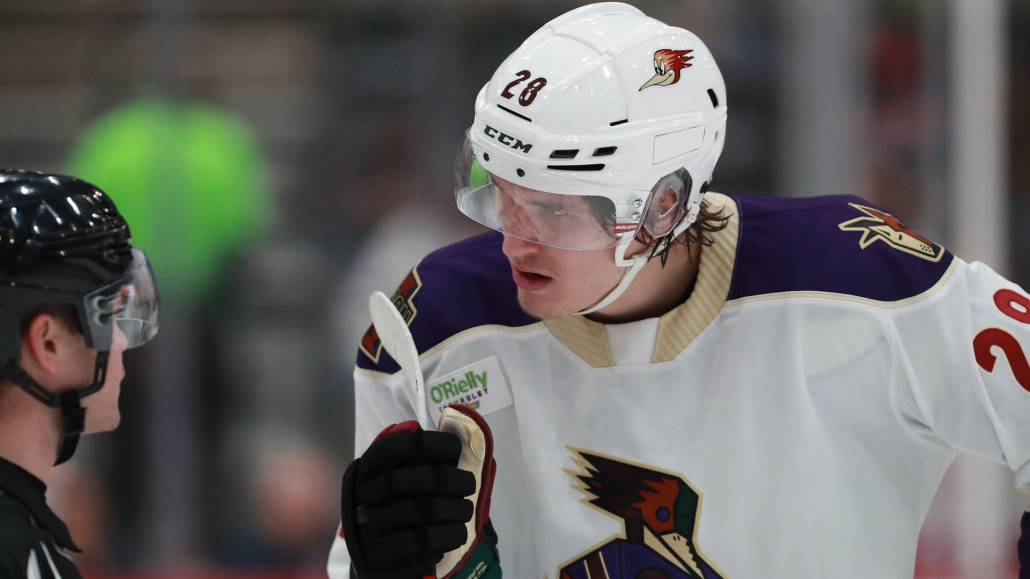 Q: Tell us about your style of play and your role on the team.
A: [The coaching staff and I] sat down and talked about it. Last year I had a decent amount of penalty minutes, I like to defend my teammates and protect myself, as well as impose myself into the game. My focus is being hard to play against and good defensively and on the PK if they need me.
(Photo Credits: Kate Dibildox/Chris Hook)
//www.tucsonroadrunners.com/wp-content/uploads/2022/12/12.16-495.jpg
400
495
Jimmy Peebles
/wp-content/uploads/2019/06/web-header-logo.png
Jimmy Peebles
2022-12-16 14:38:07
2022-12-16 14:38:08
1-On-1 With Curtis Douglas