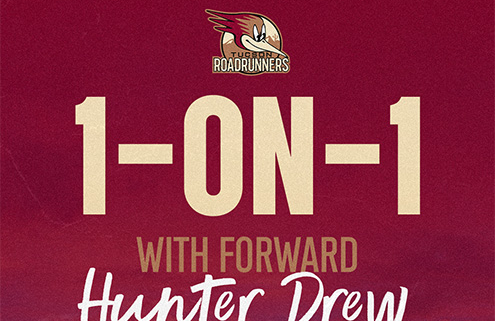 This week on the Tucson Roadrunners Insider Podcast, "Voice of the Roadrunners" Adrian Denny and Kim Cota-Robles were joined by the newest Roadrunner Hunter Drew as he prepares for his first season with the Roadrunners after four seasons with our I-8 Border Rivals in San Diego. The full episode, including Hunter telling us what new teammate he's planning to live with in Tucson, recently switching from a defenseman to a forward and all about his NHL debut day can be found below.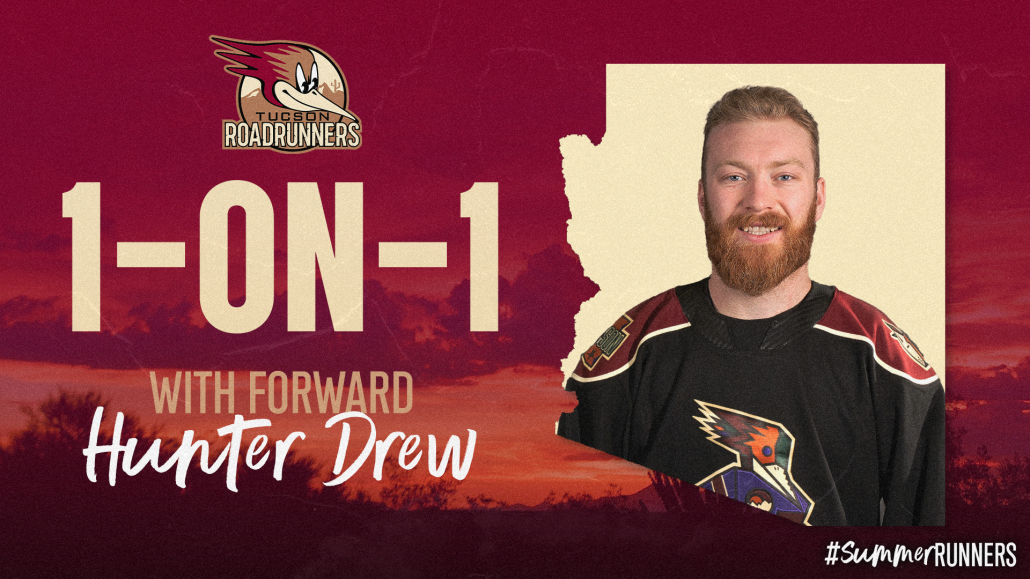 Listen to "Best To Be The Hunter: Drew Joins Kim and Adrian" on Spreaker.
Q: Hunter, how's it going today, welcome to Tucson. Where are you and what are you up to today?
A: Currently I'm on Vancouver Island in British Columbia. I worked out this morning and now just kind of hanging out. It's beautiful, the landscape is beautiful I've been here since the start of June training, working out and skating as much as I can. Going on the boat as much as I can as well up in Tofino which is always fun. I haven't surfed yet up there, but I definitely want to try that. It's kind of a grueling season every year, so you just kind of want to chill out in the summer and let your body prepare.
Q: How'd you find out about the Roadrunners? How'd you get in touch with us and get the deal signed?
A: That was through my agent. I feel like it happened pretty quick, it was within a maybe a week, two weeks max. He said they have some interest, the next call was "I think they're going to offer you" and the next call was "they offered you, I think it's a really good opportunity; I think you should take it." I obviously know a lot about Tucson, I was excited, I agree I think it's a good opportunity. I think it's a good spot to play and it's a good city, I'm very happy.
Q: Are you familiar with any of the current Roadrunners?
A: I know the goalie Matt Villalta, who just signed with the Coyotes. He's actually also from Kingston, Ontario. I grew up with him and went to high school with him. I played against him the last four seasons (Ontario Reign); I'm really close with his family. He has a twin brother, I have a twin brother so a lot of things in common; we would hang out all the time when we were home in the summers, I'm excited about that. Another guy who also just signed with the Coyotes is Justin Kirkland, I played with him in San Diego last year. Awesome guy. Other guys, that you don't necessarily know like personally, but just from playing them over the course of a few years you end up talking on face-offs or in warm-ups, crossing paths wherever. I think it'll be pretty easy to fit in and adjust to a new organization.
Q: How do you figure out before you get to a place where you're going to live, what part of town you're going to live in? Have you talked to anybody from here yet?
A: I played against Tucson for four years, so you sort of get in and around. Oddly enough, my girl friend's aunt lives in Tucson and her husband is real estate agent so he's kind of been sending us spots. Super random, but I'm obviously very grateful for that, it should be a lot easier.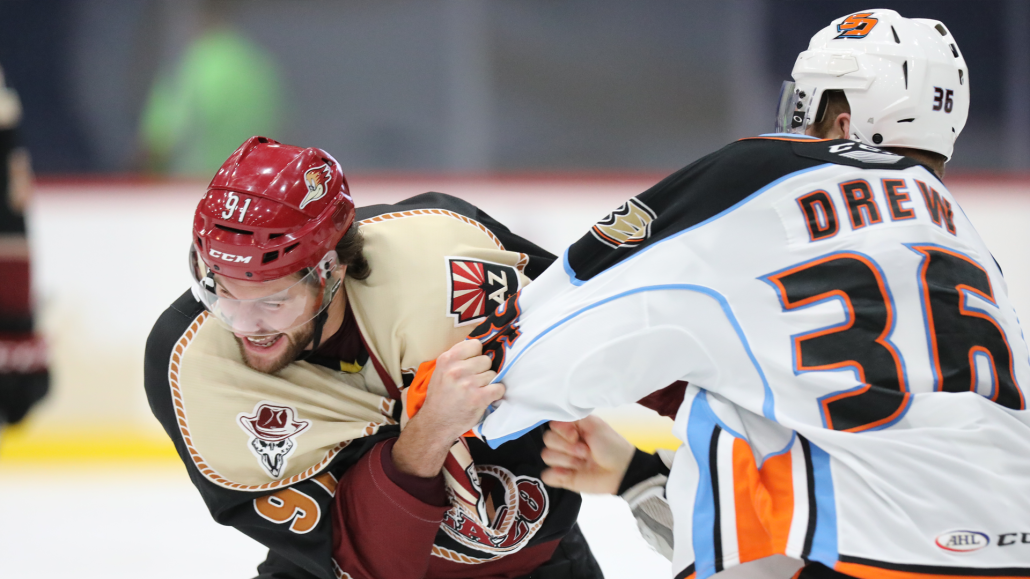 Q: Have you had a chance to talk to our coaches? Steve, John, Zack, Jake, John our GM?
A: Every single one of them called or texted me; which was very very nice to feel welcomed like that. It was a good introduction in a sense, where I haven't met them face-to-face, but from playing over the years you get a guage on people. It's nice to hear their voice and talk over the phone and set a little bit of a standard or an expectation and let that roll over the rest of the summer. I talked to them early in July so that gave me eight to ten weeks to work on what they were saying and put it into my training, my life or wherever I could add their input.
Q: Did you know that the Coyotes organization has two of the top five AHL leaders in penalty minutes from each of the two seasons in yourself, Curtis Douglas and Montana Onyebuchi?
A: That's perfect. We're going to be hard to play against and I'm definitely excited for that. I don't mind mixing it up and I know just from playing against those guys, that they don't mind mixing it up either. I think that's definitely going to be part of our game as a group.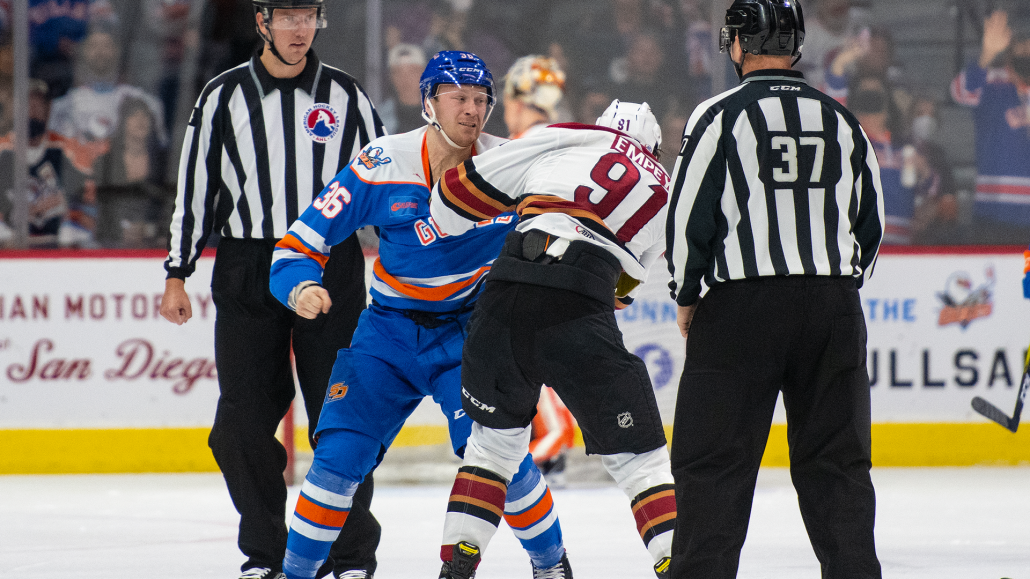 Q: Any memories playing against the Roadrunners?
A: We've had some good battles over the years. I don't know what it is, I feel like as a player some times you have those teams , those buildings, where you play well and I've felt that Tucson was always that one. Kind of a funny one, might have been the Covid year; when Michael Bunting was there, he always stretches at the red line; and playing against him, he's one of those guys who kind of bothers you, kind of gets under your skin. I think it was on the back-to-back and he was stretching at the red line on the second night and I remember I just kept shooting pucks at him and a scuffle kind of started at the red line and we were getting down each others throats, probably 8-10 guys from each team, made me laugh, it kind of set the tone for the series. That was a funny one.
Q: What's one thing that you would tell a fan about hockey to get them to come see game?
A: I would emphasize the speed of it, there's a fact out there, not exactly sure what it is, but hockey hits are exceptionally harder than football hits and people think football is a very physical sport, which it obviously is. But you add the speed of people skating around full tilt into each other and they're making plays. And you get guys like Trevor Zegras who's adding such a sklll element to the game, I feel like it's hard to tie that into someone, so you just want them to watch and develop their own feeling for themselves. I would just emphasize the speed in it and what happens in such a short time.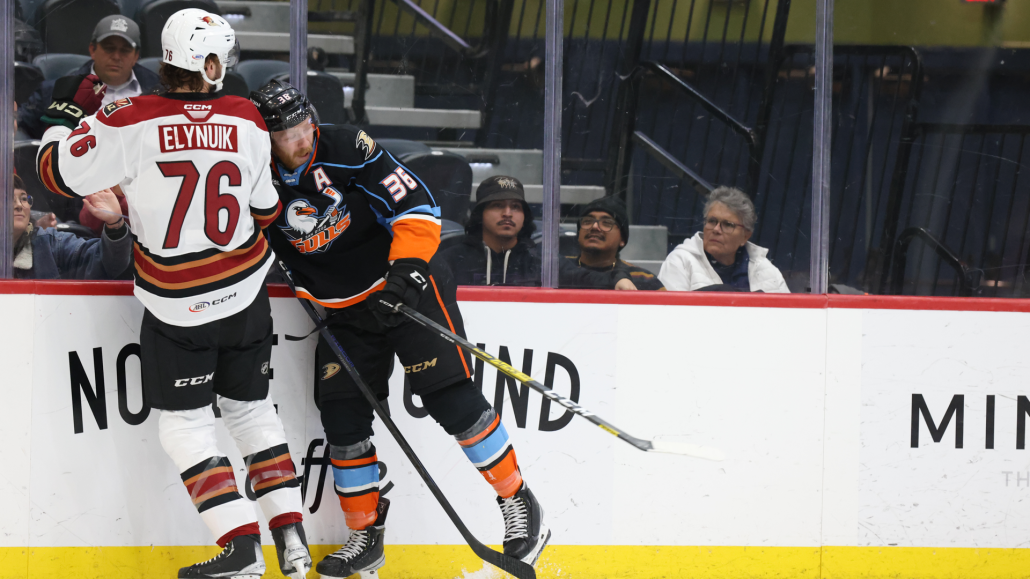 //www.tucsonroadrunners.com/wp-content/uploads/2023/08/495_400Drew.jpg
400
495
Adrian Denny
/wp-content/uploads/2019/06/web-header-logo.png
Adrian Denny
2023-08-30 10:41:36
2023-08-30 10:41:38
1-On-1 With Hunter Drew