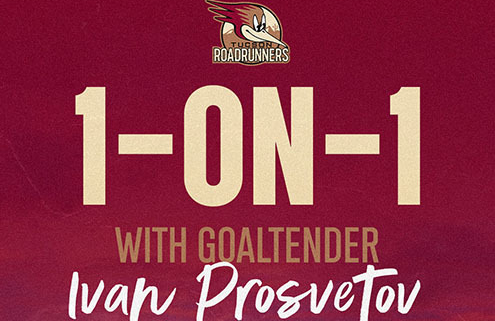 This week on the Tucson Roadrunners Insider Podcast, "Voice of the Roadrunners" Adrian Denny and TucsonRoadrunners.com's Jimmy Peebles were joined by goaltender Ivan Prosvetov after signing a one-year, two-way contract with the Arizona Coyotes. The full episode, including Ivan describing his travel between Arizona and Russia, can be found on the iHeartRadio App or by listening below..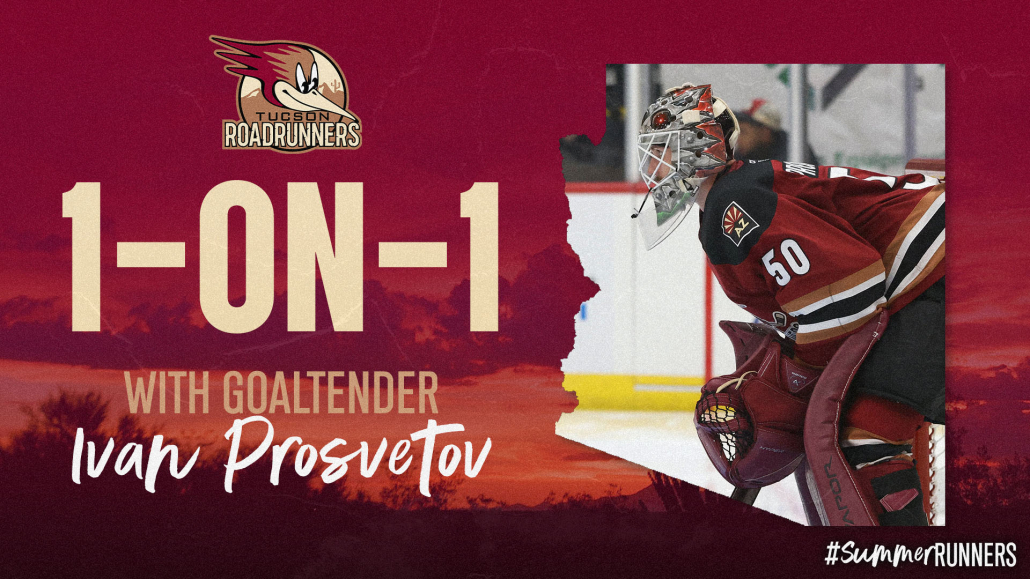 Listen to "Ivan Prosvetov's Incredible Travels" on Spreaker.
Q: Thanks for joining us Ivan, how has your summer been?
A: It's been good, I've been at home (in Russia) the whole summer. I've been trying to get some rest, see my family, and I've been doing lots of work in my backyard. It's fun to live a "normal person" life during the summer.
Q: You say you've been a "normal person" this summer, but we see on Instagram (@Prosvenator) that you're on the ice just about every day.
A: I've been practicing quite a bit with my goalie coach here, trying to gain knowledge and keep my skills up for the upcoming season. I had a practice with some goalies from Spartak Moscow, which is a pretty big hockey club here.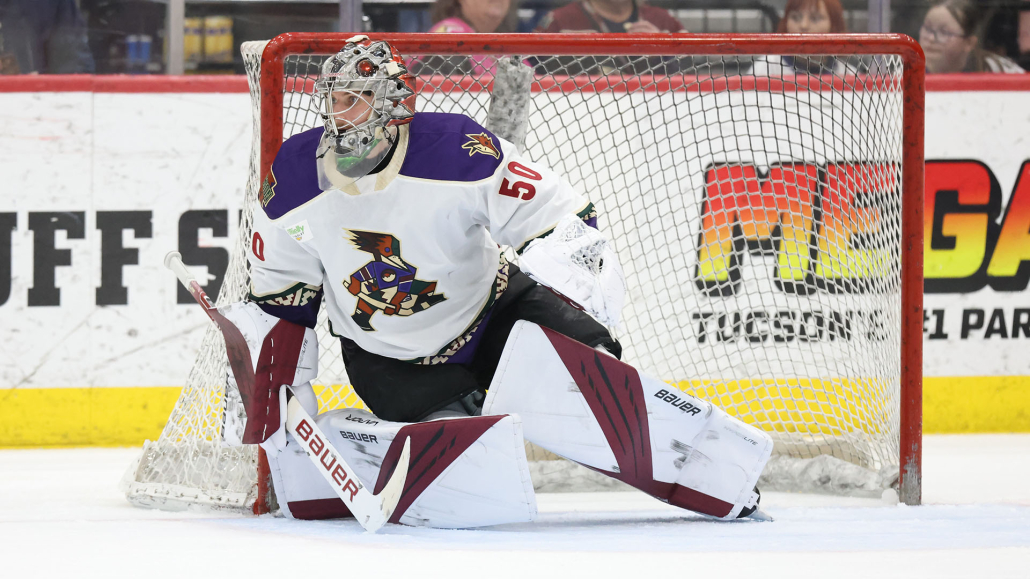 Q: How excited are you to be coming back for your fifth season with the Coyotes organization?
A: I'm really excited, Tucson is one of my favorite cities. It's great to live there, and you can't beat the weather, it's always sunny and always nice. I always say that, but that's how it is. Overall, it's good to be a part of this organization, and to play my fifth professional season (in Arizona) is really cool.
Q: What was it like when you got the new deal done with the Arizona Coyotes?
A: I was really excited to get it done. For me, it was really big to be back for a fifth year, it's just so stable for me. It goes by quick, but I always remind myself to enjoy every moment playing for the Roadrunners or the Coyotes. The hockey life isn't as long, so you have to take every moment and enjoy it.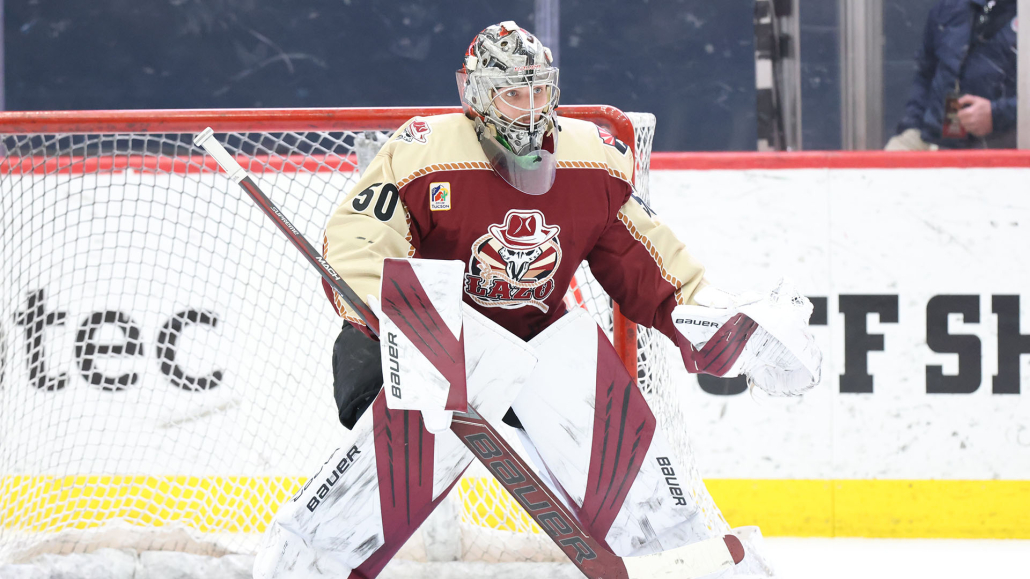 Q: You ended the 2022-23 season as the longest tenured Roadrunners player, and you and your former teammate Adin Hill are atop nearly every goalie stat in team history. What was it like to see him win the Stanley Cup this season?
A: It's pretty cool, I played with him for almost two years. It was a good experience to be around a guy like that, and I was really happy for him. He was able to raise the biggest trophy in hockey, and that was really cool. I texted him to say congratulations too.
Q: Adin Hill was in a spot where his next call to the NHL would be his last one, and you're the next one in line.
A: You never know when (the next call) is going to come. You have to be ready to take that opportunity, and you have to get a little lucky too. I'm definitely hoping that it's coming for me as well, but I'm taking things step by step.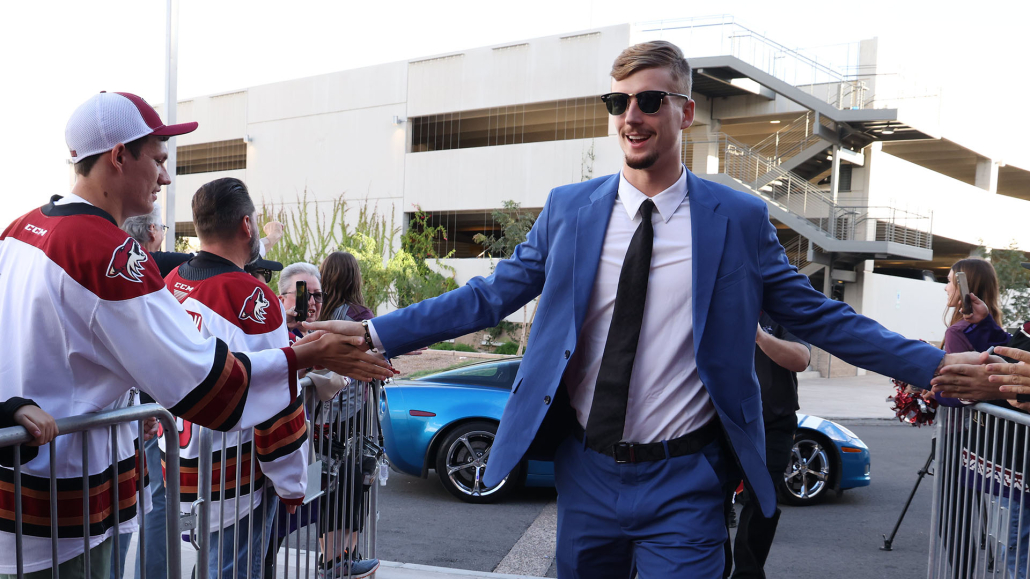 Q: One of our favorite hockey games last season was your first NHL win on March 9 against the Nashville Predators at Mullett Arena. What do you remember about that night?
A: Not much, it's pretty blurry. But it was a really exciting moment, and it all happened pretty fast. The game flew by quick, but it was really exciting and a dream come true.
Q: You had a strong month of March overall with the Coyotes, and then you capped off a good year by joining us in April for the playoffs.
A: I think it was a really good year. We were good as a team overall and made the playoffs, and it was cool to see the boys battling for the playoffs when I was up (in the NHL). I'm hoping this year we can go even longer, we just have to prepare and be ready to start it over again.
Q: What have you been working on to prepare for this upcoming season?
A: I've been keeping myself in shape physically, getting my cardio up and working out in the gym. I'm looking forward to getting more wins, I think we're going to have a really good team this year and be exciting for the fans to see.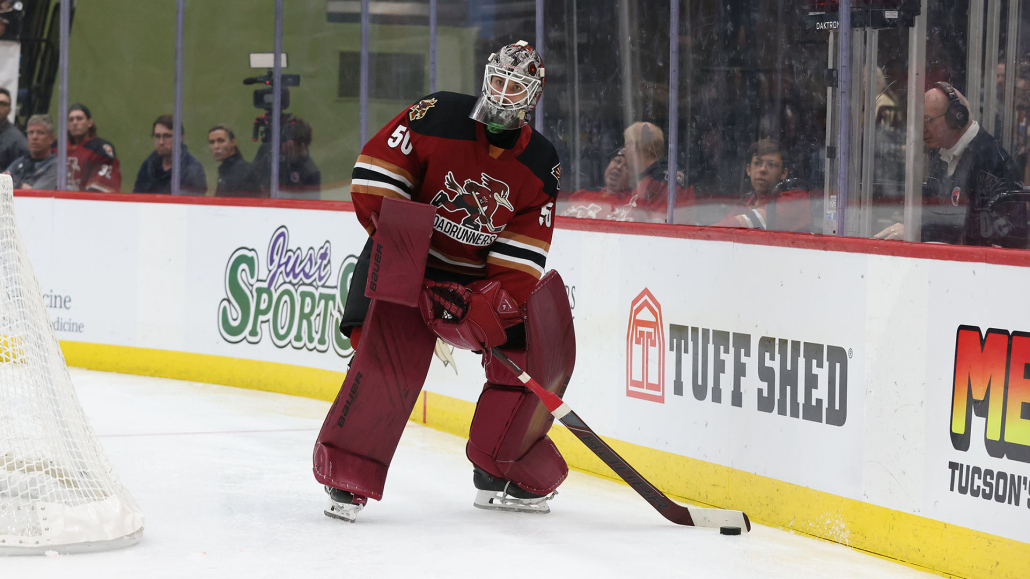 Q: Mountain biking is one of your favorite activities in Tucson, how did you get into it?
A: It's really big in Tucson, which is kind of how I got into it. I saw all of the trails and the bikers there, and it's really fun to ride (in Tucson). It keeps my mind loose because when I'm doing it, I don't think too much. I even fly with my bike back home (to Russia) and to the U.S. I bought a specialized bike, because I'm a specialized guy *laughs* I bought the box for it too, and I'm really enjoying it.
//www.tucsonroadrunners.com/wp-content/uploads/2023/08/8.2_1on1_495x400.jpg
400
495
Cole Schoepke
/wp-content/uploads/2019/06/web-header-logo.png
Cole Schoepke
2023-08-02 14:28:14
2023-08-30 15:31:38
1-On-1 With Ivan Prosvetov