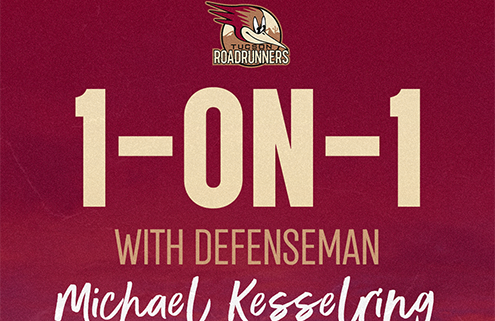 This week on the Tucson Roadrunners Insider Podcast, "Voice of the Roadrunners" Adrian Denny and TucsonRoadrunners.com's Jimmy Peebles were joined by defenseman Michael Kesselring ahead of his first full season in Arizona after last year's trade. The full episode, including Michael talking about his new kitten, can be found on the iHeartRadio App or by listening below.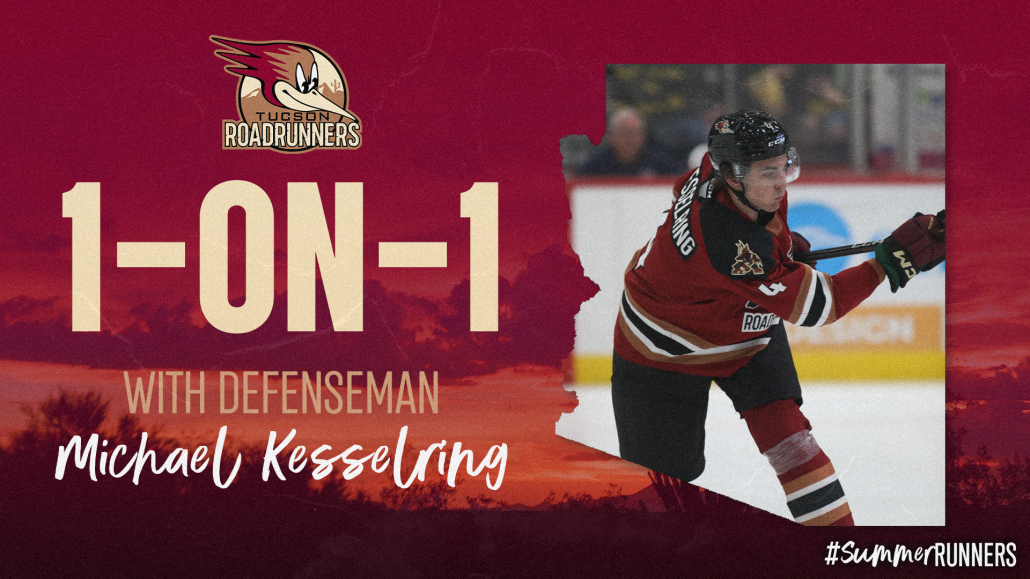 Listen to "Michael Kesselring And A Curtain Call" on Spreaker.
Q: You're back in Arizona, but before that, how was the offseason treating you back in New Hampshire before you got back into the triple digit temperatures here in Arizona?
A: Good, nothing crazy. I took a little trip to Florida when I first got home, a little vacation, then just at the lake in New Hampshire and training down in Massachusetts.
Q: Your first Training Camp and first full season in the desert is coming up, what are you most looking forward to?
A: It's the first year that I feel I can make the NHL team out of camp, so it's an exciting time. I love it here in Arizona, it was an awesome refresh to get a new opportunity in a new place with a young team and a team that's trending upwards with the summer that they've had signing guys like: (Jason) Zucker (Free Agent), (Logan) Cooley (3rd overall pick in 2022 NHL Entry Draft) and those guys. It's an exciting time to be in the organization.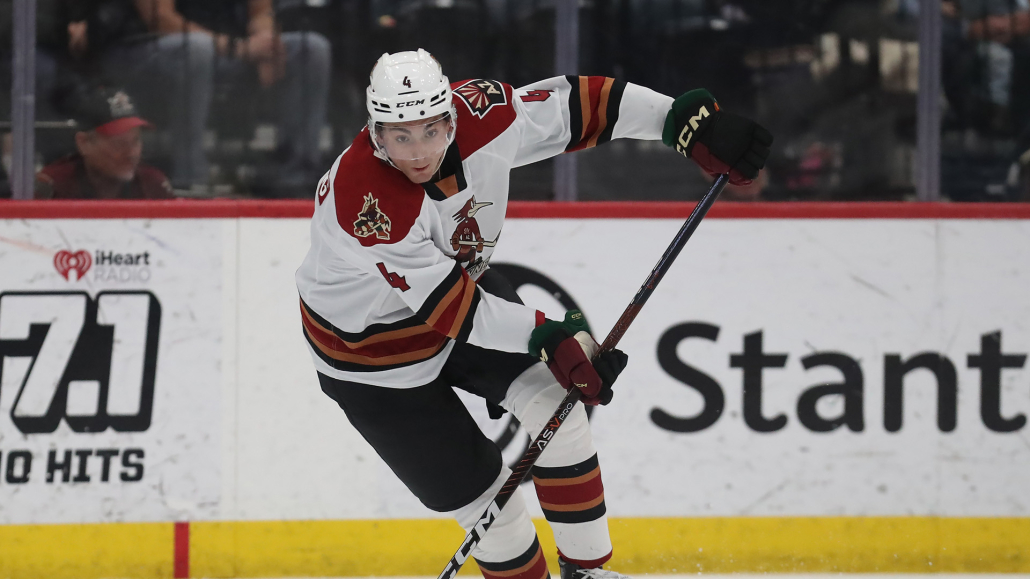 Q: We acquired you at the last minute before the trade deadline on March 2, the next night was your NHL debut with the Coyotes. That's the exciting thing right now is that we're so young and the opportunity that our prospects have to go up, to stay up, to contribute is really a neat thing.
A: Here we're trying to develop young guys into fulltime NHL'ers and that's something that I'm trying to be. It's an exciting time. It's a great organization, both in the NHL and Tucson and each team is run very well and focused on development, so I'm happy to be here.
Q: You're one of a handful of players to make their NHL debut at Mullet Arena (March 3, 2023). What do you remember about that night five months ago against Carolina and is the Mullet Magic real?
A: Yeah, I think so for sure. It was a whirlwind, I was pumped. Stepping onto the ice for the first time, it was a dream come true.
Q: After a month and a half to finish the season after the trade, you've had a full summer knowing that you're coming back to the desert and getting everything laid out, a familiarity with the organization, with the coaches, with the management and with your teammates.
A: I came out to train during Development Camp (in July) so everybody was here, I got to meet people that I hadn't met yet and keep building those relationships with everybody. It's great being in one place, I know I'm going to be in Arizona, I have a car here, I'm more settled. I'm out here pretty early, so I'm getting familiar with the area up here. I've been working out, it's a great development staff, been working with Lars (Lars Hepso Coyotes Skating Coach) on my skating and just trying to get better every day.
Q: Lars is a guy that we see out on the ice during practice, he's very highly thought of, he's entering his sixth season with the Coyotes.
A: He's been awesome to work with, very down to earth person, you can talk to him about anything. That's a big thing for me obviously as a big guy is keep getting my skating better and more developed and he's been really big for me in that aspect with drills and working with me now that I'm here and doing video with him. I feel that I've made some big strides this summer with my skating and he's a big part of that.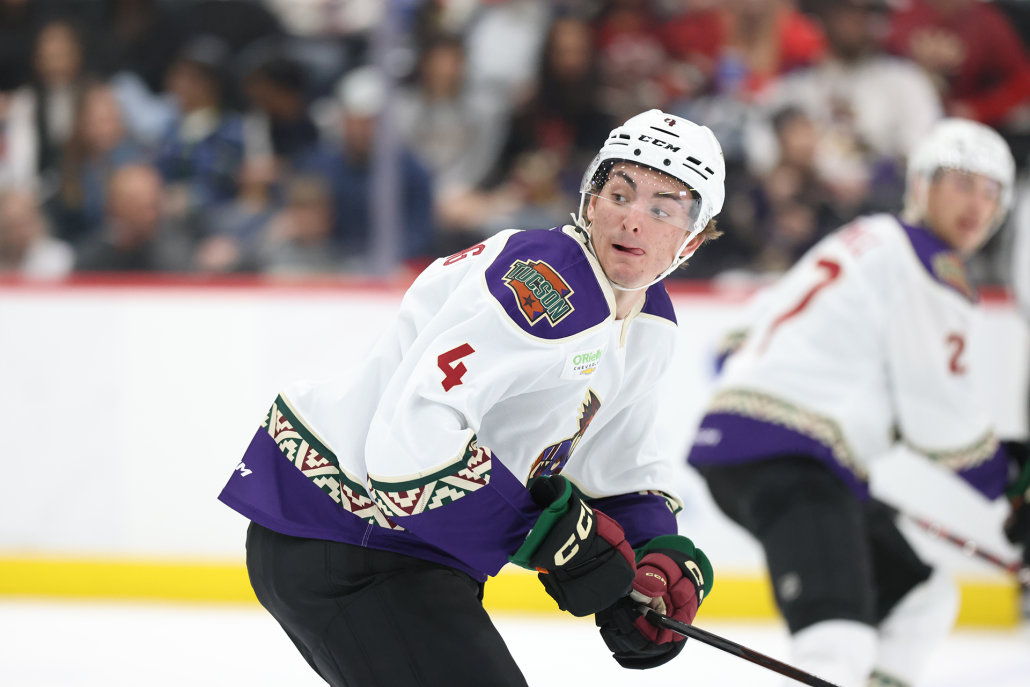 Q: What did you think of Tucson and being one of the good guys in that arena and just being in Arizona as a whole?
A: It was awesome, it was a great group of guys, I felt like I fit in pretty quick. At the end of the year, I came down and played a game, played another weekend series and then I was gone again (back with Coyotes) and then I was back at the end of the year. I feel like in most situations that would have been hard to mesh. But the guys made it really easy and the coaching staff. It's a great rink, I like how we have the ice and we can work on stuff after practice; it's kind of our rink.
Q: What do you think about the heat? Have you found a way to beat the heat?
A: When I first got here a few weeks ago, I walked out of the airport and I was like wow, never experienced this. It's been good, I've adjusted pretty good. It's a little cooler than it's been the past few weeks. You get used to it and I know that it's going to be beautiful in the fall, winter and spring so that makes it worth it.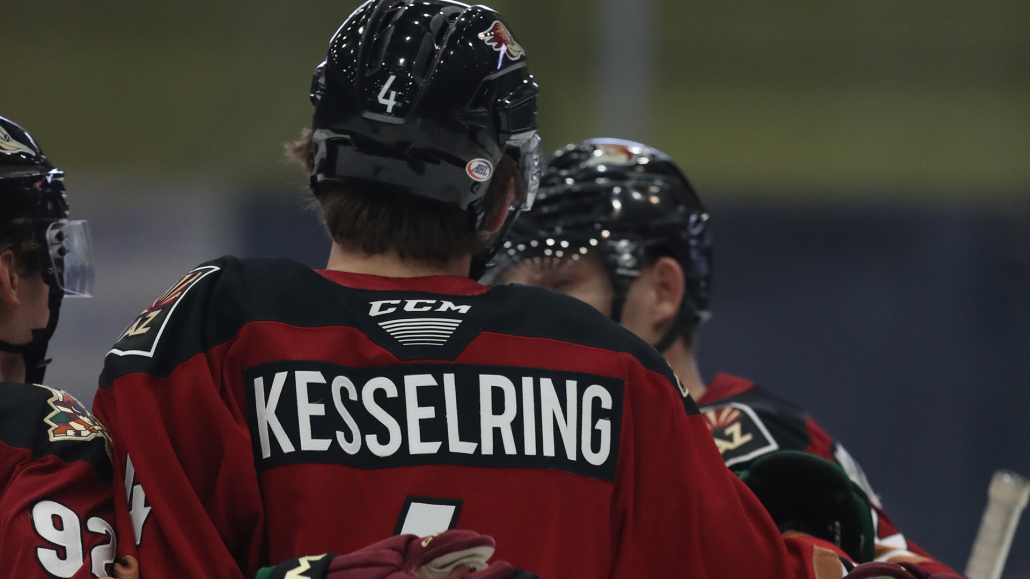 Q: I know there was at least one instance where you're practicing with the Roadrunners and you get pulled off to go play for the Coyotes that night, that's pretty unique to hockey in the desert.
A: That's obviously nice being close to the NHL club. I actually managed to play pretty well that night, that's unique, that's nice, a player goes down with a little injury and they can call a guy right up. You can't do that with every affiliation.
Q: What do you remember playing against Tucson that made the Roadrunners tough to play against and now you're glad you're on their side.
A: I remember not last season, but the year before, they were just heavy and playing hard, I had my first career fight against Tucson because I was just getting frustrated dealing with the forecheck of the Roadrunners and my anger got the best of me. It's a hard team to play against. I think we're going to have some skill down there too this season, the d-core is really going to be deep, it's really an exciting time for the entire organization.
//www.tucsonroadrunners.com/wp-content/uploads/2023/08/495_400_Kesselring.png
400
495
Adrian Denny
/wp-content/uploads/2019/06/web-header-logo.png
Adrian Denny
2023-08-17 20:05:07
2023-08-30 15:30:28
1-On-1 With Michael Kesselring