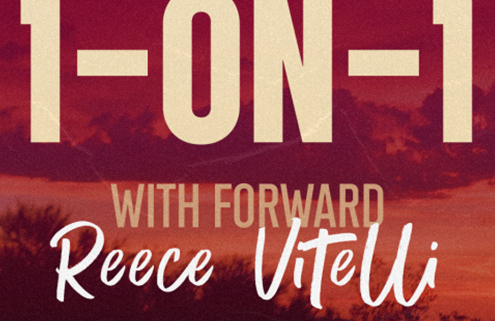 This week on the Tucson Roadrunners Insider Podcast, "Voice of the Roadrunners" Adrian Denny and Kim Cota-Robles were joined by Reece Vitelli as he's signed up for his second pro season and his second year in the desert. The full episode, including an update on Reece's cooking skills and more as we discuss an aspect of hockey movies too can be found below.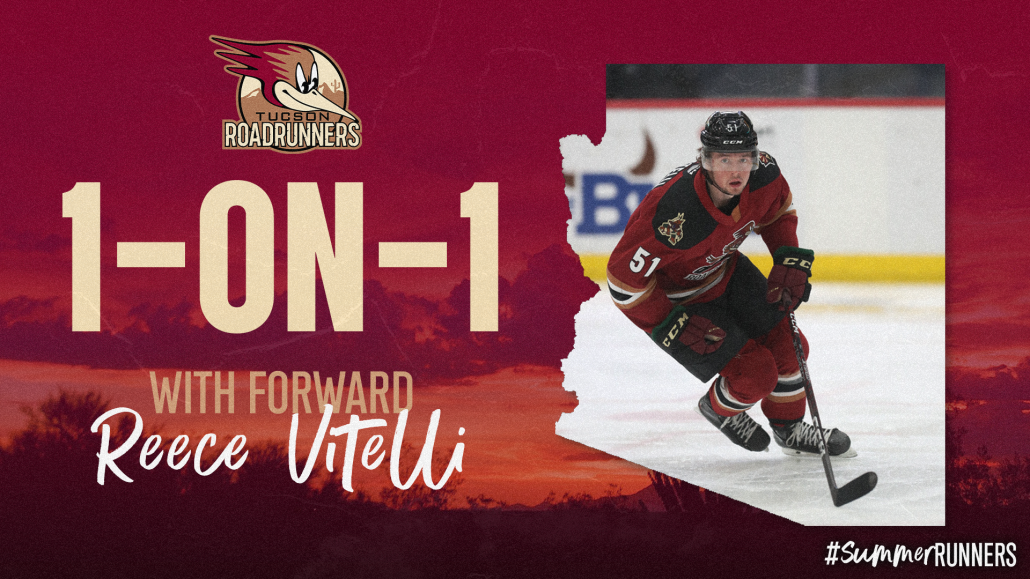 Listen to "Vibin' With Vitelli" on Spreaker.
Q: What's going on today Reece, where are you and how's your summer been?
A: I spend my summers back in Winnipeg up in Canada, today I was just at the gym, had a day off from the ice. It's been a productive summer so far, a lot of ice time, a lot of workouts and a lot hanging out with friends. Lots of golf, it's been a great summer so far.
Q: Congratulations on your second contract and the second year coming up with the Roadrunners. What did you take from your first year and coming back for year two, what was some of the feedback that you received?
A: It was a really cool experience playing my first year pro, it's a big jump coming up from junior; splitting half of the year in the ECHL and then in the American League as well was different; playing with two different teams in the same year was something that I'd never done before. But both experiences were great and coming into this year ready to go and being a guy that plays in the lineup all the time and being faster and stronger because I'm not the biggest guy (is the focus). The goal is to stay up all year and help the team win and ultimately win a championship.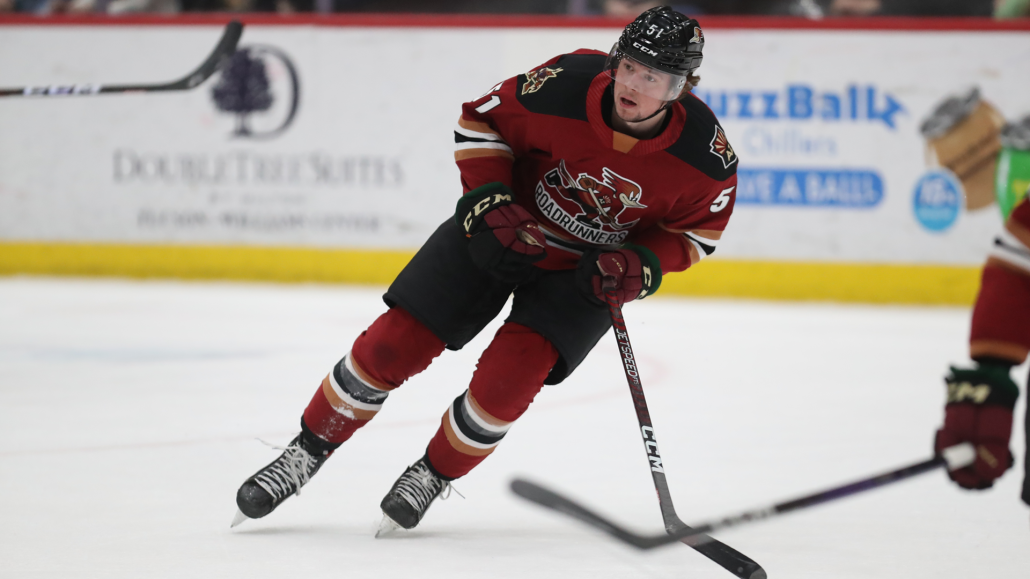 Q: You just finished your third Prospect and Development Camp with the Coyotes after the draft. How was that for your third time there?
A: Me, Micah Miller, Michael Lombardi and Doaner from last year were all there, I was one of the older guys there. Just trying to show the younger guys how to perform when you play pro and come to the rink everyday and basically when you're at home as well, have to sleep right, have to eat right. It's a job now so you have to take care of your body and it's an all day thing.
Q: What did you enjoy most about being with Head Coach Steve Potvin and Assistant Zack Stortini your head coach and forward coach last year?
A: They're just super supportive, they come to the rink with a positive attitude every single day and it's fun to come to the rink. When it's fun to come to the rink you're always having fun and you just want to get better every day. They help you before practice, after practice; they give you tips, tell you what you have to work on daily. They were really supportive of me of what I had to do to stay in the lineup and to contribute to the team. I'm really grateful to them and excited to work with them again this year.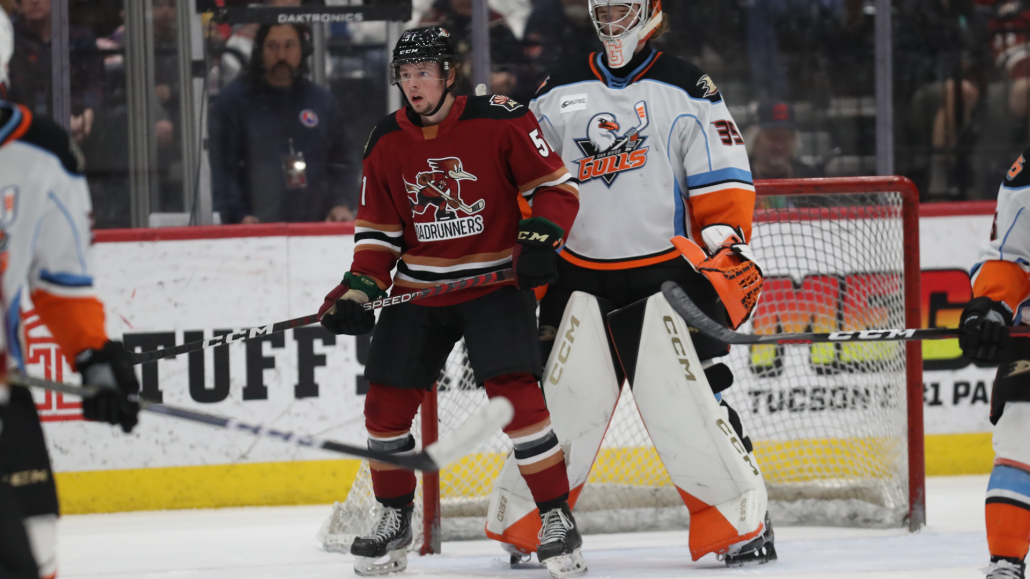 Q: Are you in a hockey family? Was this in your destiny?
A: My dad played when he was younger, he kind of stopped the year after high school. He's always had a passion for the game, he always watches the game. So when I was first born, he put me in skates right away and it kind of followed suit. Hockey has always been a thing in our household and we've always gravitated to the rink. It's been a good run.
Q: Have you seen any Roadrunners this Summer?
A: I golfed with Ben in June before Development Camp, that was fun, hadn't seen him for awhile. There's not much going on up here, haven't seen anyone else, have talked to some guys.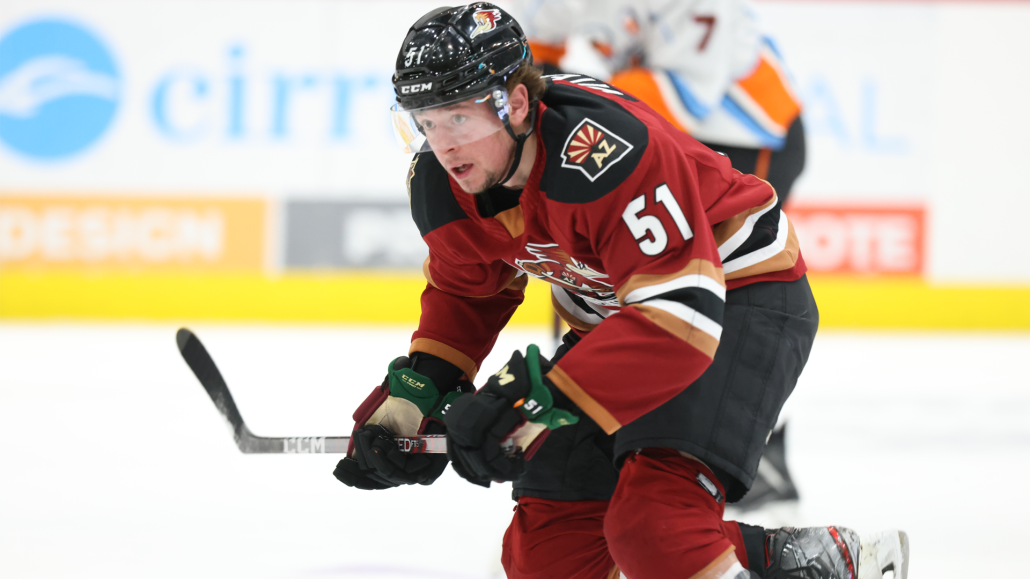 Q: How'd you get in contact with the Coyotes for the first time for the Development Camps and ultimately get the contract?
A: Funny story, I was actually on the golf course again, in Prince Albert; had just started training camp (with the WHL's Prince Albert, Saskatchewan Raiders), I wasn't supposed to go to any camps or anything, I hadn't heard from any teams, I had a decent year the year before in the bubble so I thought maybe, but I didn't hear much. I was on the course a few days before camp and I got a late invite to Development Camp for Arizona. I guess a couple guys got Covid and I was the next man up. They invited me out and I had a really strong camp and stayed for awhile, I came back pretty late, I stayed for main camp as a late invite and I got sent back back to juniors. Ever since then, I've been coming back and then I signed my AHL contract and here we are, another AHL contract and camp coming up again; it's been a lot of fun.
Q: What's been your favorite thing about living in Arizona?
A: It's really clean, just living in the desert and seeing all the cactus. The weather is always super nice, there's never a cold day. The weather is top notch there. Hitting the course definitely; the golf courses. There were a lot of nice courses that I was able to play and it's a different terrain there than I play in the prairies so I enjoy playing in Arizona a lot.
//www.tucsonroadrunners.com/wp-content/uploads/2023/09/495_400-Vitelli.jpg
400
495
Adrian Denny
/wp-content/uploads/2019/06/web-header-logo.png
Adrian Denny
2023-09-07 08:46:54
2023-09-07 08:46:56
1-On-1 With Reece Vitelli