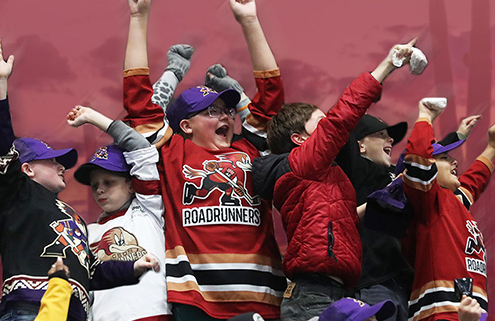 Tucson, Arizona – Single Game Tickets are on sale now to see the Tucson Roadrunners, AHL Affiliate of the Arizona Coyotes, for all 36 games at Tucson Arena starting with the team's home opener on Saturday, October 21 at 7 p.m.. Fans can purchase tickets at TucsonRoadrunners.com/Fun.

The team has also announced that Roadrunners Fan Fest will take place on Sunday, October 1 from 4 p.m. – 6 p.m. at Tucson Arena. More details on the free event will be announced soon that will officially launch hockey season in Southern Arizona. THIS. Is Hockey In The Desert.
The 2023-2024 pro hockey season at Tucson Arena will commence on Saturday, October 7 when the Arizona Coyotes host the Anaheim Ducks at 3 p.m. in NHL Preseason Action. Those tickets can be purchased at TucsonRoadrunners.com/Yotes.

The Roadrunners have announced their Theme Night and Promotions through December 30, 2023 that can be found at TucsonRoadrunners.com/Fun. First half themes for the Roadrunners include: the team's School Day Field Trip Game at 10:30 a.m. on Tuesday, October 24; Fright Night on Saturday, October 28; Teddy Bear Toss on Saturday, December 16 and Star Wars Night on Saturday, December 30.

Fans can save on Single Game Tickets and avoid Box Office Service Fees by joining the Roadrunners Flex Club at TucsonRoadrunners.com/Club. The Roadrunners Flex Club; with levels of 10, 20 or 30 vouchers can be redeemed in any quantity for any game; resulting in significant savings when purchased in advance.
SECURE YOUR SEATS
Season Ticket Memberships for all 36 home games are available at TucsonRoadrunners.com/MembersOnly. In addition to more savings, Season Ticket Memberships include: exclusive events with the team, unlimited ticket trade for any unused tickets that can be redeemed for any game, an annual gift, monthly payment options and more. In addition, groups of 10 of more can place a $50 deposit today for discounted tickets and priority access to choose their game date and experiences at TucsonRoadrunners.com/Groups.
THIS. IS HOCKEY IN THE DESERT
THIS. Is Hockey In The Desert displays the integration of professional ice hockey all throughout the Sonoran Desert at the foot of five mountain ranges in a community gushing with: culture, culinary excellence, recreation, academia and sunshine. #LetsGoTucson enters its fourth season as the team's official hashtag and rallying cheer for all that is Southern Arizona. While #MeepMeep will continue to follow every Roadrunners victory.
ABOUT THE ROADRUNNERS
Entering their eighth year as a community partner to Southern Arizona, the Roadrunners play 36 regular season home games each season at Tucson Arena while calling the Old Pueblo home for 365 days a year; in which the team and Mascot Dusty look to be involved in and giving back to everything in our community. Since 2016, the team has drawn over 800,000 fans to Downtown Tucson while 51 players have also played for the Coyotes.
//www.tucsonroadrunners.com/wp-content/uploads/2023/09/495_400-Single-Game.jpg
400
495
Tucson Roadrunners
/wp-content/uploads/2019/06/web-header-logo.png
Tucson Roadrunners
2023-09-05 10:00:00
2023-09-05 10:45:42
Single Game Tickets On Sale Now For All 36 Home Games