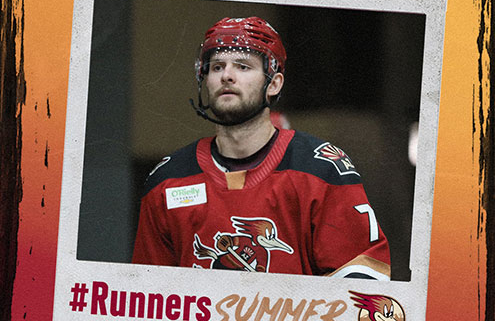 Last month, Tucson Roadrunners forward Hudson Elynuik joined "Voice of the Roadrunners" Adrian Denny and TucsonRoadrunners.com's Jimmy Peebles on the Roadrunners Insider Podcast, after signing a one-year AHL contract to remain in the desert. The full interview, including how Elynuik got connected with the organization prior to the 2021-2022 season, can be found on the iHeartRadio app or by listening below.
Listen to "Signings To Celebrate: With Hudson Elynuik" on Spreaker.
Q: What's up, where are you today?
A: I'm back home in Calgary, Alberta. I typically spend my summers here, it's nice to be around family and friends you grew up with. It's been a good summer, I can't complain.
Q: How excited are you to be coming back to the desert?
A: I loved [Tucson]. It was my first time playing somewhere warm, I'm usually in Canada or Spokane, Washington where I spent most of my junior career. The weather is awesome in Tucson and there's a lot of things to do. Golf, great restaurants, the University of Arizona is there, and we got to go to a couple basketball games. We have great fans as well. I've really loved my time in Tucson so far.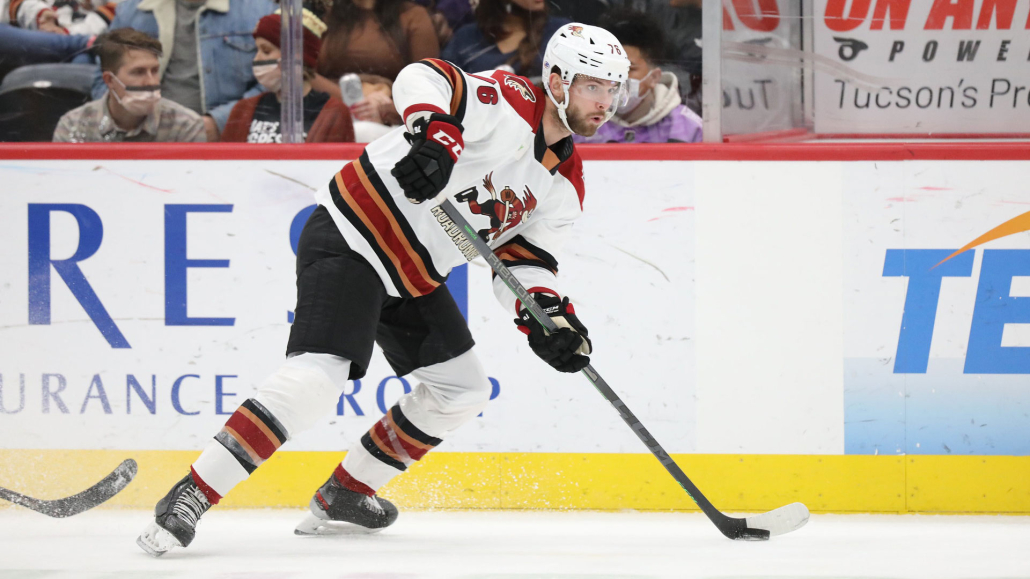 Q: You were sidelined for most of the second half of last season with an injury, but you've been working hard to get back for the last eight months and we're excited to see you back for training camp.
A: That was hard. Injuries are a part of the game, but I've had a really good summer and I'm looking forward to a fresh start and hopefully a good season coming up. It was awesome getting the opportunity to showcase what I could do [last season]. The coaches had a lot of trust in me, they put me in a lot of good situations and I'm looking forward to building off that.
Q: We have a good core from last year coming back this season, are you as excited as we are?
A: We had a great crew last year. We didn't get the results we wanted, obviously, but we were a very tight-knit group and loved being around each other. That was one of the best locker rooms I've ever been around. We also have an awesome staff… it's a great environment around the rink and they make it fun for us.
The Roadrunners signed an additional five players to AHL contracts last week, including returning goaltender Tyler Parks. Parks joined the latest edition of the Insider Podcast to discuss coming back to Tucson, as well as his connection to current Roadrunners backstop Ivan Prosvetov. The full interview, including discussion of all five players signed, can be found on the iHeartRadio app or by listening below.
Listen to "September Spillover: With Tyler Parks" on Spreaker.
Q: It's fitting we announced your signing at the same time as Tyson Empey, it seems like you two were always out on the ice together.
A: "Emps" became one of my best buddies [last year]. We started the year in a hotel, then we get our housing letters and moved in together. We got along pretty well, we did pretty much everything together. We're probably living together again this year, and we're looking forward to the season.
Q: Both you and Tyson had dads who played professional hockey, your dad Pat Elynuik retired right before you were born after a great career.
A: Both my older brothers got to see him play, but he shut it down the year I was born. I've seen clips, but there wasn't as much video then as there is today. He had a really good career and I'm really proud of that.
Q: You joined the organization after spending the last three seasons out east with the Toronto Marlies. What was it like getting to come back out west being a WHL/Alberta guy?
A: It was awesome, I love the West. The road trips we get to go on are a little different. With, Toronto it was a lot of upstate New York, and it was pretty cold. Here in Tucson, we're fortunate to go to places like San Diego and Las Vegas, but I love being in Tucson. I'm excited to have another year here.
Q: Going into your fifth professional season, how have you evolved along the way?
A: You learn a lot along the way, especially over the last few years with Covid. There are a lot of ups and downs, but every year is a fresh start. You have to keep building yourself up, and I think I have a good thing going here in Tucson.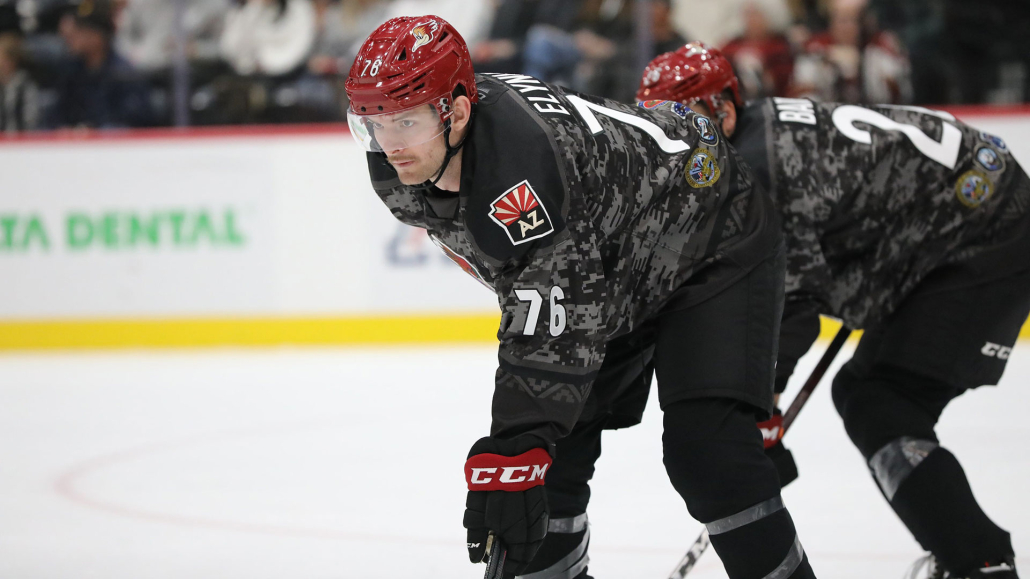 Q: is there anybody we know up there in Alberta that you've seen or worked out with this summer?
A: Andrew Nielsen lives in Calgary during the summer, I've skated with him a few times. I was at Tyson Empey's cabin earlier this summer, he has a nice spot about 40 minutes south of Swift Current. We spent some long weekends up there, so I've seen him a couple of times this summer. Other than that, there aren't many Roadrunners around this area.
Q: You're from Calgary, are you looking forward to the pair of games at the Saddledome this season against the Wranglers? When was your last time playing there?
A: I saw the schedule and I'm very excited to go back and play in Calgary. It's always great to play in front of family and friends, especially in your hometown. The last time I played there was actually the 2020-2021 season with the Toronto Marlies. The Stockton Heat were playing in Calgary that season, so we got to play there.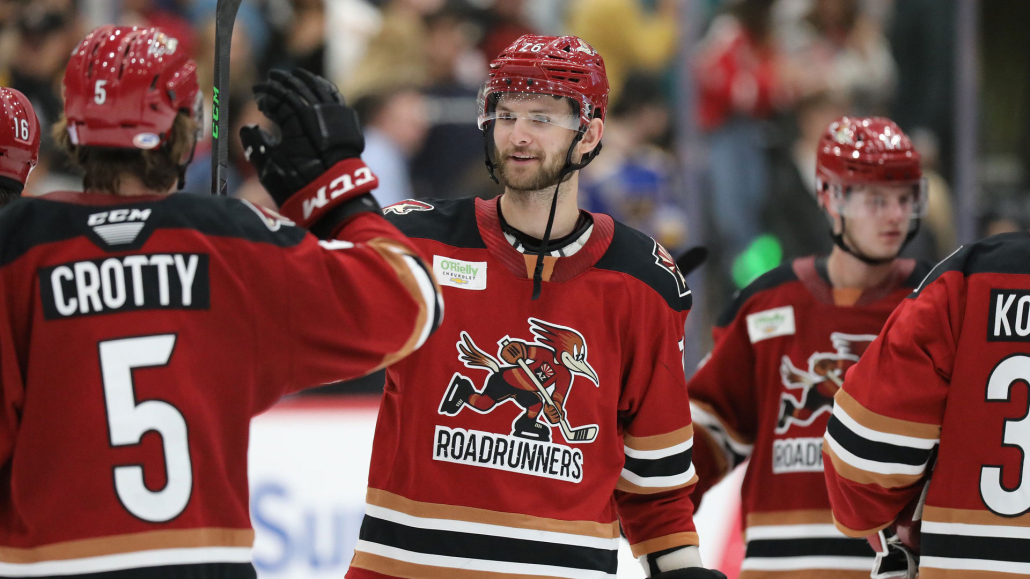 //www.tucsonroadrunners.com/wp-content/uploads/2022/09/HElynuik-495.jpg
400
495
Jimmy Peebles
/wp-content/uploads/2019/06/web-header-logo.png
Jimmy Peebles
2022-09-08 13:05:00
2022-09-08 13:10:31
1-On-1 With Roadrunners Forward Hudson Elynuik