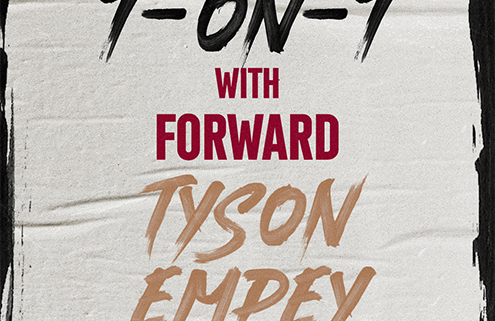 1-On-1 With Roadrunners Forward Tyson Empey

Last week, Tucson Roadrunners Forward Tyson Empey joined "The Voice of the Roadrunners" Adrian Denny and Jimmy Peebles from TucsonRoadrunners.com on the Tucson Roadrunners Insider Podcast. For the full interview, download the episode from the iHeartRadio App or by listening below.
Listen to "Game Sevens Galore With Tyson Empey" on Spreaker.
Q: Where are you at and what have the first two weeks of summer been like so far?
A: I'm still in Tucson just waiting to go back home. I've been playing a lot of golf, had a couple pool days, just relaxing right now but getting ready to start training again soon.
Q: This was your first year in the desert and first year in the AHL, what were your biggest takeaways from the season?
A: It was obviously an awesome year, getting into the AHL and sticking with the team all year. I met a lot of great guys, a good coaching staff, just a good first year of experience getting to know what the league is like, how guys carry themselves in this league and everything like that. I got to know all the guys, there was a lot of fun and a good experience for sure.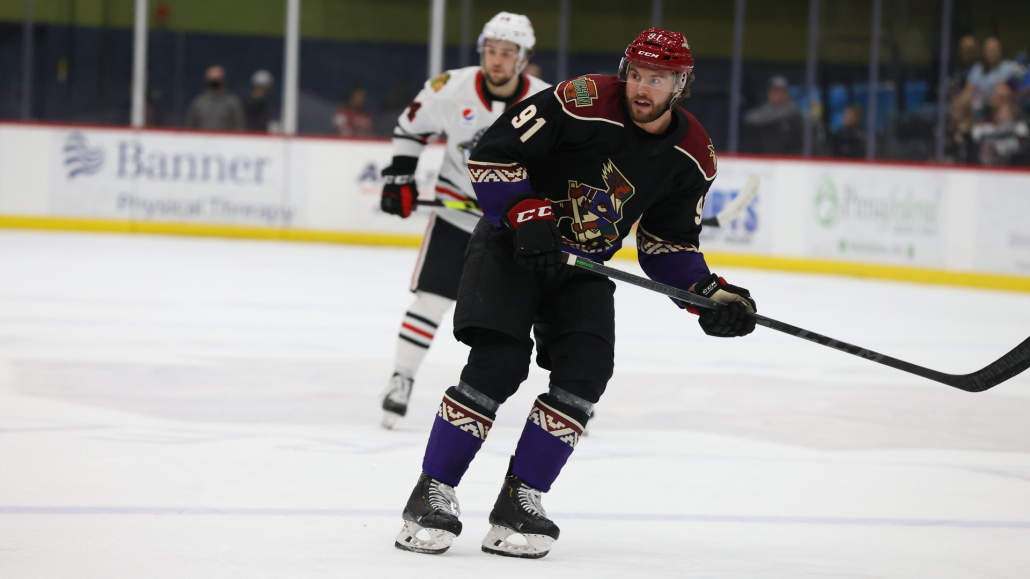 Q: You were part of one of the most physical and hard-hitting forward lines we've seen in Roadrunners history alongside Boko Imama and Cedric Lacroix. How was it playing with those guys to form such a presence on the ice?
A: It was a lot of fun. Our role was to create energy for the team and get the boys engaged. So we go out there and we all kind of play the same role and play the same style. I know what to expect from those guys, throw the puck in the corner and go try and punish the defensemen. And we get pucks to the net, get to the net and try to create some energy.
Q: You played in 63 out of our 68 games this season. Through fights and your physical play, what do you do to stay healthy throughout the long season?
A: The biggest thing is just making sure you're taking care of the body, stretching, and doing everything that [Strength and Conditioning Coach Parker Poore] wants us to do. He has some good stuff for us for recovery and all that so we keep on that and stick with the trainers [Jordan Ellis] and [Austin Avalos]. They do a good job taking care of us and making sure we're ready to go.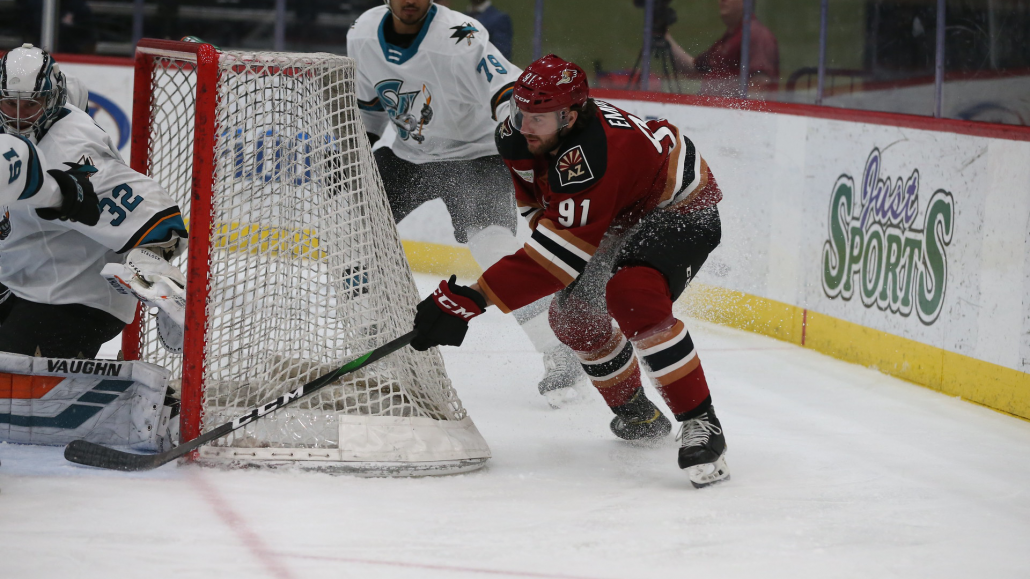 Q: Your dad played pro hockey, what do you remember about that? Any memories from Winston Salem, Adirondack or Amarillo?
A: I remember a little bit, just going to the games. I'd always come down to the locker room after the games and he'd bring me to the rink. I'd go on the ice kind of like [Mike] Carcone does with his little guy. I don't have any real distinct memories but just going on the ice a couple times and stuff like that.
Q: Looking at ticket lists, looked like your family was at several games this year?
A: Yeah I was pretty lucky, my mom and dad came to Tucson twice and then my mom, dad, aunt, and then my grandma and grandpa all came to Las Vegas for our last trip there. We won both games so that was a pretty special weekend too.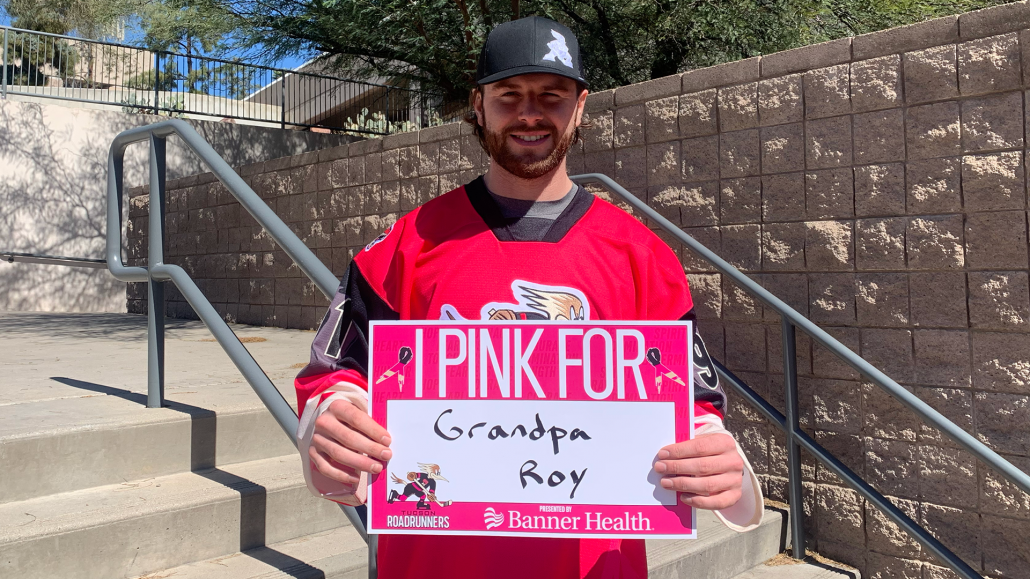 Q: You were born in June, but had it been a few months earlier, it could have been in Utica, New York where your dad was playing.
A: I used to always bug [my parents] when I was in college how it would have been nice if they had me during the season, so I was a dual citizen. But I'm definitely a Canadian boy and being from Saskatchewan is part of my identity, so I'm happy to have that, but wouldn't mind being a dual citizen.
Q: How great was it to see your former Rapid City teammates (and some Tucson teammates this season) make it to the second round of the Kelly Cup Playoffs?
A: We were always checking the scores and kept up to date with how those guys were doing. One of my good buddies, Gabe Chabot, had two goals. I'm happy that he did well, we were rookies last year together. It's always good to see your buddies succeed like that… Those guys have a really tight group and they love playing in Rapid City.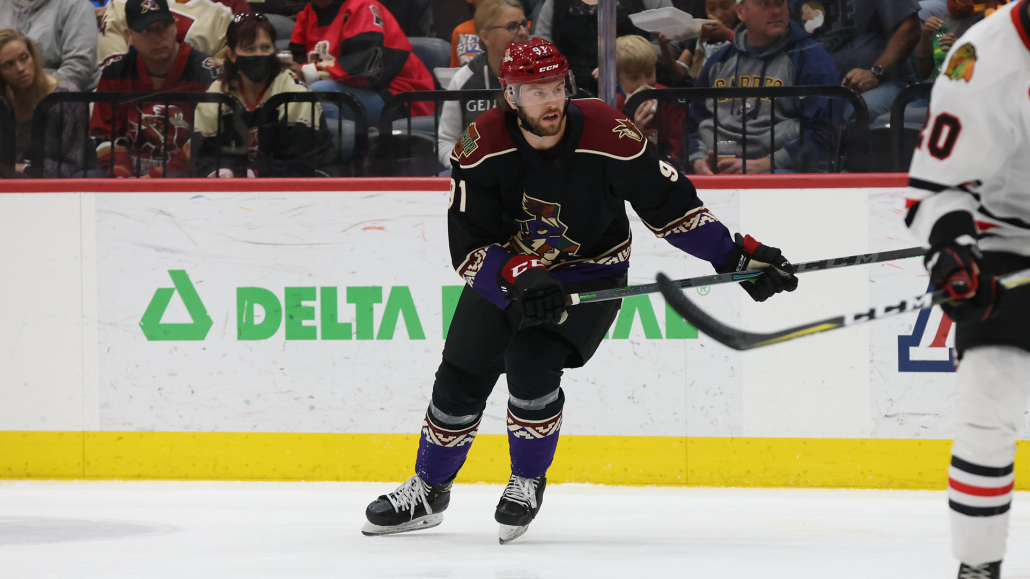 Q: We were talking with [Rapid City Rush Head Coach] Scott Burt, he said you actually had another AHL tryout lined up and were able to get to Tucson at last second.
A: My agent was working on a couple of things, I was possibly going to go to Syracuse's camp, but plans changed and I kind of figured Tucson would be a better opportunity. And it worked out that I could stop in Rapid City on the way and drop off my car and then fly here. It just seemed like a better situation and I'm glad I came because it worked out really well… there aren't many places better to play than Arizona.
Q: You ended up spending the whole season with us, how did you get your car down here?
A: Originally, I was just coming on a PTO for camp, so all I had was one little duffel bag of clothes and that was it. Everything else I owned was in Rapid City in my room that I was supposed to be living in there. Guys would bug me because I had like three shirts I was rotating for the first 2-3 months. Then I got my contract and signed the housing letter and then my mom and dad drove to Rapid City, dropped their car off and drove mine here so it all worked out.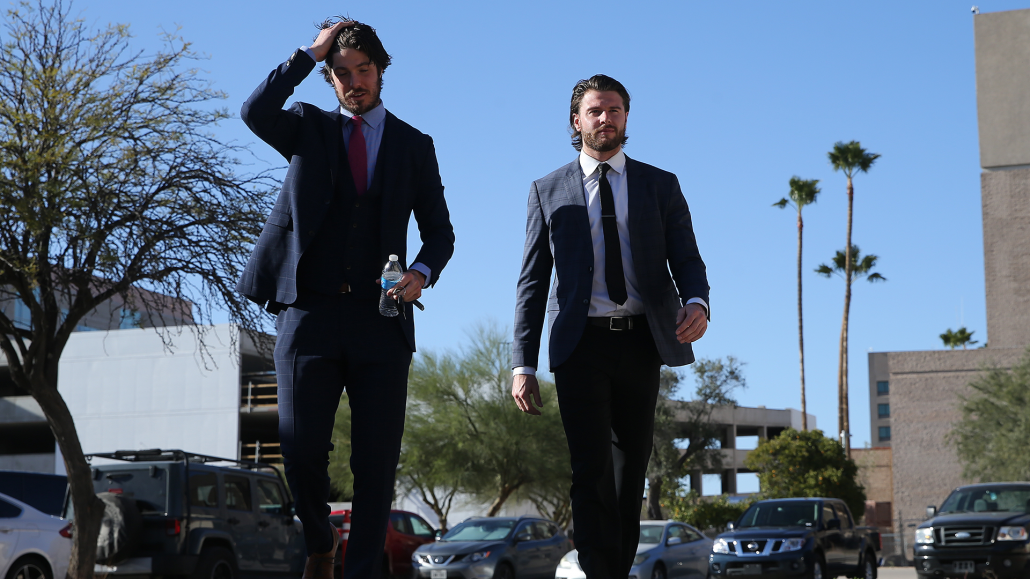 Q: In your first experience with our coaching staff, what did they provide that allowed you to improve your game as the year went on?
A: They're really helpful. All the coaches make it really clear what your role is on the team and how they want you to play. My strengths are my physicality and D-zone type stuff, but we'll work on stick handling, skating, all that. I think I learned a lot this year.
Q: What do you focus on this offseason to build off this season and prepare for the next season? A: Obviously I want to continue to get bigger and stronger, try to get a little faster and then I really just want to work on skill stuff. Find ways to get to the net, beat defensemen, I want to be trying to get a little better down low below the goal line in the offensive zone, spinning off the D to help make the next play, get to the net and that type of thing.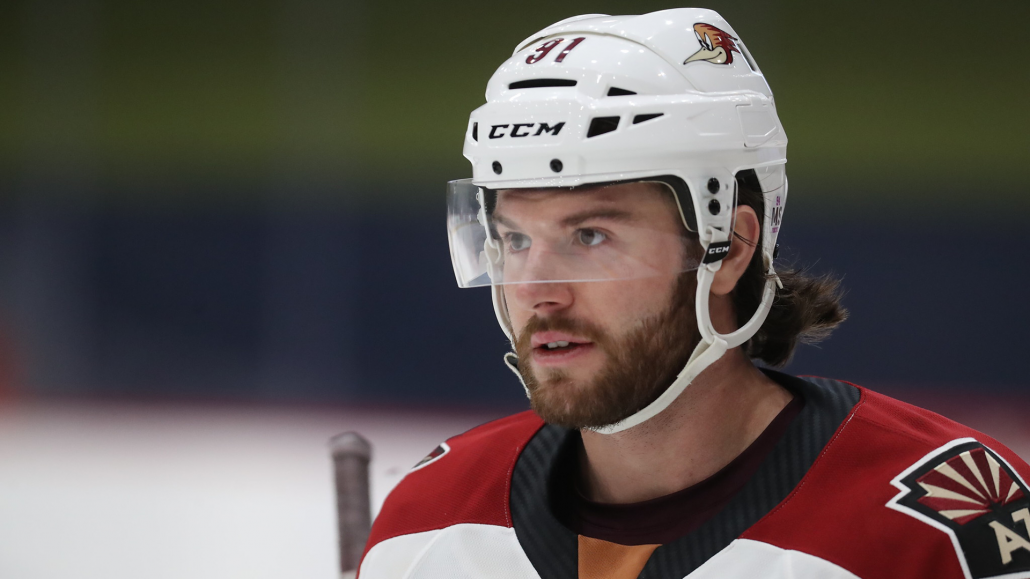 //www.tucsonroadrunners.com/wp-content/uploads/2022/05/empey-495.png
400
495
Jimmy Peebles
/wp-content/uploads/2019/06/web-header-logo.png
Jimmy Peebles
2022-05-19 13:41:20
2022-05-20 10:55:22
1-On-1 With Roadrunners Forward Tyson Empey