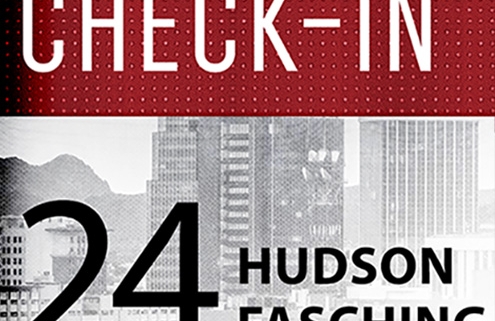 Roadrunners Forward Hudson Fasching took time this week from Minnesota to answer questions submitted by fans on social media and email. Make sure you get your questions submitted for the next Tucson Airport Check-In.
From Frank: What is your favorite Roadrunners memory so far?
Hi Frank, winning the division title this year, it was such a fun year overall. Earlier in the season, we played Stockton three games in a row. The first two at home, one win in a shootout and the next one in a 7-6 game. We then played at their rink and beat them again. It was just such a fun memory; not only because we were winning, but because we were playing so well as a team and winning intense fun games!
From Chris: What's for dinner Hudson?
Hey Chris, so after the news that we weren't playing hockey for a while, my wife and I splurged a bit and had a full Italian night with some homemade ravioli, along with some focaccia bread. But after that, we have been back on our healthy eating diet. One of our go to healthy dinners is a spicy chicken curry with veggies over rice/quinoa.
From @1_3_Marine: What was your favorite part about playing at University of Minnesota?
Hi there, so there were many parts of playing for the University of Minnesota, including playing in my home area and playing for the college that I always dreamed of. But for me, the best part was our national championship run my freshman year. It didn't end the way that we wanted (runner-up) but the experience was incredible.
From Sue: Miss you, Hudson! Hope you, your wife and dog are all well (I know it's not a question, lol.)
Hi Sue! That's so nice of you to say; we miss being in Tucson! But my wife and my dog Millie are doing well here. Millie loves the dog park down the street from our place in Minneapolis as well as swimming in the lake.
From Paxton: Tawna and I were able to be your golf partner at Top Golf last season. My question is with that amazing drive, if you weren't a pro hockey player, would you be a professional golfer?
Hey Paxton, I remember that! It was a blast hanging out with you and being able to hit some balls on the range. But I will have to disappoint and say that my golf game was at its peak with you guys, my game is not as good as it looked that night. I do enjoy golf and if I had the patience I may have tried my hand at it. My second sport growing up was actually soccer; so if i was ever to have tried to play another sport it most likely would have been that.
From Justin: How do you like your Ping driver? What model do you have?
Hey Justin, I do really like my Ping driver its a G400. As mentioned, earlier my golf game is not quite where I want it to be and this model is quite forgiving, which is definitely a benefit to my amateur golfing career. I do enjoy using it on some different terrain here in Minnesota. There is much more fairway to hit, but the trees definitely get in the way more than in Tucson.
From Angela: Favorite movie genre and favorite movie ever?
Hey Angela, great question, I love movies! But my favorite category is probably comedy movies. I have been making my wife watch all the classic comedies that she missed over our younger years and it has been fun. We have mixed in Superbad, Stepbrothers, and Wedding Crashers to name a few. But my all time favorite movie is not a comedy, I find "The Dark Knight" to be my favorite all time movie.
Thanks for the questions fans, we'll have another Tucson Airport Check-In soon!
//www.tucsonroadrunners.com/wp-content/uploads/2020/06/The1495_400Fasching.jpg
400
495
Tucson Roadrunners
/wp-content/uploads/2019/06/web-header-logo.png
Tucson Roadrunners
2020-06-03 17:40:51
2020-06-18 10:57:59
Checking In: Hudson Fasching