"Voice of the Roadrunners" Adrian Denny with Brett Fera from the Arizona Daily Star caught up with newly named Roadrunners Captain Hudson Fasching.
Adrian: We've talked with you over the last couple of years about the role that you've played as a leader and an alternate captain in Tucson the last four seasons, and time spent as an alternate captain in college, but for you, first time wearing that "C"?
Hudson: Yeah, first time wearing the "C". So it's really an honor. I'm so excited to have that role for the guys. And to have that "C" on my chest, it's a big responsibility and I'm excited to take it on.
Adrian: It's a good group, a fun group that we love being with as you well know.
Hudson: It's not going to be overly difficult. We have such a good group of guys. It's easy. It's a lot harder when it's not that way. And, yeah, I love these guys. We have a really good team and culture here this year and good resiliency. I think we kind of showed that over the last week. And you're just kind of trying to keep building on that.
Adrian: Second half of the season, starting here with this road trip and a chance to make it another good one.
Hudson: Yeah, we're really excited, you know, to build some momentum off of this road trip and kind of have it propel us through the second half of the season.
Adrian: How can a full hockey game be built moving forward?
Hudson: I think for us, we have created a culture and a really good identity for our team. I know through the adversity, I mean, we were kind of talking about it, for instance, the adversity of the pandemic, the things you go through, but you come out on the other end, and you're better for it.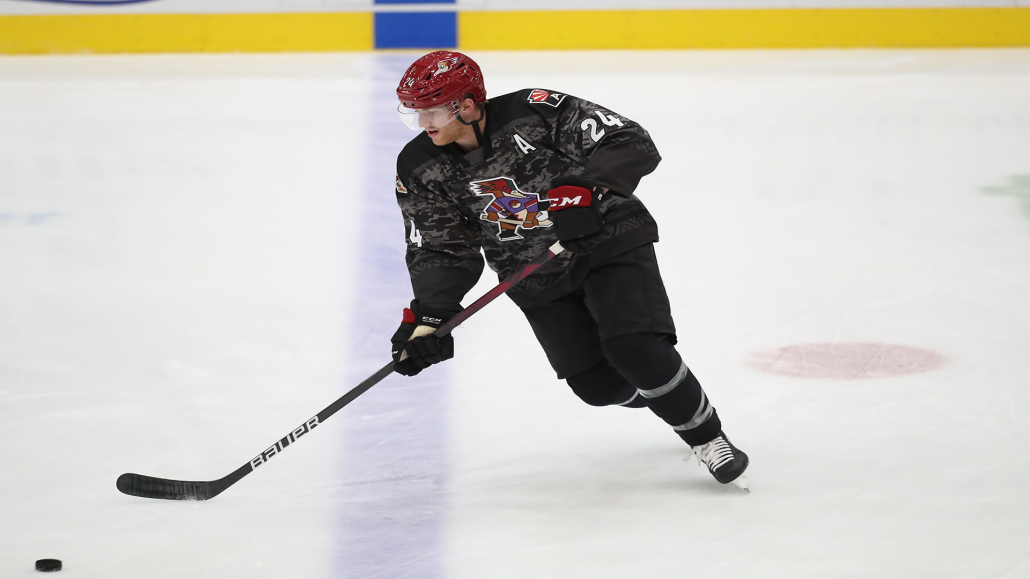 Brett: Where is your confidence with this group and what you guys can do as a team?
Hudson: We're a good team and we know we have the ability to win hockey games. We've been put in some weird spots, we've had a lot of movement to our lineup. Those are obviously excuses, you know, there are things we need to do better. But we're a young team, that's growing and learning and getting better every game and I think that's the biggest thing for us is that we continue to get better as the season goes. I think, that we're doing that, I've really liked our last (five games), we're playing really well. And we have the personnel and the capacity to win hockey games. We know that and we've proven that and, we just had to kind of build the habits and kind of mature as a team. We're crazy young, I know a lot of you know, American League teams are young and they use that as kind of a scapegoat for a lot of things, but I think we're learning as a young team and I think that can be dangerous going forward.
Brett: 19 points (6 goals, 13 assists) in 24 games is the best clip of your career and you've had seven games with the Coyotes this year. At this level, how do you feel about your development and what you're able to do and contribute on a nightly basis?
Hudson: Coming into this year, I wanted to produce and try to be a strong contributor to this team; points are a part of that. I've always prided myself on being a detail oriented, consistent player, and I feel if I can do that, and then add points on top of it, that's kind of the idea to being a well-rounded player and being able to have all facets in my game clicking and accelerating. I've been happy to be able to do that and I just want to keep that pace going, just keep trying to help the team win hockey games honestly.
Brett: For you being third all-time in goals (41) for this team, you're actually making more plays from a passing standpoint, from a playmaking standpoint. Is that something that you're working towards.
Hudson: I think that's just something that kind of comes with being older in the league a little bit, you just see the play, and you can see where the play develops, I've been playing with [Ben] McCartney and [Jan] Jenik; we're focused on getting to the net, and they're getting in good spots. So I've played the game at a little different pace, I like to play more of a possession game and I've kind of got the confidence to hold onto the puck. And with that, I mean, holding onto the puck sounds like I would have less assists, but it actually ends up creating more assists, because I'm drawing guys more to me and then trying to draw them away from my teammates; trying to create more space for them. So that's something that I've ended up trying to work on a little bit. It's just, doing that and then having the confidence to just hold pucks I think has really been something that I tried to work on this year and even a little bit on the taxi squad all year last year. It's all I worked on; skill work and holding onto pucks and things like that of that nature. So there's definitely been some translation there as well."
Adrian: How about coming to this organization in the summer of 2018 in a trade, the next summer you get a two-year, two-way contract with the Coyotes and here we are in year four.
Hudson: It's amazing how much we've progressed from then to now. The COVID season to this season and my first year here to where we are now and I'm one of the oldest guys on the team now, which is crazy to me. The funniest part was I was one of the older guys when I first got here at 23 and how young you were then, and it's been a fun ride so far. You know, we've had a lot of ups and downs, obviously, with the whole COVID Pandemic. It's been crazy, it really has. If you would have told me I would have spent a whole year, just hanging out waiting as a reserve player for the Coyotes, I would have never thought that would happen in a million years. I mean, I was happy to do it and had a fun year last year. And you know, it's been a good ride and I think that we've had a lot of winning hockey since I've been here. I really want to keep that trend going. So I think keeping this play we've established over the last few weeks and keeping that rolling is really important to me and important to the team as well. We want to start rising up the ranks here a little bit and keep moving forward.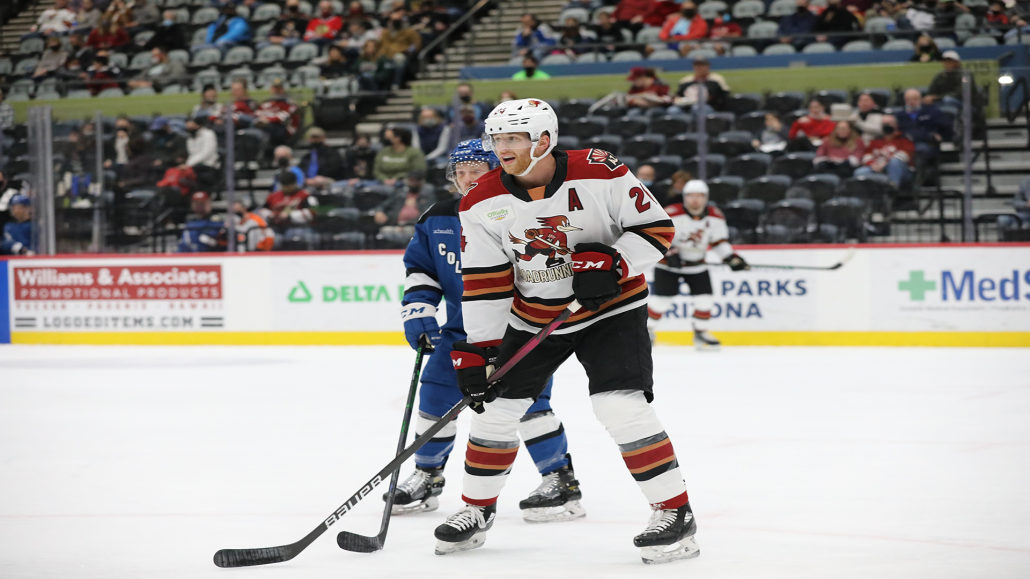 Adrian: How much has our coaching staff had to do with keeping it even keeled, keeping it loose with (Head Coach) Jay Varady, (Assistant Coach) John Slaney and Associate Head Coach Steve Potvin?
Hudson: That's what you're looking for in a coaching staff in my mind. There are definitely moments in a season where maybe you need a kick in the butt. But for the most part, I think being even keeled is the best way to be. You have to be stable; you have young guys on the team and their emotions can get up and down quickly. And if as a leader, and as a coach are setting an example that your emotions are going to rollercoaster, they're going to follow right behind and their emotions are going to rollercoaster as well. They're pretty calm, I was a little afraid, that they'd start screaming at us at one point during that recent rough stretch. They're holding us accountable, it's not just all like sugar plums and fairies don't get me wrong, but I think they're doing it in an appropriate way to the point where we're all on the same page; we're all feeling the positive vibes of our culture; we're learning and growing, and that's what it's all about. 
(Photo Credits: Kate Dibildox/Chris Hook)
//www.tucsonroadrunners.com/wp-content/uploads/2022/02/Hudson-495_4002_8_22.png
400
495
Tucson Roadrunners
/wp-content/uploads/2019/06/web-header-logo.png
Tucson Roadrunners
2022-02-08 12:53:37
2022-02-08 12:56:53
Q and A With Roadrunners Captain Hudson Fasching