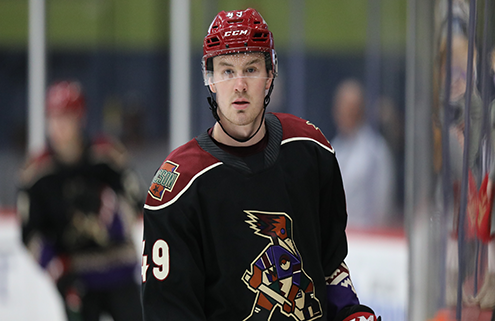 This week, Jimmy Peebles from TucsonRoadrunners.com checked in with Roadrunners rookie Defenseman Ty Emberson after the Holiday break, and asked about getting back onto the ice ready to play, and his hockey background being from the state of Wisconsin.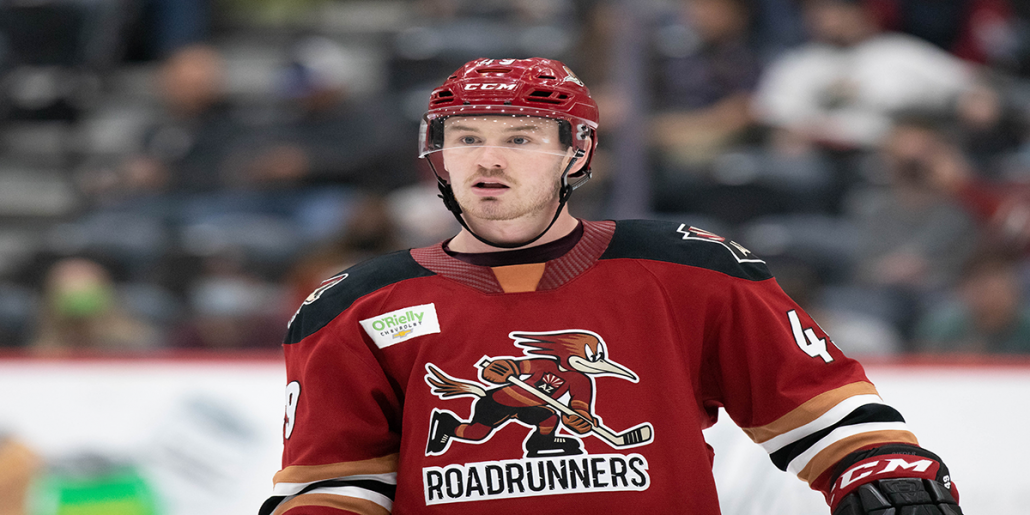 2021 was a big year for you, you made your debut with the Roadrunners in May, and you've taken on a key role with us this season. What has this year meant to you?
This year has been good, obviously it was my first year pro, it was nice last season to be able to dip my toes in the water and understand what pro hockey is and that made me more confident coming into this season. This year it's just about figuring it out and finding my role in professional hockey.
We're coming out of an extended holiday break, what's the key to getting back out there and picking up right where you and the team left off?
I think just finding the consistency and making sure that we pick it up in stride, but this week has been weird. With the taxi squad, we lost some players and with Covid people have been in and out, but just making sure that you go to the rink each and every day ready to get better and prepare yourself to make sure that you're ready for the first game back.
Youve been paired with a few different guys on defense this season, what changes about your game when playing alongside different guys with different skillsets?
I try not to change my game all that much. I'm a consistent defenseman so I try not to change it too much, and just let people work with me and bring their same skillset every night as well.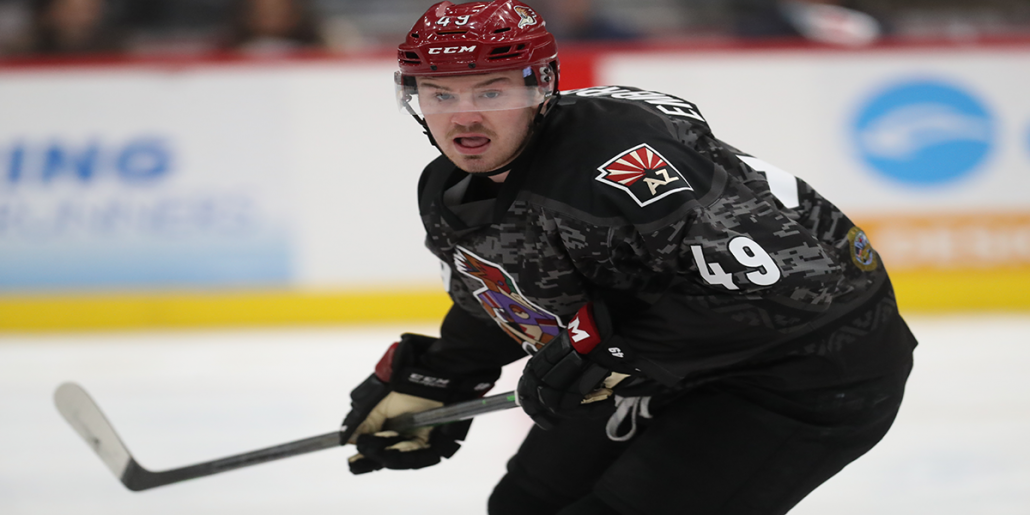 You, Cole Hults and Hudson Fasching are all from Wisconsin, and you even played against Cole in college. What's it like playing with those guys and did you know Cole at all before?
Yeah, I played against [Cole] when he was at Penn State, and we had some good battles with them. It's weird because when you play against them, you kind of have an idea of who they are but they're just the enemy at the time. But it's been really good to get to know them over the past couple of months and have quite a bit of fun with them on the ice.
The winter classic is on Saturday in Minnesota, being from the next state over in Wisconsin, do you have any fond memories of playing on an outdoor rink?
I have so many memories of just me and my buddies playing on backyard rinks growing up. It was a blast and that's where you fall in love with the game, just out there messing around with sticks and pucks and just hanging out with your good friends.
Have you ever built an outdoor rink?
We built an outdoor rink when I was little, but my best friend that lived down the street from us always built a better one than us. So I'd go over there and skate on his anyways, and my dad said "if you're just going to go over there, we're not going to build ours anymore" so I said "that's fair enough," and we just continued to walk down the street to my buddy's house and play on his rink.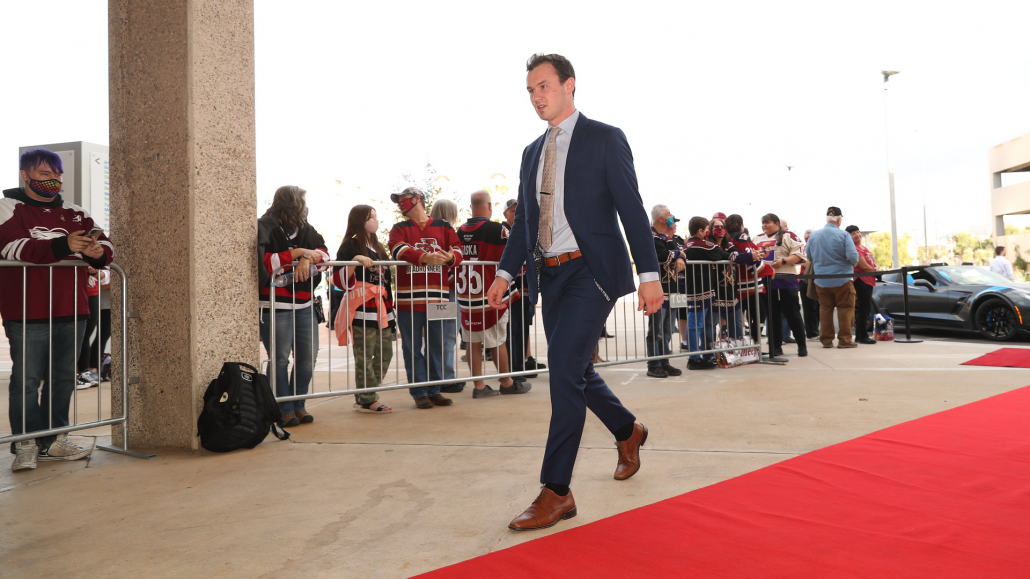 Going back to your draft day in 2018 before you went to Wisconsin and after a year with US National Team, what was that experience like on the day, leading up to it and after.
That was an unbelievable experience. I was able to go down to Texas and be there in person, and my whole family came down too. That was a dream come true for me, and to be able to be drafted by a great team like Arizona. It was kind of a whirlwind when I got drafted, the next day I was on a flight out to Arizona for development camp, so it was a great time, but it was a quite the whirlwind for sure.
In the classroom at Wisconsin, what interests did you have academically outside of the hockey rink?
I'm a finance major at Wisconsin and I'm still chipping away at my classes, I left a year early so there's still a couple of classes left to finish up. There were some guys that were more science-focused or math-focused or English-focused, but I chose the business school because I was interested in communications and that aspect of it.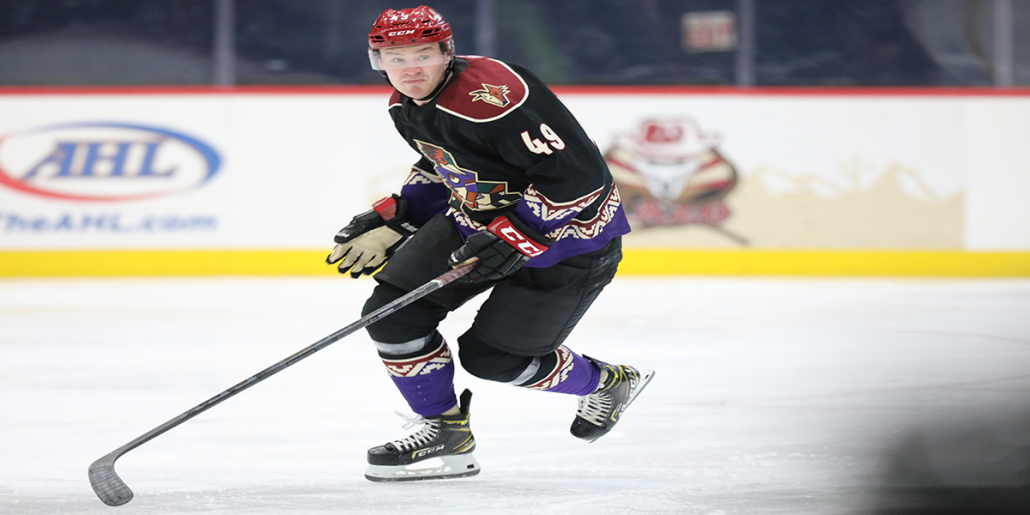 Did you watch any of the Las Vegas Bowl on December 30, when your Wisconsin Badgers took down the Sun Devils?
I watched a little bit of the game, I have a couple of buddies on the team. It was good to see them win and beat the ASU Sun Devils.
Your hometown in Eau Claire, Wisconsin is closest to Minneapolis as far as major sports markets, did that impact what teams you rooted for growing up and did you ever go there to watch any games, teams?
I'm a Packer fan, you have to be a Packer fan if you're from Wisconsin, but I like the [Minnesota] Twins. I would choose the Twins over the [Milwaukee] Brewers, but I actually grew up going to a lot of the Minnesota Gopher games instead of Wisconsin Badger games. It was closer and my whole family went there, so I have a lot of connections there.
What about the D-3 College Hockey Team in Wisconsin-Eau Claire, any fun memories watching those games growing up?
There were a couple games we would go watch them when I was little and sometime around when I was in middle school, they won the National Championship for Division Three, so that was pretty cool to be able to see those guys have success. Once I got a little bit older, I would skate with them in the summer, so it was cool to grow up and be able to play with guys that I used to watch.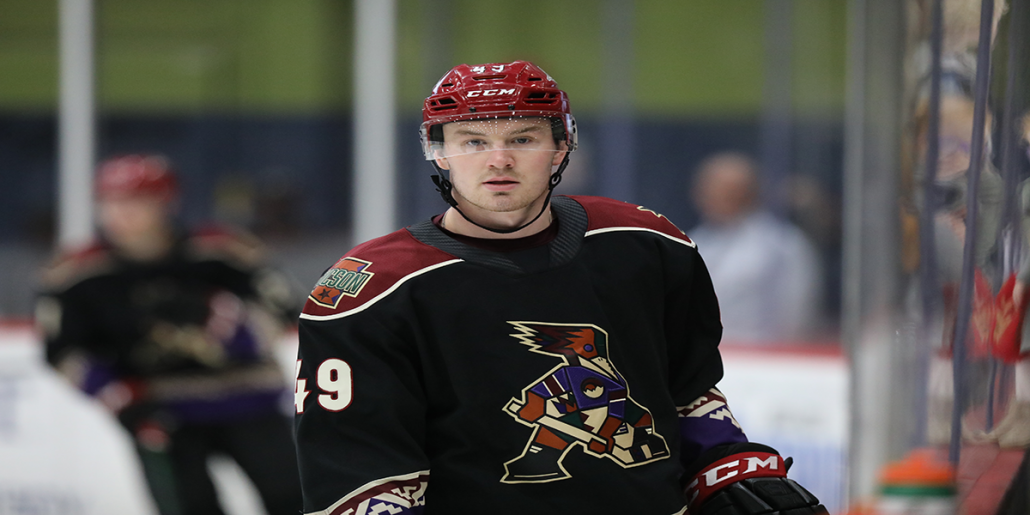 You were drafted in 2018 and it was quite the draft for the Coyotes, you, Barrett Hayton, Jan Jenik, Ivan Prosvetov, Liam Kirk all being taken. Any first memories of all of you being together for the first time?
I wouldn't say I have that many memories exactly from being drafted, but over the next couple of weeks at development camp and over the couple years where we were all getting into this point [in Tucson] there were memories where people just hung out and it was always good times. [Liam Kirk] is a funny dude, he's always got something to say.
Adrian and I were discussing some of the stockings that some of the players put together last week on the podcast, and yours was one of our favorites, mostly because of the Culvers gift card. Are there any cheat items there for you that we won't tell strength and conditioning about?
Culver's is a go-to, that's my cheat meal whenever I get the chance. I think you know everything about Culver's, you have to get the Butter Burger, you have to get Cheese Curds and you have to get a Concrete Mixer, so that is definitely my go-to.
//www.tucsonroadrunners.com/wp-content/uploads/2021/12/Ty-Emberson-495-x-400.png
400
495
Jimmy Peebles
/wp-content/uploads/2019/06/web-header-logo.png
Jimmy Peebles
2021-12-31 19:59:30
2022-01-01 16:35:01
Q and A With Roadrunners Defenseman Ty Emberson