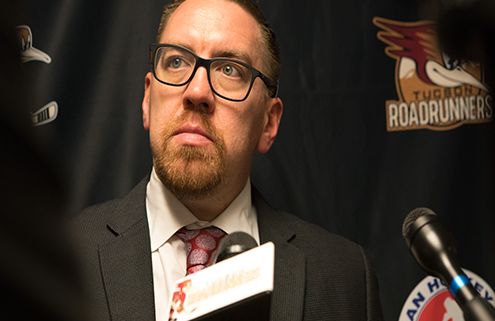 This week, Jimmy Peebles from TucsonRoadrunners.com caught up with Roadrunners Head Coach Jay Varady heading into the upcoming home stand about where the team left off, and the development connection between the Roadrunners and Arizona Coyotes.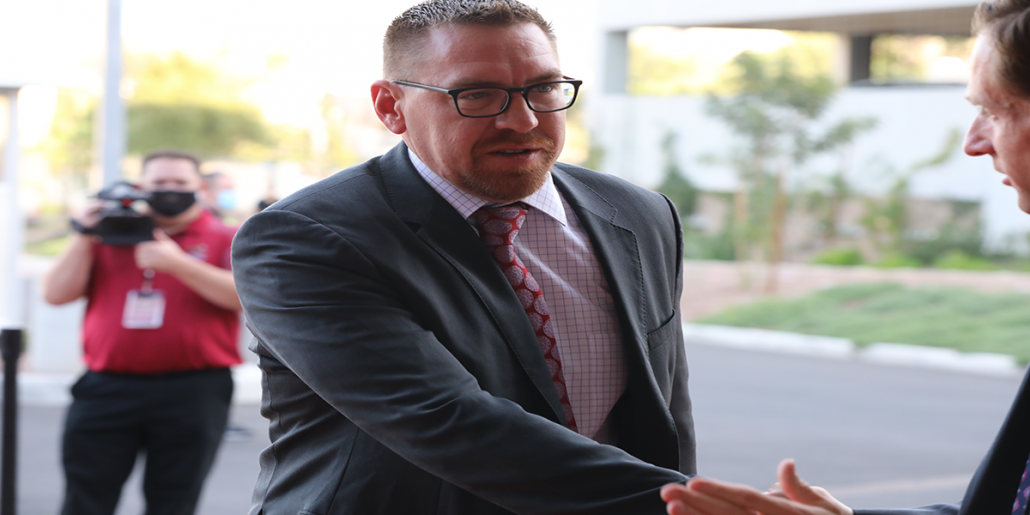 Before we left for the holidays, you stuffed a stocking of your favorite things for our Roadrunners Give Back fundraiser where we also did player stockings, what was in it?
I'd love to take credit for it, but anything like that usually my wife is the one leading the charge. She did a great job, and we had some fun with it. We were able to get some candy from the local store that we enjoy here in town, we got some gift cards from the Screamery, and a couple tickets to the movies. It was a good mix of things, and it was fun to put together. We had a good time.
As 2021 ends and we head into 2022, what personal growth did you take from the last 365 days personally where you coached both in the NHL and entered your third year as Head Coach of the Roadrunners?
There's a lot to draw from, I think the opportunity to coach in the NHL and work with the best players in the world is a growth experience. You kind of learn what's made them successful and how they're able to remain successful in the NHL and try and translate that information back to the players here in the American Hockey League. For me, it was another great opportunity to work with a great coaching staff on the Coyotes, and some coaches that have done amazing things both as coaches and as players. Spending every day in a room with those people, you grow every day, and you get better every day and I think a little bit of that I try to bring into what we're doing here every day in Tucson.
We entered the extended break playing some good hockey, how did we grow as a group over those last ten games and what can we take into the first of the year to continue it?
I think we're getting into a rhythm of playing the same way every night, consistency for me is a key to the performance of the team. Understanding who we are as a group and what we do well and making sure we do that every night.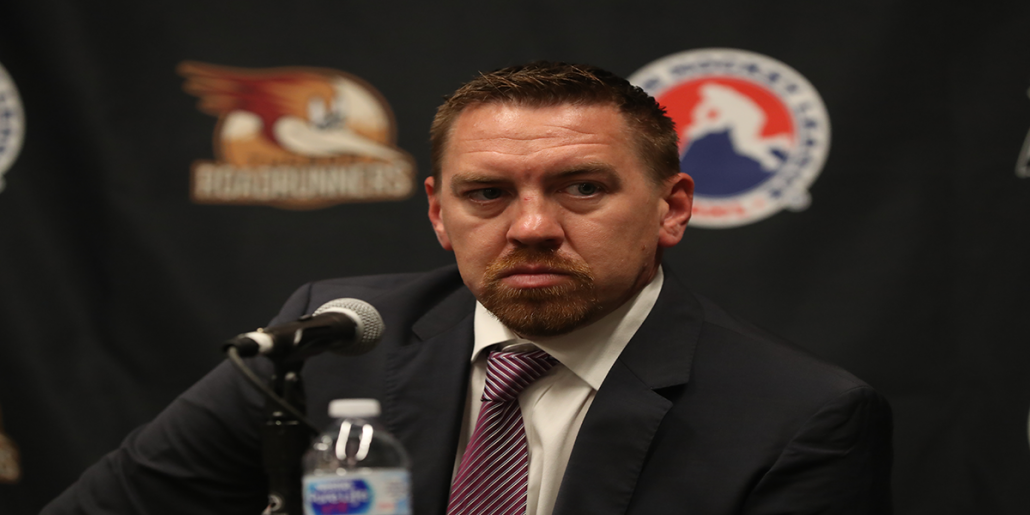 We've had 5 players make their NHL debuts with the Coyotes this season and 14 players appear on the roster for both the Roadrunners and Coyotes, what does that say about the importance of the connection and development between the Roadrunners and Coyotes?
I think one thing that has happened within the organization is that we work as one unit; the NHL management, the NHL coaching staff and the American Hockey League coaching staff. We're really one unit working in two different places for the same goal that is to try and win as many hockey games as possible in both cities, but also develop hockey players here in the American Hockey League to be successful in the NHL. The other group that's really morphed into both of those [teams] is our development staff which Alex Henry runs. The three units working together and developing players within our organization as they progress through their development track is really important and I think it shows.
What's the message for the guys in Tucson stepping into larger roles when their teammates get the call-up to the NHL?
I think everybody in the sport wants more; they want more time on the power-play, they want more time on the penalty-kill, they want more ice time in general, they want to play in key moments, and they want to take the key face-offs. I think when those players get that opportunity then it's time to prove that they can do it, and call-ups, Covid, the Taxi Squad all provide situations for that to happen.
We don't always have the opportunity due to schedule overlap, but what is it like watching Coyotes games and seeing all of the players that came through the locker room here in Tucson that you spent time with on the ice during practices and were behind them on the bench during games?
It's really special, before I was an American Hockey League coach I would watch the NHL at times, mostly watching highlights. I was semi plugged-in to games in terms of how emotionally involved I was. I would say one of the biggest things when I became part of the organization is that I watch the Coyotes with much more intent. As the years go by, the more emotionally invested you get in watching the NHL games because a lot of the time you've worked with all the guys. Whether it's on the taxi squad, in the summer, on the ice with them as we were getting ready for the bubble, or in the bubble with them, or the guys that were in Tucson, which there are a lot of these guys that have come through Tucson.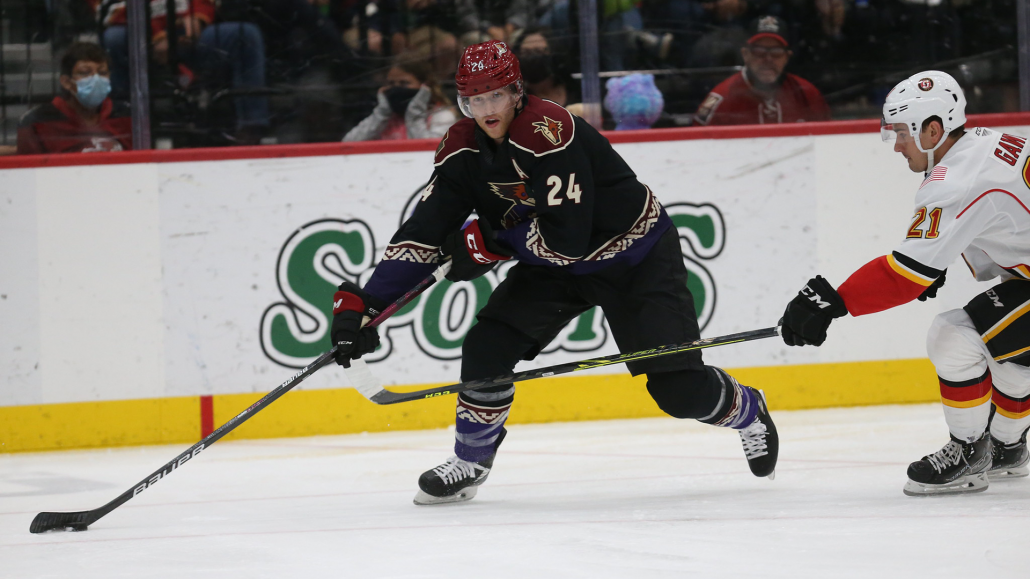 Hudson Fasching has mentioned how he followed you up to the Coyotes taxi squad and roster last season and followed you back here to the Roadrunners for most of this season. What is it like having a player around you at multiple levels for an extended time like how you've coached Hudson for the last four seasons and how he's not continuing to help lead our group here?
When you're in all those situations, you develop a relationship and understanding between player and coach of what's expected in each moment. I think Hudson has done a really good job of that through all those situations. All those guys on the taxi squad went through that evolution with us, and Hudson was one of those guys to come back to Tucson and he's doing a great job for us here as a leader.
Our next two games are at home against the Stockton Heat, who are coached by a former player of yours, Mitch Love. As we play against their team and he's on the opposite bench, do you see any similarities that correlate with both of you spending so much time together with him as a player and you both spending so much of your career with that same junior team in Everett?
Mitch is a really good coach, he's kind of gone down his own path there and has been coaching for a long time. I think our relationship is a little deeper now than when Mitch and I were a player and coach way back. Mitch and I spent a lot of time in the summer talking about coaching, looking at video together. He was coaching in a different league for a long time and we both live in the same place in the summer, so we've spent a lot of time together that way. I think we have a lot of similar views in the game and it's exciting to play against them. We love the rivalry, so it's heated as we move into these weeks, the phone calls aren't as friendly, but I think that's what competition is about. These guys in the American Hockey League, they're playing against their friends all the time, the coaches are playing against guys that they played with or guys that they're friends with, so it's a good healthy competition.
Are there ever players that come through like Mitch where you can tell that they'll go into coaching after their playing career, or they would make a good coach?
It's kind of funny because there are guys that come through that you think "oh this guy is going to end up in coaching." A lot of times as players are going through they'll come to you and say "I'm kind of thinking about coaching, what should I do here or what should I do there, how do I get into it?" So you have those conversations with people. Brennan Sonne is another person that comes to mind right away, he played on the same teams with Mitch back in Everett and he's the head coach for the Saskatoon Blades. He's another guy who's in and around Everett a lot in the summer so we just naturally sit in the summer and talk about coaching, talk about hockey, and those guys are all pulling from their resources at different places. The World Juniors is a fun time of the year too, Mitch coached the World Junior team with Canada a couple times, I was on the World Junior staff with the US, so there's some good banter going around during these international tournament times as well.
How great is it to see our former Head Athletic Trainer Bill Nervig get the promotion up to the NHL, and Jordan Ellis taking his place here in Tucson?
It's great, it's a situation where Bill has come in here and done an amazing job at his position, and that's what the American Hockey League is about. It's about coming in and doing your job to the best of your ability, and we're all striving to make the next level. Bill gets an opportunity to do that and as he moves up, then Jordan takes on a lot more responsibility here within the Roadrunners. I think that's the natural progression of the league.
You haven't coached Mike Carcone the whole time he's been with us in Tucson, but he's certainly become a key part of the team. What did you know about him coming into this season and what have you seen from him this season that earned him his NHL debut?
I think he's done a great job of just using his assets; his speed, his offensive instincts, he's able to do that but also play a good 200-foot game. Bringing all those things together night in and night out is something I know the coaching staff of Steve Potvin and John Slaney worked on with him a ton last year. When I came back, we just hopped on that same train in terms of trying to continually develop a consistent game. I think he's done a good job here with us [in Tucson] that put him in a situation to get that call up, and I'm extremely happy for him.
We had a lot of new players come in this season from plenty of different places, how have you seen them, and the returning players mesh together, and the overall team chemistry get stronger as the season has gone on?
I think that's a situation where any team that you bring together, you have to spend time and talk about what you're trying to do as a group, and what our goals are as a team and how we're going to accomplish those. Part of it is just walking the walk in terms of every day doing the right things and having the right guys in place, and we've had a couple older guys that came in that weren't here in the past that were able to kind of help our younger players along in the first little bit of season here.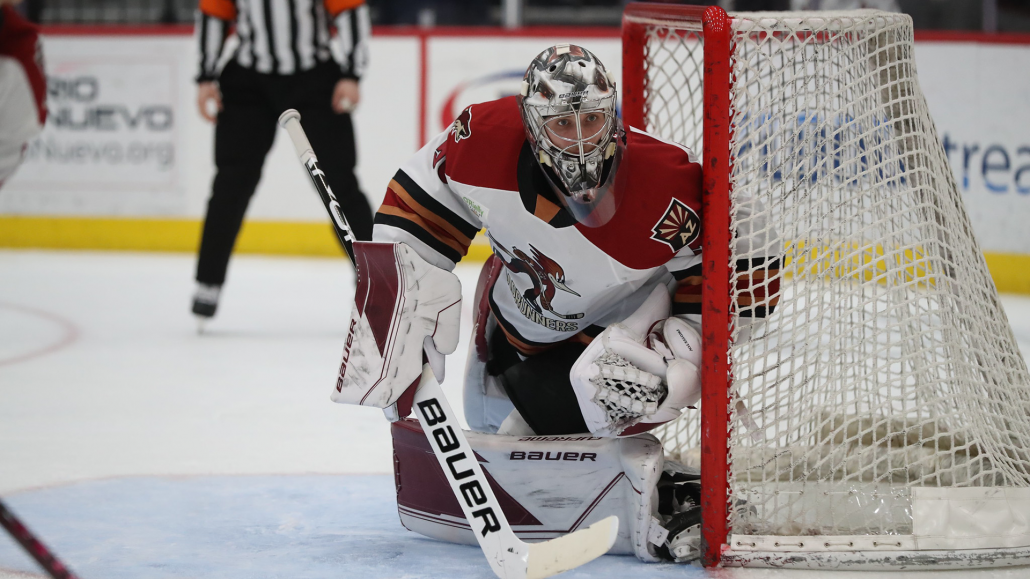 Goalies are different to coach, we have a goalie coach in Charlie McTavish, but how much have you enjoyed having Ivan Prosvetov the last three seasons and how have you seen him develop during that time?
Ivan is great, he's an extremely competitive individual and I think that's his strength. When you have a player that' as competitive as that there can be some heated moments and I love that as a coach. When you get into that situation where you have to find a way to harness that energy and continue to push and develop and grow. Ivan's been doing great things in the net for us this year, and Charlie is coming in now and he's working with Ivan and doing a good job in terms of communicating with him and working with him as he's developing.
//www.tucsonroadrunners.com/wp-content/uploads/2022/01/Jay-2-495-x-400.png
400
495
Jimmy Peebles
/wp-content/uploads/2019/06/web-header-logo.png
Jimmy Peebles
2022-01-01 16:45:02
2022-01-01 16:45:04
Q and A With Roadrunners Head Coach Jay Varady