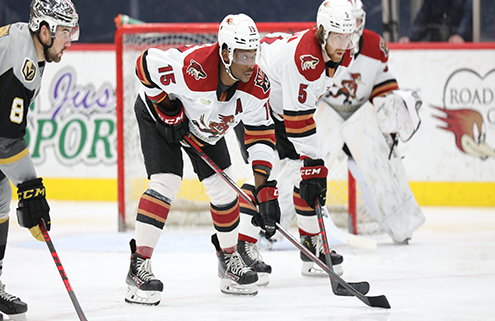 Tucson Roadrunners Forward Boko Imama and the Roadrunners team and organization have collaborated to create a t-shirt advocating an end to racism and inclusion for everyone. The mission of the Hockey Diversity Alliance is to eradicate racism and intolerance in hockey and they are committed to inspiring a new and diverse generation of players and fans. For more information, visit their website at HockeyDiversityAlliance.org.
Boko recently sat down with "Voice of the Roadrunners" Adrian Denny and the Arizona Daily Star's Brett Fera and here is a transcribed version of that conversation
Brett: How are you doing? First and foremost, how are you?
Boko: I'm doing good. With the past few weeks, I'm doing even better. Overall, obviously, it's been a tough stretch, but you know, those are just some of the things that you have to go through. But other than that, everything's good.
Adrian: Great to have had you join our organization. Our players, coaches and fans all knew who you were and were excited to have you join our team.
Boko: Thank you, first of all. I think I'm the one who is lucky to be playing here. Everything's been great, the support from day one. There's nothing for me to complain about. So just thanks; thanks to you guys.

Brett: Tell us a little about your involvement with the Hockey Diversity Alliance in terms of ensuring that this sport does become more inclusive and more diverse, and a more welcoming sport for both players, fans and coaches of all kinds. And tell us a little bit about the "Enough is Enough" T-shirt and what that means to you. You've got a cool signature, too. I noticed that looking at the shirt.
Boko: Unfortunately in 2022, those are still the topics. Those are still the things we have to face. So, it's definitely good to have the support of your organization and it's good to see that they're willing to step up. I'm thinking about the Roadrunners, setting up the T-shirt and making sure that it's available for the fans, for people to get it on different platforms. So just all of those little things, that just means so much. And same with the Coyotes. I know they're trying to make a change in their ways. But you know, just overall, it's just great to see that people are actually stepping up and actually trying to make a change.
Adrian: You've been involved with the Hockey Diversity Alliance since the beginning with other hockey players around the sport and what's been the early successes of HDA and what's on deck?
Boko: They're all guys that have played the game, guys of color that have been through those moments. I've been dealing with all those types of things that we have to face sometimes. So it's good to have a program like that with those guys leading, and they're able to just put the attention in the right place and help to make those younger just trying to be hockey players so they have people to look up to. Just the whole idea behind it; there was just no question for me to for the proceeds to go there.
Brett: You mentioned the organization and the role that it's played in supporting you. What role have your teammates played? You guys spend a lot of time together in the locker rooms and off the ice. And how have they been for you in terms of a support system both here and when you were in Ontario?
Boko: Talking about my group this year, it's my first year in this organization. So coming in, I didn't know anyone. Guys that we didn't really have a  bond with before. Now they're my brothers, I know they have my back. I know they're going to support me and they know I have their back, too. It definitely helped in building the friendships quicker, I'd say. But they've been nothing but good to me. Just the all-around this process, we're together, all the time, around team meals, at meetings, whatever. It's never been awkward. It's always been love and support. I can't thank them enough, to be the guys they are.

Adrian: Actions over words is what we always talk about. We want to do something to make a positive impact. And I've noticed that that over the years in hockey, you do stuff like this and you think "this is going to be great." This is going to be a good thing. Then the players take over and make it bigger and better than you could have ever, ever imagined. And it just turns into to something magical.
Boko: Absolutely. But like you said, you know, none of that happens if people are not willing to take actions, right? You know, it's easy to say good words to say "I support you". Words are easy to say, but like you said, actions are huge. And you know what? Without all those actions, it wouldn't be that magical.
Brett: You are someone who has a legacy in this building before you even got here. I remember the last time I think you were on Tucson Arena ice, you went toe-to-toe with Jan Jenik, I believe, at center ice. You then come to the Roadrunners, and next thing you know, if I'm not mistaken for the first couple of weeks, you're on the same line with him. How does that work out among hockey players with how physical you guys have to be to play this game with how much you guys, when you're on opposite teams, you're going to go at it. There's something about the sport and about you guys that when you do put on the same jersey, you can sit there and say, yeah, we did that six months ago, but alright, now we're going to go fight literally and figuratively together out on the ice.
Boko: Absolutely. And, you know, I don't hold grudges or anything about anything. I just respect and love the game so much. I come to compete and, do what I need to do. Any time a player is actually going to step up to me and actually give me a fight. I'm actually going to gain respect for that player. Win or lose it doesn't matter how the fight goes. So, you know, coming into the camp, I was actually looking forward to meeting Jan.  I was looking forward to shaking his hand and, you know, just show that I respect him because he didn't have to give me that fight or to fight a guy that he was giving up a lot of weight to and he was giving up a lot of things going into that battle. So for sure, I just respected him. But we're used to it in hockey. It's a business. Whenever I'm going to be playing, whoever is going to be my teammate, it's going to be the same.
Brett: I know you've seen them a lot already this season, but when you come over from Ontario to Tucson and there are so many holdovers in that organization from when you were there, do the coaches look to you and be like, OK, you're going to understand systems and structures and what that organization wants to do? I mean, how helpful can a player like you be in that situation that's brought in or traded or signed from another organization?
Boko: Honestly, the coaches don't even need that intel. They do such a good job of pre-scouting and giving us details that I didn't even know while I was on their team. So I think we have to give it up to our coaches. They're doing a great job on that and just guiding us.

(Photo Credits: Kate Dibildox/Chris Hook)
//www.tucsonroadrunners.com/wp-content/uploads/2022/03/BOKO.png
400
495
Tucson Roadrunners
/wp-content/uploads/2019/06/web-header-logo.png
Tucson Roadrunners
2022-03-03 20:31:14
2022-03-03 21:55:11
Q and A With Roadrunners Bokondji Imama