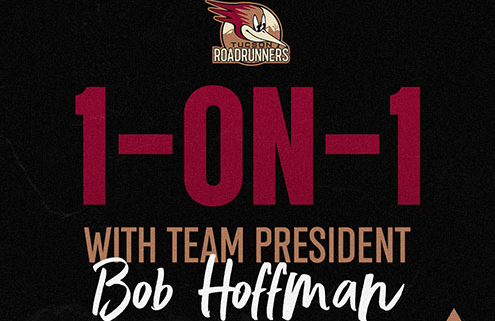 Tucson Roadrunners Team President Bob Hoffman stopped by last week's edition of Roadrunners Happy Hour to break down the recent six-game home stand and look ahead to the month of December for Tucson. Join Adrian Denny, Brett Fera, and Kim Cota-Robles every Tuesday at 5 p.m. on FOX Sports 1450AM and the iHeartRadio app. A podcast version of this week's episode can be found on the iHeartRadio App or by listening below.
Listen to "Feast Mode with Bob Hoffman" on Spreaker.

Q: Bob, welcome back to the show. How's it going after the big six-game home stand?
A: It's going well, thanks. It's good to get a little break from the grind (over Thanksgiving) to get us set and ready for our next home stand. We're excited about December 9 and 10, our Winter Wonderland Weekend. That's the next opportunity for our fans to see the Roadrunners at home.
Q: What does a Thanksgiving look like at your house?
A: It's going to be unique at the Hoffman House this year. My daughter asked to learn how to make all the Thanksgiving dishes this year, so it'll be starting bright and early Thursday morning and we'll see how it goes.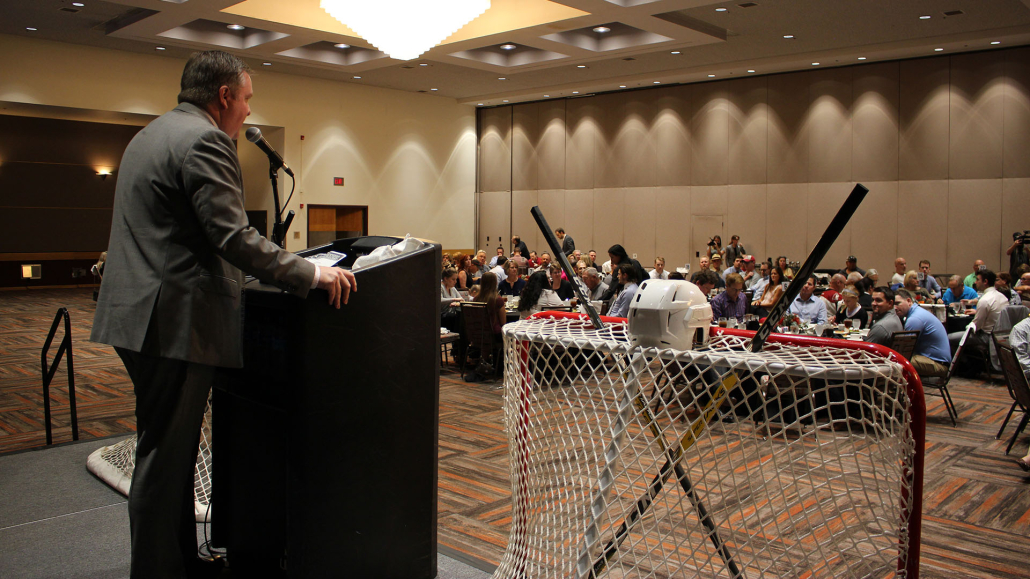 Q: You've been on the road for your fair share of Thanksgivings over your career in hockey. What's been your most memorable Thanksgiving away from home?
A: There have been so many of them. I remember one time we were playing down in Louisiana and the Booster Club for the opposing team put on a big spread for us, that was a lot of fun being with the team and being together for a traditional meal. Some teams have a traditional Thanksgiving game, but I've never had one played on Thanksgiving Day. As for the Roadrunners, we're going to have some tough teams on this current road trip to really test where the team is at.
Q: For those that don't know, what do your days look like during the season?
A: There's a lot behind the scenes that isn't maybe as visible as the hockey side of things. From the Front Office side, it's really about home games, the community presence, and what we can do to put on a great show and excite the fanbase. This looks like a really good Roadrunners team that has had some great moments, the comeback win against San Jose on Saturday, November 19, was one of the best games I've seen in our arena in a long time. When you see that, I want to make sure that gets conveyed to everyone. You don't always have a team that's as exciting to watch, so you have to be ready to pivot and have an entertaining product that someone will spend their time and hard-earned money on. I feel guilty if we don't put on a good show, and that's all a part of putting a show in between the whistles and energizing the crowd. The electricity our arena has, whether we're up or down, has to be there.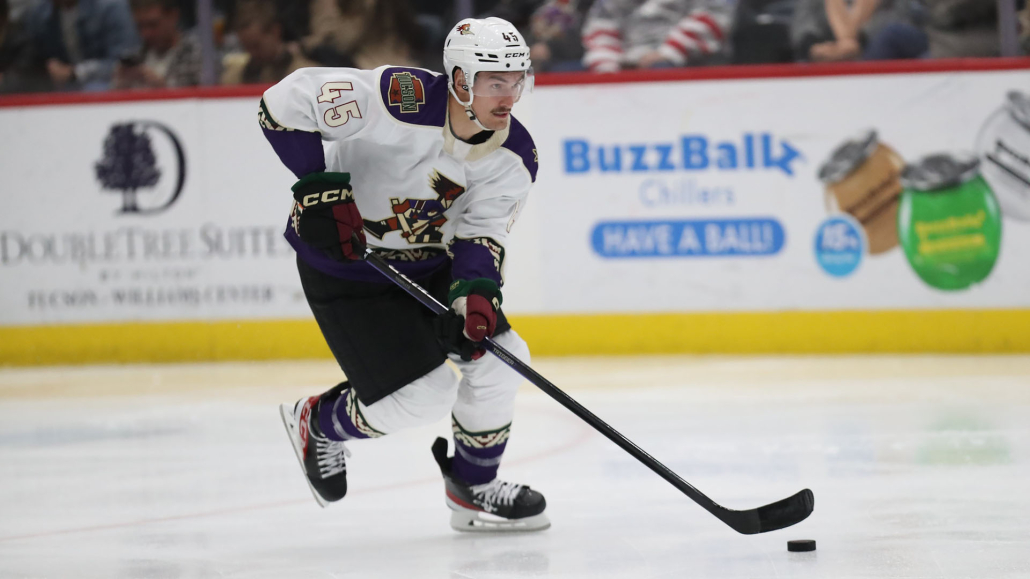 Q: We saw the debut of our new White Kachina Jerseys last Saturday. What all goes into bringing that to the ice from your side of things?
A: We try to be as prepared and planned out as we can be, but you can only do so much. When we first arrived in 2016, we looked ahead at our calendar and thought about where we wanted to be each year in terms of alternate jerseys. When you walk in on day one, you don't have a third jersey or even a brand, so we had to go through that process. Being aligned with the Arizona Coyotes, we really wanted to support them and represent them, so adding the White Kachina into the mix this year goes with the Coyotes adding theirs back into their identity.
Q: Roadrunners Captain Adam Cracknell said that after winning in the White Kachinas he wants to wear them more.
A: It's always nice when the players like and enjoy them. I don't know the numbers on this, but we have to be in the top 25% of the AHL in the amount of jerseys that we use. I love looking around the crowd and seeing all the iterations of jerseys and themed jerseys from over the years. I think this new third jersey is going to be one that's well-received.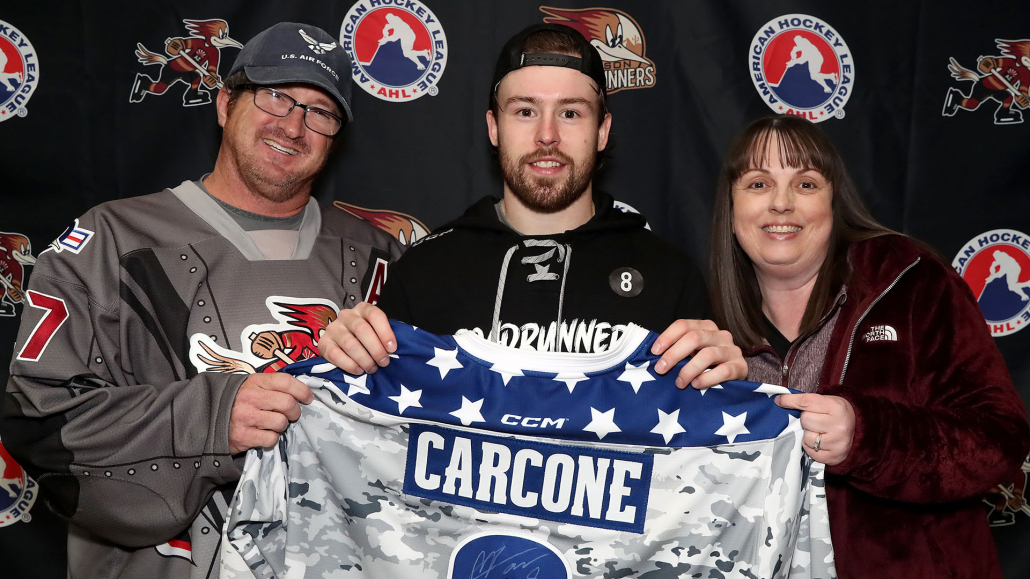 Q: You mentioned it's fun to look around the Tucson Arena and see some of the jerseys from past years. Have there been some jerseys that you wouldn't expect to see in Southern Arizona?
A: Back in year one, our staff had an NHL jersey bingo. We each had cards and we tried to see how quickly we would see a jersey from all the different NHL teams. I thought it would engage our staff and get us to interact with the fans wearing those Boston Bruins or Buffalo Sabres jerseys out there in the crowd. I thought that by the end of year we'd see two-thirds of the NHL jerseys, but every NHL jersey was spotted at the Tucson Arena by the end of November 2016. There are so many hockey fans in Arizona, and it's great to see.
Q: Are there any plans to change to the Kachina branding full-time?
A: I love our logo, I love our colors. We have so many variations, but I think our red jerseys are some of the best in the American Hockey League. I love our identity and it doesn't have to be something that follows the process of the NHL parent club. We love supporting the Coyotes and they're fantastic at supporting us, but there are no plans to go away from our current identity. I do think our third jersey will always have some sort of tie-in to the Kachina identity that has been made so popular up in The Valley.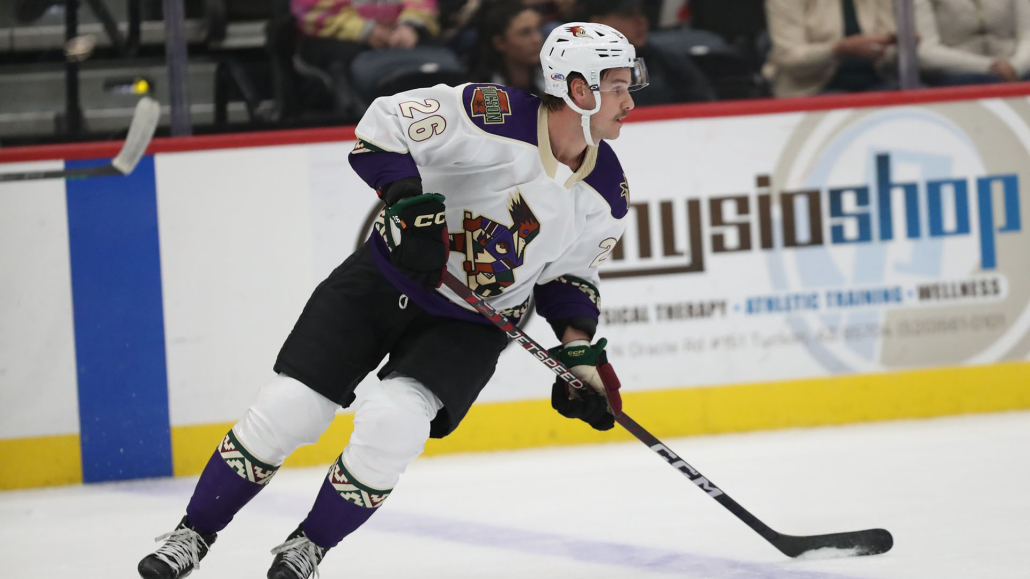 (Photo Credits: Kate Dibildox/Chris Hook)
//www.tucsonroadrunners.com/wp-content/uploads/2022/11/Bob1on1495.jpg
400
495
Jimmy Peebles
/wp-content/uploads/2019/06/web-header-logo.png
Jimmy Peebles
2022-11-25 15:41:17
2022-11-25 15:41:18
1-On-1 With Bob Hoffman