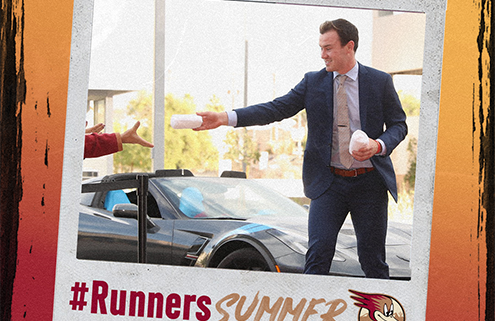 1-On-1 With Defenseman Ty Emberson

Tucson Roadrunners defenseman Ty Emberson joined "The Voice of the Roadrunners" Adrian Denny and TucsonRoadrunners.com's Jimmy Peebles on last week's edition of the Roadrunners Insider Podcast. The full episode can be found on the iHeartRadio App or by listening below.
Listen to "Summer Shopping: With Ty Emberson" on Spreaker.
Q: Thanks for joining us Ty, are you back home in Wisconsin?
A: Yeah I'm back home in Wisconsin, I'm working out in Madison for the summer.
Q: We saw a lot of family following you out on the road this year.
A: That was one thing about coming back and playing for [University of] Wisconsin after playing for the U.S. National Team. It was a little bit closer for all my family to be able to come see me. This year, I saw them in Des Moines and Rockford and they actually made one trip to Texas. It's a little bit closer for them in the Midwest versus coming out to California and the Pacific, but it was awesome to be able to see them.
Q: This was your first full season with us, what did you learn? How did it compare to your 5 games with us in 2020-2021?
A: I think those first five games were kind of just a blur. You're coming in off of a college season, having a lot of fun, it's your first couple pro games so everything's going really fast. This year I'd say I embraced the grind a little bit more. Obviously, we play a lot of games throughout the season, there's ups and downs with it. I think this year was just handling that adversity and making sure that I tried to perform my best each night.
Q: We had a lot of guys coming out of their college seasons this year and joining the team late. What was it like seeing those guys go through what you did the year before?
A: [Last season] there were guys that took me in and made me feel comfortable those first couple of weeks that I was there, so I think this year I just tried to do that. I actually had mutual friends with a couple of them, so it was a little bit easier because I had played against them throughout my college career. It was kind of funny to be on the same team as them instead of on the other team. But it was just about making sure they were comfortable and help them step right into the lineup. Me and Mitch [Lewandowski] had a couple battles, I played Colin Theisen for a couple of years when he was Notre Dame too. So I knew those guys from the other side of the bench, but it was fun to be able to get to know them as guys in the locker room.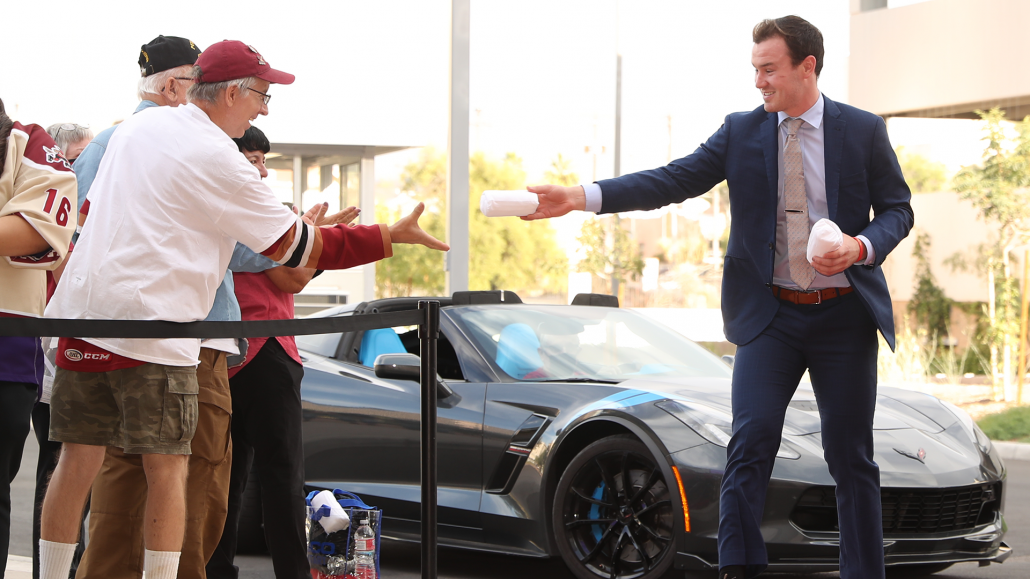 Q: What about fellow Wisconsin native, Cole Hults? He was playing over at Penn State University.
A: Yeah, "Hultsy" and I did have a couple of battles when he was at Penn State. I never enjoyed playing Penn State because they were a good team when he was there. He's a Madison guy, so it was good to get to know him, and I see him every once in a while here in the summer.
Q: We recently had Ivan Prosvetov and Liam Kirk on the podcast, who were selected by the Coyotes in the same draft as you back in 2018. In all we've had 6 players from that draft suit up with us. What is it like playing with those guys you've likely been around since your first camps with the team?
A: It's been good. With those development camps you kind of get in and get out, there's a lot of stuff going on. But this year, it was really good to get to know them and have them around for the full year.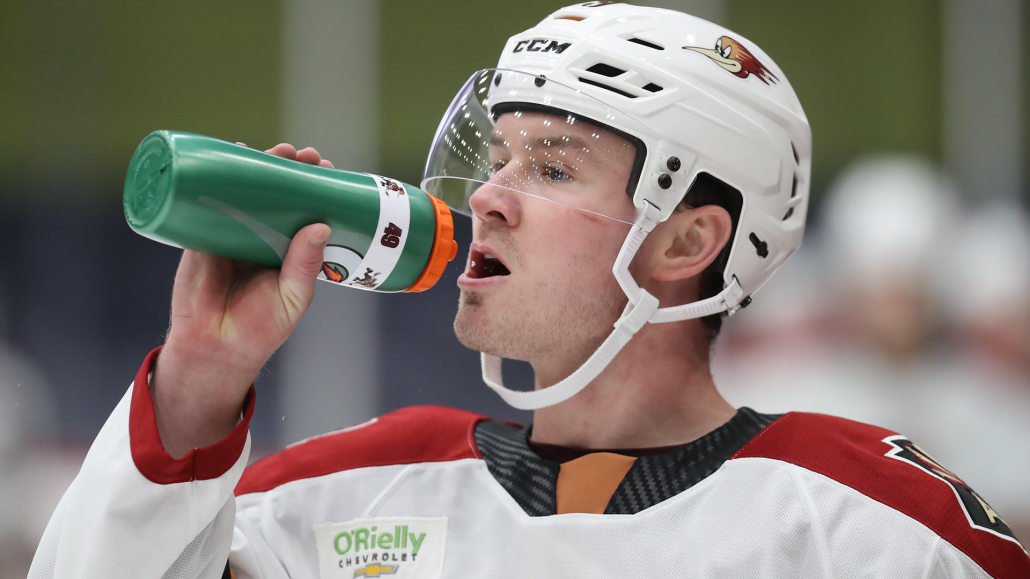 Q: You played in 58 of 68 games, did you like that routine? There were some weeks where we had a college schedule (only Friday, Saturday games each week), but other weeks where we were playing five games in seven nights, or six games in a stretch of two weeks.
A: It was obviously different for me. The first half was close to the college schedule, but the second half was a lot of games packed in. It takes a toll on the body, but that's what pro hockey is. You have to understand that and take care of your body and take care of your off-ice habits and make sure you're ready, but it was a lot of fun playing all of those games.
Q: During the course of the year, we saw a lot of tremendous progress from everybody in the lineup. The team finished the year strong and as a group we just kept developing and improving individually. With those last two wins of the season, do you feel like there's momentum heading into the summer and next season?
A: For sure, there was a lot of momentum towards the end of the year. I think we kind of found our game and found our identity as the last couple of games went on. Then you make sure that you carry that confidence into the summer. I think I found my game towards the end of this season and it's time to carry it through the development camps this summer and into the camps in the fall.
Q: You mentioned finding your game during that last month of the season. What can you take from that strong finish and apply it to the offseason and next year?
A: I think it was about being on my toes a little more at the end of the season. I was having more fun with it as the season went on, and I was finding confidence each and every game. I can just carry that into the summer by playing a lot of hockey, getting my touches in, and making sure that my puck skills are a confident part of my game.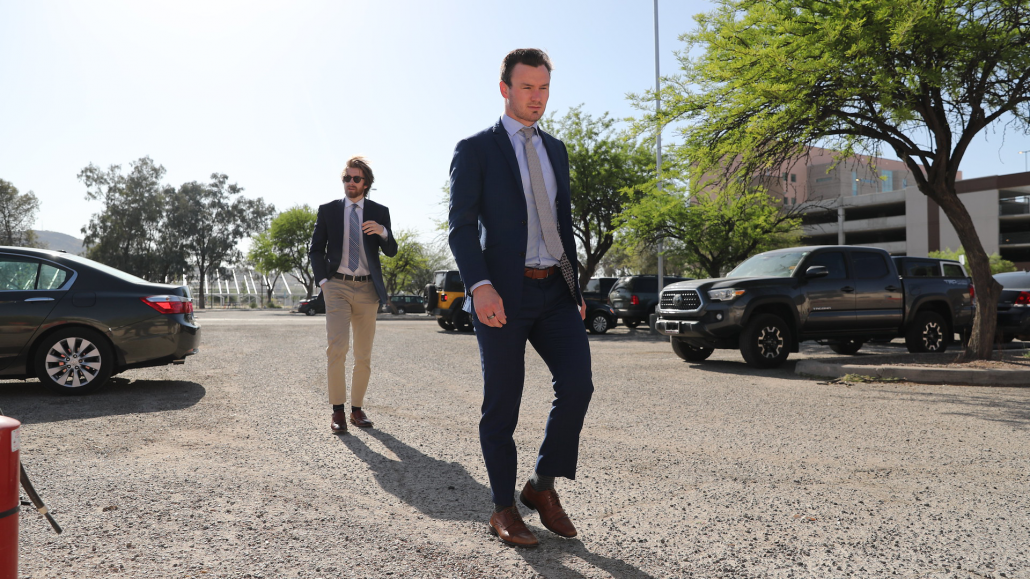 //www.tucsonroadrunners.com/wp-content/uploads/2022/06/ty-495.png
400
495
Jimmy Peebles
/wp-content/uploads/2019/06/web-header-logo.png
Jimmy Peebles
2022-06-16 14:06:48
2022-06-16 14:10:39
1-On-1 With Defenseman Ty Emberson