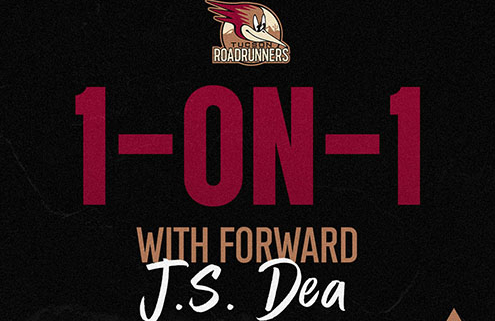 Tucson Roadrunners leading goal scorer J.S. Dea stopped by Roadrunners Happy Hour to talk about his first year in the desert and the depth of this season's Roadrunners team. Join Adrian Denny, Brett Fera, and Kim Cota-Robles every Tuesday at 5 p.m. on FOX Sports 1450AM and the iHeartRadio app. A podcast version of this week's episode can be found on the iHeartRadio App or by listening below.
Listen to "J.S. Dea Joins The Show" on Spreaker.

Q: A series split with the Ontario Reign last weekend to move to 10-6-1-0 on the year. How is the team feeling at this point in the season?
A: It's been really good. You can look at the standings right now and see that we're battling for first. [Roadrunners Head Coach Steve Potvin] has been doing a great job with everybody coming in and out of the lineup, and I think we're finding our game. The hardest thing in this league is consistency, and I think we've been pretty good at that. There are a lot more games coming up, and that consistency is going to be very important for us. I think we showed Ontario that we're going to be battling for the top spot in the division.
Q: Had you ever been to Tucson before joining the Roadrunners, and have you had a chance to explore Southern Arizona?
A: It's actually my first time out west in my career. I like to enjoy the sun and the weather. Just going outside to look at the palm trees and the sun, that's all I need. That's why I signed here, I think your outside environment is crucial in your career. It's nice to be in an environment where I feel comfortable. I can't complain so far.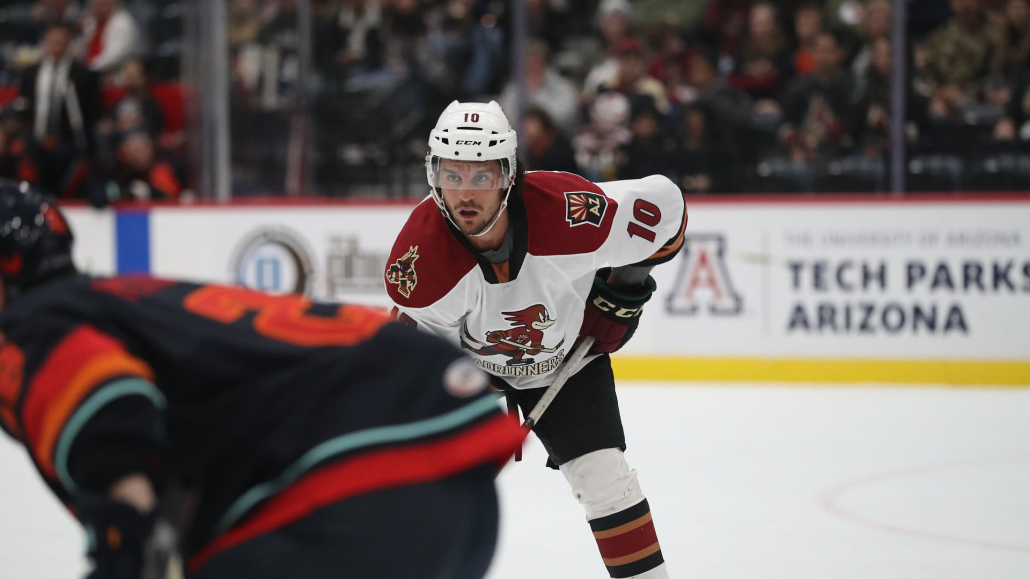 Q: You've joined this team and immediately been a part of the culture and taken on a leadership role. How has it been such an easy transition for you?
A: I think [Steve Potvin] did a really good job right off the bat. We had some great conversations, and the role he gave me was what I needed and what I wanted. I know my instincts offensively and I felt my game was on point from last year, so it was just a matter of buying into the group and having a good attitude every day. It's easy for me to wake up and go to the rink and just have fun. It's been easy to adjust and fit in so far.
Q: Was there someone you looked up to as an athlete growing up?
A: I looked up to Sidney Crosby when I started out, and I was able to play with him in my first five years in pro hockey. It was nice to be around someone you looked up to see what he was doing to talk to him and learn from him. That was a really good experience when I started in Pittsburgh. Kris Letang also made me feel really comfortable when I was there, which made it a lot easier to interact with those guys and be around the team.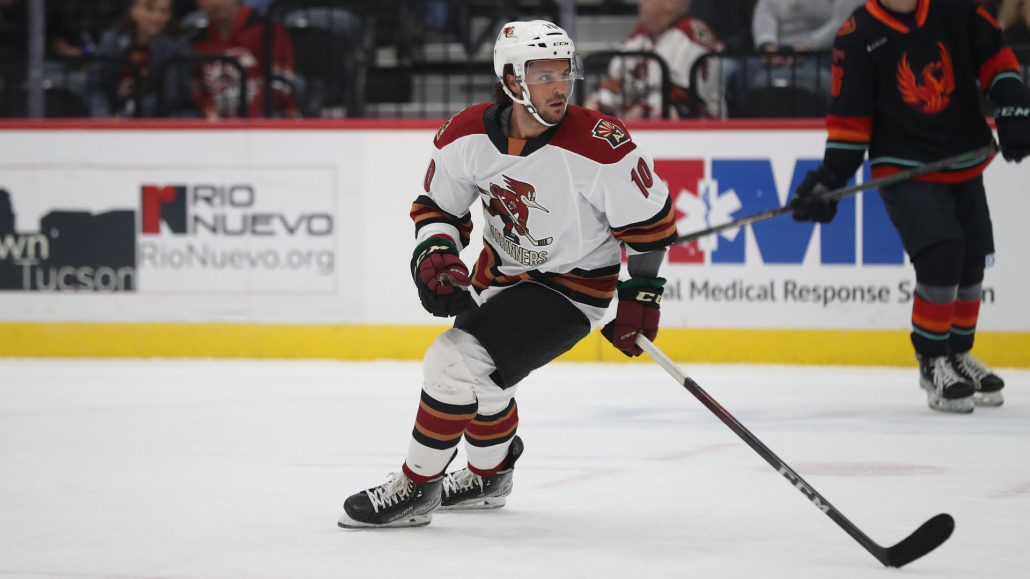 Q: You were teammates with current Roadrunners teammate Laurent Dauphin last season in Laval. What is it like having that connection here with you in the desert?
A: I actually didn't know [Dauphin signed with Tucson]. I was on vacation with my girlfriend at the time, and I wasn't looking at my phone other than for free agency. We got really close last year before he went up to Montreal. It's nice to have familiar faces, I know Boko Imama from back home as well. It's nice to have someone around you feel comfortable around and can speak French to. [Laurent's] been doing fantastic so far and it's nice to play together.
Q: You said this is your first season out west, and this is a pretty crazy year for the Pacific Division with ten teams and 72 games for the first time. Do you see this Division being this deep for the entire season in terms of talent?
A: Absolutely, it's like that everywhere [in the AHL] these days. It was even like that last year out east, every team is good. Every game is huge when every team is trying to make it to the top. It makes for good competition and it's exciting. It's fun to have that challenge and fight for the division. It's a hard league, but it's fun hockey when we're battling for something. I think it's going to be exciting until the end [of the season]. That's why every game is important.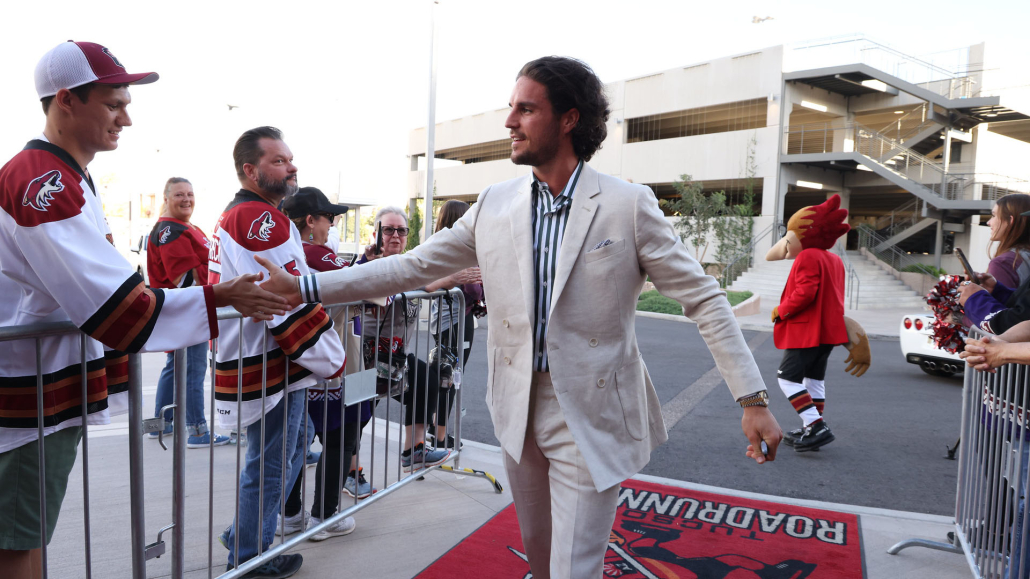 Q: You mentioned during the weekend against Ontario that you and the team what to show the league that the Roadrunners are a dangerous team. What do you think has made us a tough team to play so far this season?
A: I think we have four good lines, three good defensive pairings, and great goaltenders. To go far and be dangerous, you need all four lines to get going. So far, everyone has been a part of that success. From the coaching staff to the players, I think everybody has bought in and has the same goal of winning as much as possible. When everybody is in the same boat, you have success, and I think that's been working for us so far.
(Photo Credits: Kate Dibildox/Chris Hook)
//www.tucsonroadrunners.com/wp-content/uploads/2022/12/JSD-1on1-495.jpg
400
495
Jimmy Peebles
/wp-content/uploads/2019/06/web-header-logo.png
Jimmy Peebles
2022-12-01 13:53:31
2022-12-01 13:53:33
1-On-1 With J.S. Dea