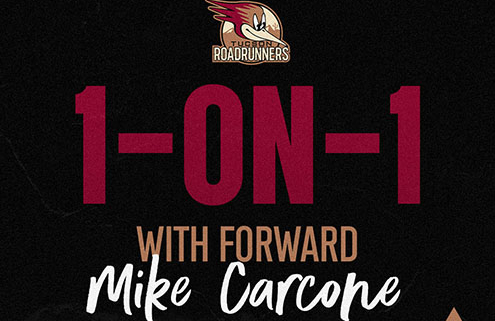 Tucson Roadrunners Forward Mike Carcone appeared on Roadrunners Happy Hour from the team's road trip in Calgary on Tuesday, November 1, to discuss his and Tucson's hot start to the season. Join Adrian Denny, Brett Fera, and Kim Cota-Robles every Tuesday at 5 p.m. on FOX Sports 1450AM and the iHeartRadio app. A podcast version of the full episode, including Mike's roommate on the road, can be found on the iHeartRadio App or by listening below.
Listen to "Mike Carcone From Calgary" on Spreaker.

Q: Mike, we've been playing in some new arenas this season in Henderson and San Jose, but now we're at the Saddledome, a classic hockey arena and home to the NHL's Calgary Flames.
A: The Saddledome has a special place in my heart, I was fortunate enough to score my first NHL goal here (along with Vlad Kolyachonok on March 25, 2022). I'm always going to remember this barn, and I'm excited to be back here.
Q: What is the preparation for you and the team when you step onto a new sheet of ice at a new arena for the first time?
A: You definitely think about it, but as a pro you can't let it creep into your head. The more you think about it, whether it's bad ice or the boards are lively, it can affect your game. You have one job out there, and that's to battle and try to win the game, so you have to put it behind you and focus on what the job is.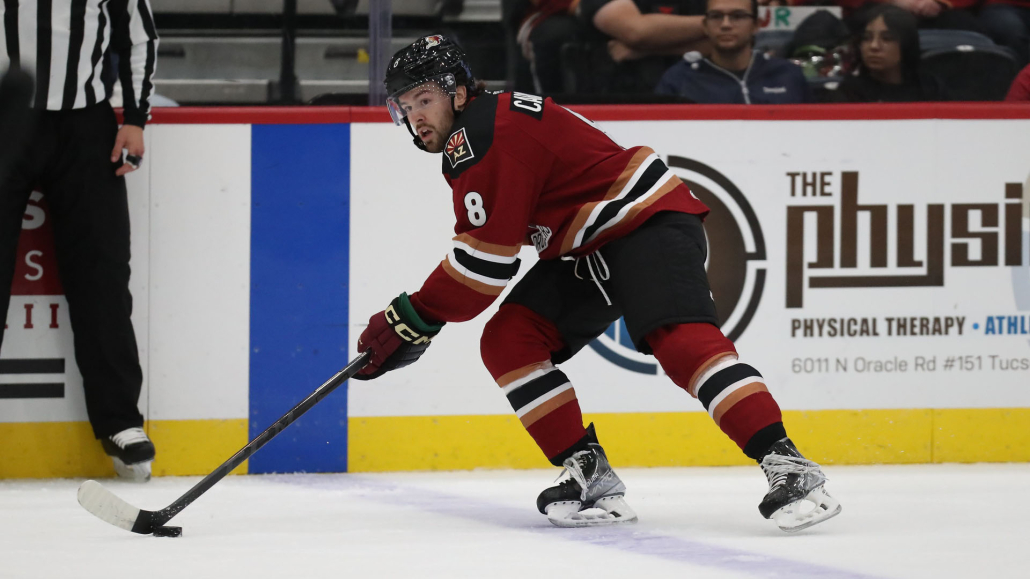 Q: The team has seemed very composed so far this season and has had an answer to anything that's been thrown at them. What's been behind that?
A: I think everyone knows their role this year. Sometimes it can be confusing what your job is and what your role is on the team, and sometimes it changes from year to year. I think the coaching staff did a great job talking about that with guys this year and how we want to play. Not just individually, but as a line too. Knowing what you have to do every night to be successful has helped everyone out, including myself.
Q: Last year we saw you score goal after goal, but so far this season you're near the top of the AHL for assists. Has your role on the ice evolved this year?
A: I'm not sure. It's obviously been only six games, but I just try to find what's available. That can change many times during a season. I'm just playing hockey, but it's pretty easy playing with my linemates (Jean-Sebastien Dea and Ben McCartney). J.S. has had a lot of success in this league and Benny would go through an absolute wall for anybody. He's the hardest-working guy and that's the reason why he has a letter. I have to give it to those guys.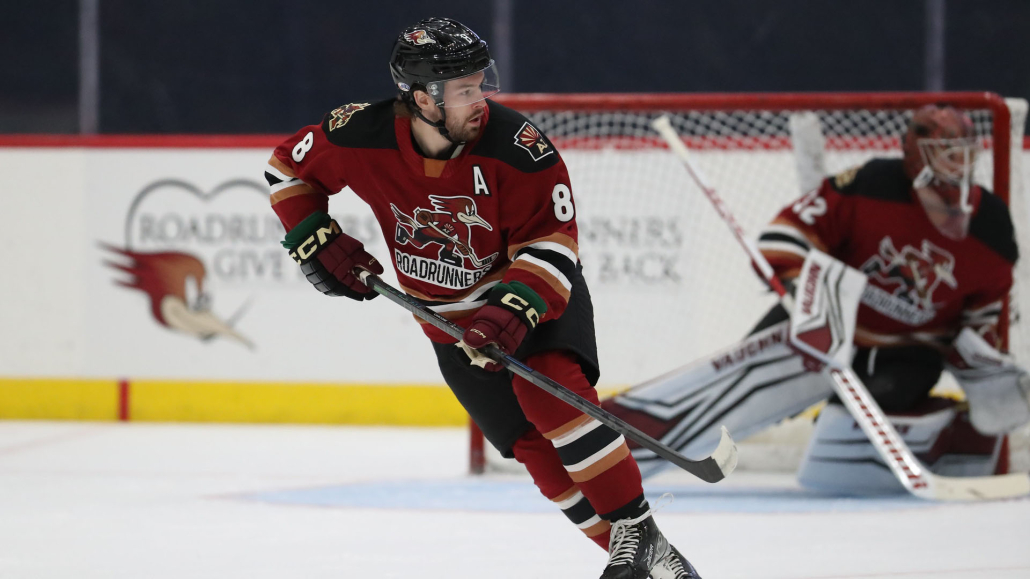 Q: How about Ben McCartney? Two years ago he was playing in the WHL, now he has a letter with us and already made his NHL debut last season.
A: When you think the Arizona Coyotes identity and you think the Tucson Roadrunners identity, you think Ben McCartney. Not only on the ice, but off the ice he gets along with everyone. Everyone loves Benny, and he's a pretty funny cat. It's well deserved, I'm happy for him, and I hope he keeps it up.
Q: The Roadrunners have consistently started each season strong, and this year is no exception. One common denominator has been the pair of Head Coach Steve Potvin and Assistant Coach John Slaney. What does that say about them?
A: I have a lot of respect for those guys. Being in the AHL for seven years, I think they're two of the hardest-working people. They're constantly on their laptops, working on how we can be better, what we need as players, looking at teams we're playing against. They're up at all hours trying to figure it out what's going to work for us as a team. I have a tremendous amount of respect for those two, and on top of that they're great people. [Steve's] always positive, he's the most positive person I've ever met. They're so easy to talk to, and they genuinely care.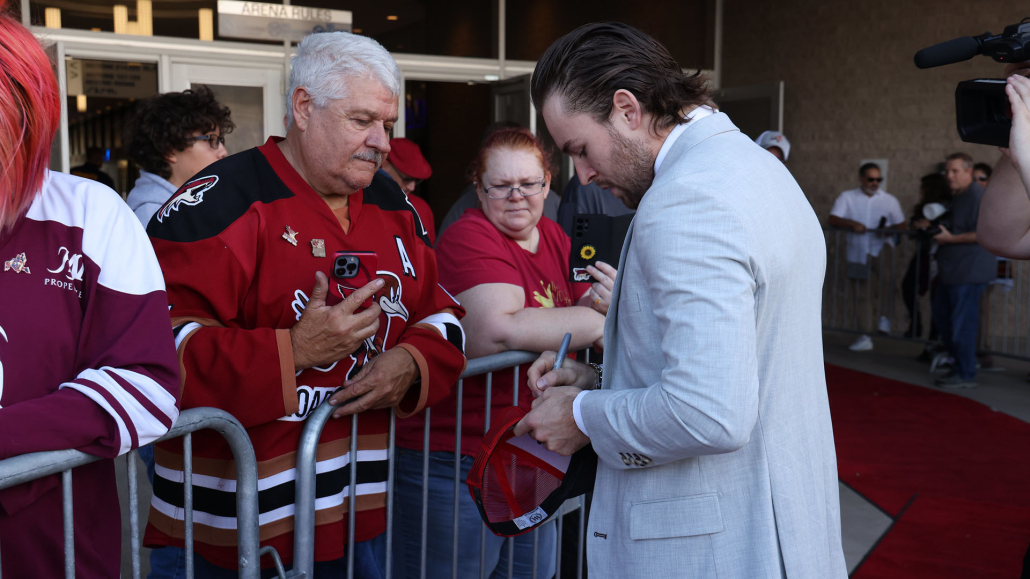 Q: What a game it was last Saturday in San Jose. Action at the opening face-off, a back-and-forth battle, but we came away with the 4-3 shootout win. What was that like? A: It's hard playing in those back-to-backs and trying to get going, but [Saturday] started right off the bat with that line brawl. It's been a while since I'd seen that, probably my first or second year in the league. When you see guys doing that, it's easy to get to work. We have a lot of depth, and we have a lot of leadership in the room. I think that brings a calmness to the room and on the bench, we have a good thing going. It's early in the season, but it's a long year and we have to keep going and find ways to win.
(Photo Credits: Kate Dibildox/Chris Hook)
//www.tucsonroadrunners.com/wp-content/uploads/2022/11/oneonone495-nov3.jpg
400
495
Jimmy Peebles
/wp-content/uploads/2019/06/web-header-logo.png
Jimmy Peebles
2022-11-03 13:15:27
2022-11-03 13:15:28
1-On-1 With Mike Carcone