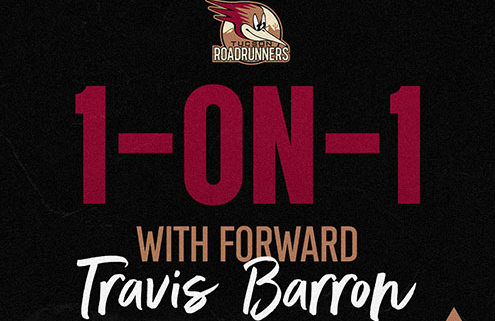 Tucson Roadrunners Forward Travis Barron took time out of his day off on the road Tuesday to appear on Roadrunners Happy Hour before Tucson's matchup against the Henderson Silver Knights on Wednesday, January 18. Join Adrian Denny, Brett Fera, and Kim Cota-Robles every Tuesday at 5 p.m. on FOX Sports 1450AM and the iHeartRadio app. A podcast version of the full episode can be found on the iHeartRadio App or by listening below.
Listen to "Viva Las Vegas featuring Travis Barron" on Spreaker.

Q: Travis, thanks for joining us. A nice Tuesday on the road with a team lunch, a stretch, and Performance Coach Brenley Shapiro from the Arizona Coyotes is on the trip with us as well.
A: It was a good message from Brenley today, and I had a good stretch too. Vegas isn't a bad place to have a day off, but we're going to relax and get our bodies ready for Wednesday.
Q: This road trip has been different than our usual schedule, with three standalone contests as opposed to our frequent two-game sets. Is there any adjustment that goes along with that?
A: The schedule has been tough, but you can't use that as an excuse for anything. It's different, that's for sure, but you have to adapt and grind through it. I think we've been managing it fine, we just have to keep taking care of our bodies and stay ready.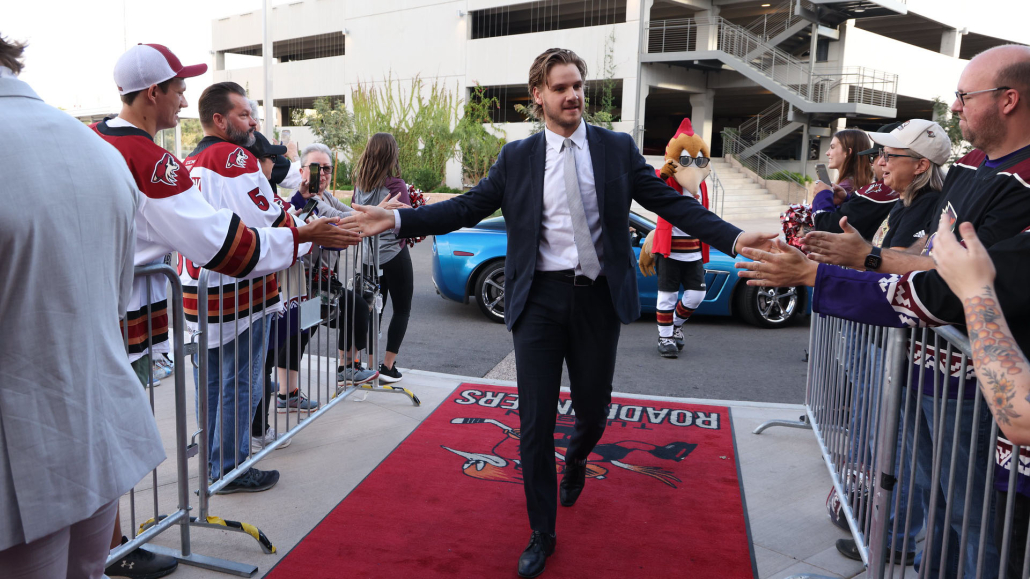 Q: What's your favorite part about being on the road with this group? Not many professions take road trips like we do.
A: It's a fun life, I'm blessed to be doing this. We have a good team with a bunch of good guys, I could go to dinner with any of them and it'd be a blast. We have it pretty good.
Q: You're in your second season with us in the desert, how much have you come to enjoy being in Tucson?
A: I think Tucson is a really special place to play. The city itself is unbelievable, along with the fans, the setup, life is good here. It's hard to have a bad day in Tucson. The sun is shining and there's always good vibes. It's a good problem to have when you have to decide between shoes and flip-flops to come to the rink in January.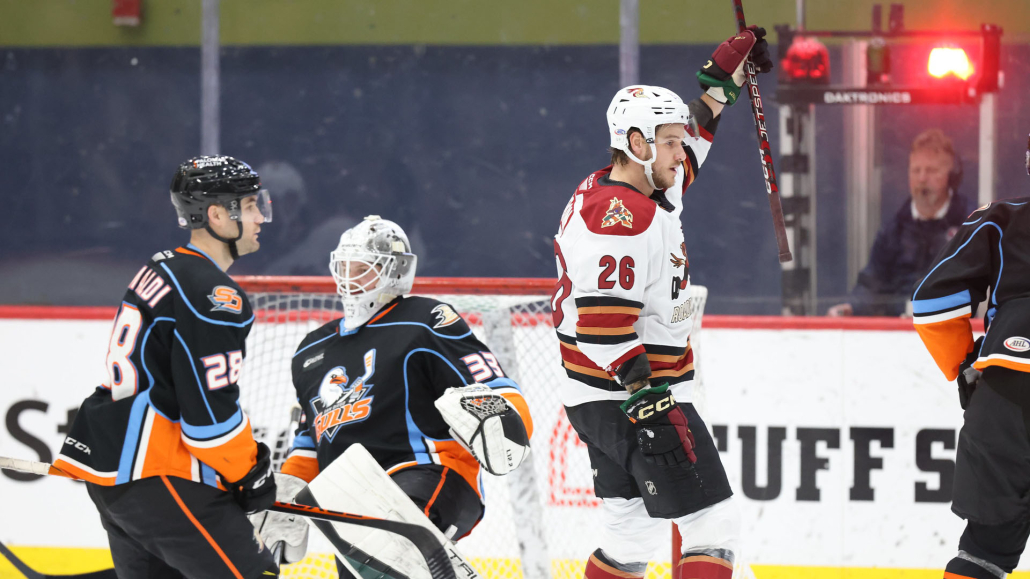 Q: What goes into your pregame routine? Are you involved with the pregame group of players juggling the soccer ball?
A: Hockey is very team-oriented, but everyone kind of does their own thing before the game to get ready. However, there is a team warm-up that [Performance Coach] Parker Poore does for us. Other guys have different routines, but yes I am heavily involved in the soccer. Nobody is safe, it's a game within a game. The ball is served and everyone has two touches to keep it up. If you miss and the ball touches the ground, you are eliminated. It gets pretty intense, and it's a lot of fun.
Q: Are there one or two of your teammates that dominate in the pregame soccer?
A: If you ask anybody, they'll say themselves. I do have to give credit to Mike Carcone, he's a good player on and off the ice (Carcone was recalled to the Arizona Coyotes on Thursday). Boko Imama is right up there as well, but after that it's just a bunch of misfits kicking a ball off the ceiling.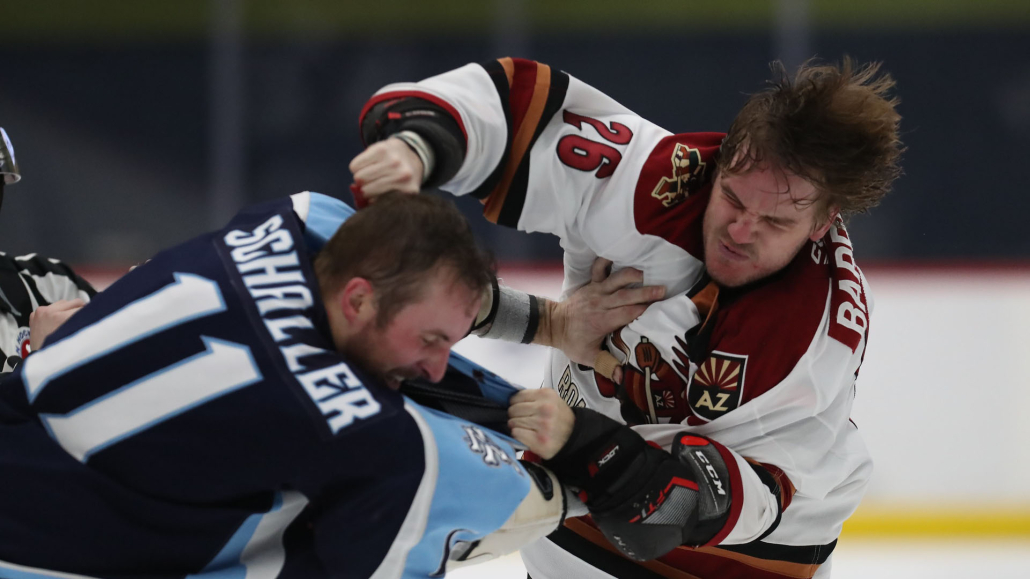 Q: We love watching you after a fight at the Tucson Arena. Your exit from the ice to the locker room always gets the fans pumped up. What goes into that?
A: (laughs) Oh, that just comes out sometimes. You don't plan that type of thing, but it's always fun when the fans get going.
Q: If you had a chance to go back and talk to yourself before the start of your professional hockey career, what advice would you give yourself?
A: I was young kid, but I'd tell myself to enjoy every day playing hockey. Hockey is the best thing in my life, and every day is a good day playing hockey. I'd say to enjoy every second, and to live, learn and have fun.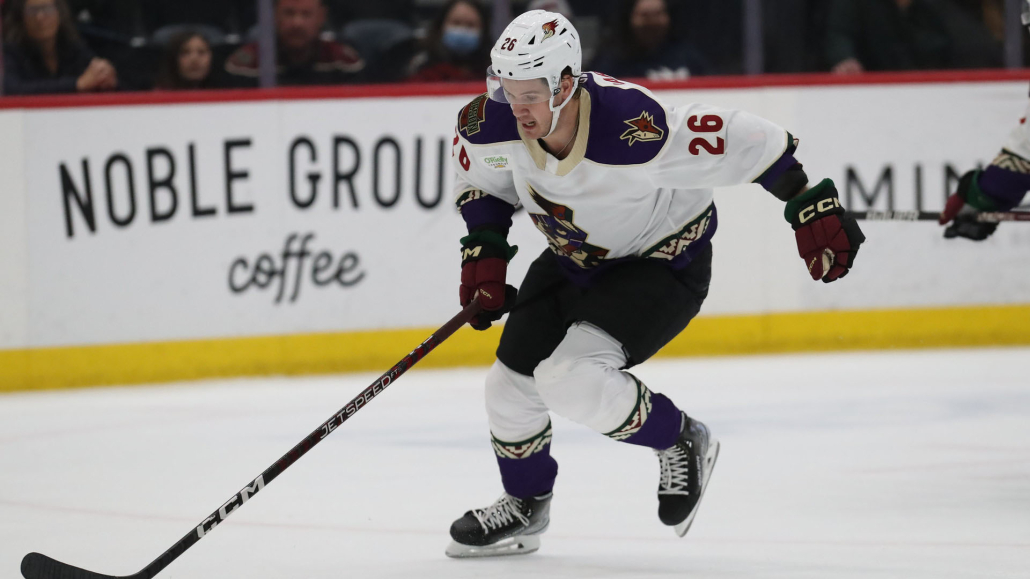 (Photo Credits: Kate Dibildox/Chris Hook)
//www.tucsonroadrunners.com/wp-content/uploads/2023/01/495-1.19-1on1.jpg
400
495
Jimmy Peebles
/wp-content/uploads/2019/06/web-header-logo.png
Jimmy Peebles
2023-01-19 14:47:29
2023-01-19 14:47:31
1-On-1 With Travis Barron