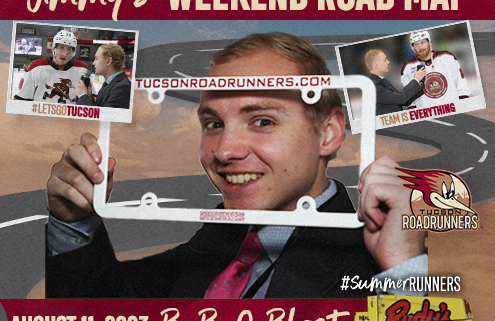 Hello everyone, it's me again, back for your Weekend Road Map! This was another quiet week of the summer, but that will change next week with one event already on the calendar and another announcement coming early in the week. With that being said, let's take a look at where you'll be joining us on Wednesday night!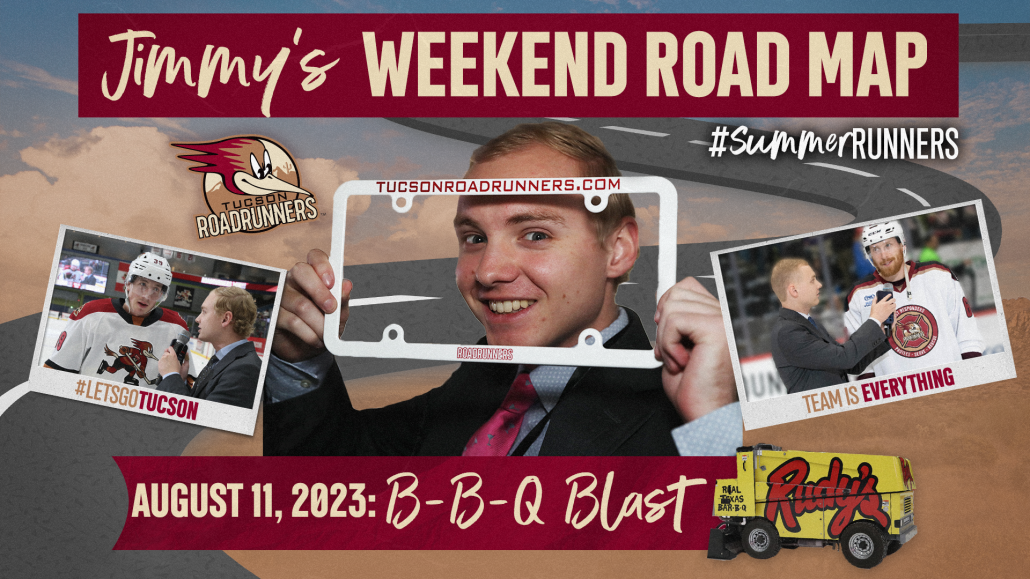 A Party With Steve Potvin
We have a really exciting event coming up on Wednesday, August 16 at one of my favorite places in Tucson. Rudy's Texas B-B-Q is hosting "A Night With Steve Potvin" at 6:30 p.m., as fans will get the chance to hear a 2023-24 season preview and participate in a Q & A with the Head Coach of the Tucson Roadrunners. We'll also be collecting school supplies with Dusty at the front door, and each donation will earn you a raffle ticket with a chance to win one of five Rudy's gift cards. What question will you be asking Steve as he enters his third season as our fearless Head Coach? I'll probably ask him where he gets his awesome suits, so don't steal that one! For more details on the event, check out the full article HERE.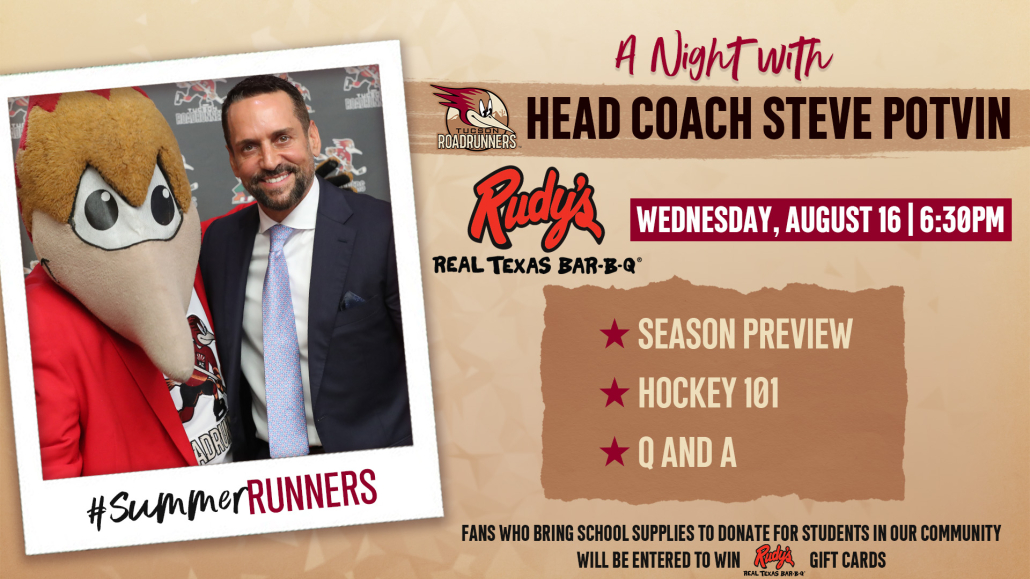 RRTV Guide
With a second-straight week of me in front of the camera, I brought you the exciting news about Wednesday's event with Steve at Rudy's. I also gave you the answers to our first-ever Dusty's Squares game (how many of the four did you name?) and we played a clip from our recent podcast interview with Cameron Hebig. Of course, I found a way to accidentally wear the same polo in the stand-up as I did when we interviewed Cameron, I hope you didn't mind.
Another Chance To Be Square
Another week means another edition of Dusty's Squares on all of our social media platforms. This week's empty space is asking for a player born in 1998 or later with an "A" in their first name. With Michael Kesselring, Vlad Kolyachonok, Cam Crotty, and Nathan Smith already on the board, that leaves four more players by my count.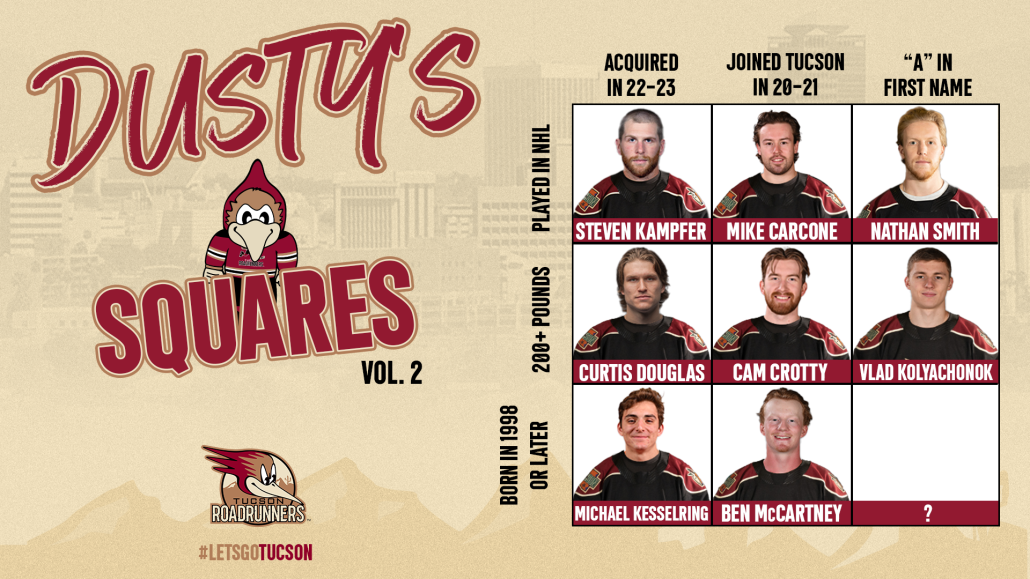 Our inspiration for Dusty's Squares, Immaculate Grid, featured the Arizona Coyotes once again on Wednesday. It was asking for a player that played with both the Coyotes and the Detroit Red Wings, the Coyotes and Dallas Stars, and the Coyotes and Colorado Avalanche. Notable Roadrunners answers include: Brendan Perlini for the Red Wings, Joel Hanley for the Stars, and Jordan Gross for the Avalanche. An even better answer for Coyotes-Avalanche is our very own Assistant Coach, former NHL defenseman John Slaney.
Chillin' With Cameron Hebig
On our latest edition of the Insider Podcast, Adrian and I were joined by forward Cameron Hebig. The 26-year-old is entering his fourth year with the Roadrunners after singing a one-year, AHL contract last month. Cameron told us about his fresh title of "Uncle Cam" thanks to his brother, as well as the work he's been putting in on his uncle's cattle farm. You can listen to the full episode below, or read the best of the interview at TucsonRoadrunners.com/ThisWeek. Scroll down to the end of the Road Map to find out who we'll be interviewing next week.
Listen to "Cameron Hebig Hops On The Podcast" on Spreaker.
Friday Quick Fact
Our latest podcast guest, Cameron Hebig, is tied for the longest tenured skateron the Tucson Roadrunners roster entering the 2023-24 campaign. Goaltender Ivan Prosvetov leads the way with his Tucson debut coming back during the 2019-20 season, but Hebig is tied with a handful of other members from the 2022-23 end of season roster to take the ice for Tucson for the first time on February 7, 2021: Ben McCartney is also a part of the longest tenured conversation, as he made his Roadrunners (and professional) debut later on in the 2020-21 season.
Cam Crotty
Mike Carcone
Ryan McGregor
Victor Soderstrom
Jan Jenik
It's also worth mentioning that game to kick off the 2020-21 regular season was a 2-1 overtime win over the San Jose Barracuda. That's not all, San Jose's lone goal was scored by John Leonard, who just signed a two-way contract with the Arizona Coyotes. Ben McCartney is also a part of the longest tenured conversation, as he made his Roadrunners (and professional) debut later on in the 2020-21 season.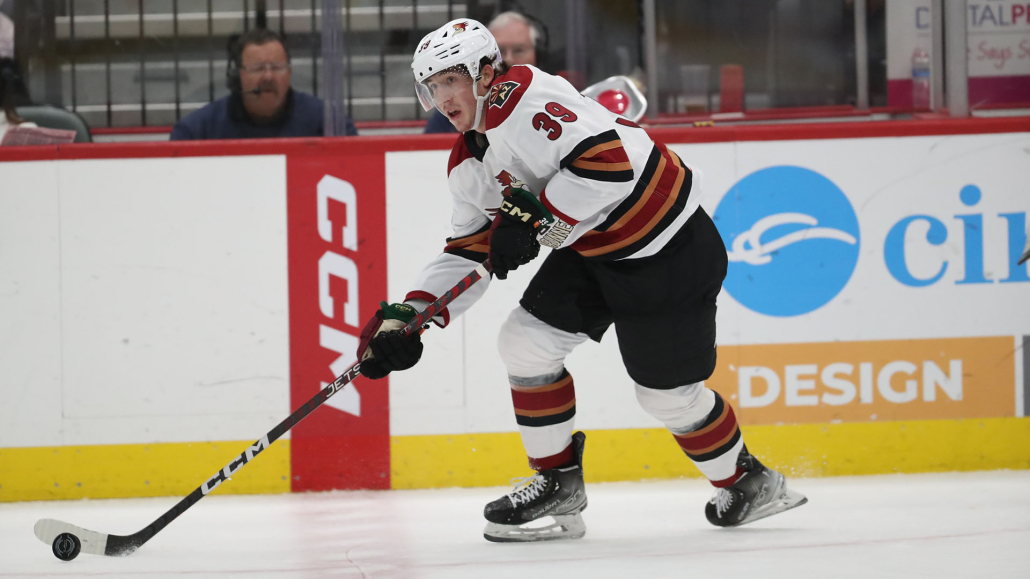 What's Hot At The HUB
This food picture has been a few weeks in the making, and I'm so excited to finally share the dinner that was had after our event with Dusty at the Reid Park Zoo. Our party of three split four appetizers at the HUB in Downtown Tucson: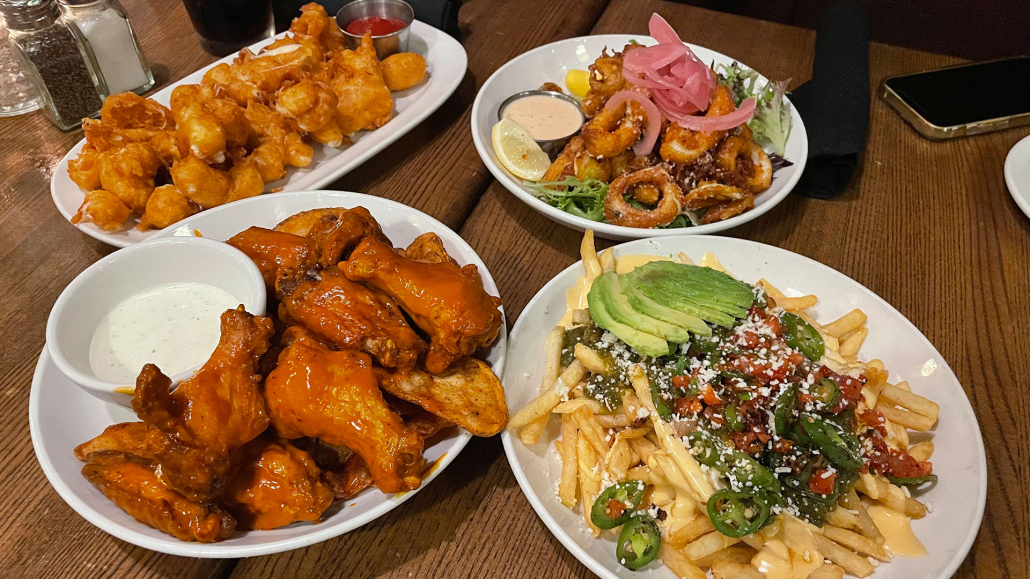 And that does it for your Weekend Road Map! I'll be handing the keys over to Brad for the rest of the summer, but I'm sure I'll see you around Tucson as we get closer and closer to hockey season. I might even ask you "who would win?" if I'm roaming around Downtown Tucson (hint: the answer is always Dusty). In the meantime, make sure you check out our next episode of the Tucson Roadrunners Insider Podcast, as we'll be joined by defenseman Michael Kesselring. #LetsGoTucson
//www.tucsonroadrunners.com/wp-content/uploads/2023/08/8-11_weekendroadmap_495x400.png
400
495
Jimmy Peebles
/wp-content/uploads/2019/06/web-header-logo.png
Jimmy Peebles
2023-08-10 16:05:14
2023-08-30 11:46:55
Jimmy's Weekend Roadmap: August 11- B-B-Q Blast